Delicious Food Photography eBook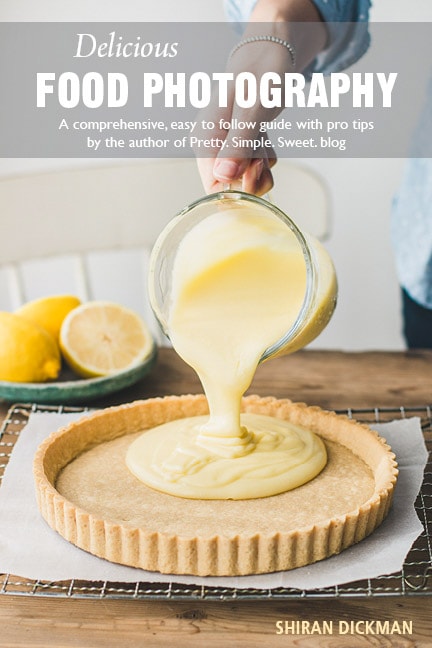 Learning food photography can be overwhelming.
Let's make it easier for you!
30 Day Money Back Guarantee!
Only $15
Preview Book Sample
Learning to take beautiful photos has brought me more opportunities than I could have ever imagined, and guess what? the same thing can happen to you!
When I started my blog back in 2013, I never thought I would have been able to turn it into a profitable career. Once my food photography began to improve, though, traffic to my blog grew significantly and other job opportunities arose. My pictures were shared on food and photo sharing sites such as Pinterest, and companies began to approach me and ask about purchasing photos or hiring me as a freelance food photographer.
When I first started, I had zero background in photography and every photoshoot was filled with anxiety over if my photos would be good enough. I needed help, so I started searching for advice from any and every possible source while practicing with my camera continuously. Since I taught myself many of the things I know, and because I constantly get questions from my readers about my photography, I really wanted to share everything I've learned with anyone in a similar position.
All the precious tips you'll find here are what made the difference for me in my photography.
Delicious Food Photography is practical and comprehensive yet flowing and easy to review. You won't need any fancy equipment to create stunning photos—only your camera!
I've also included 2 bonus chapters that you won't find in any other book. The first, 'Setup Tips and Workflow', will help keep you organized and efficient throughout the entire process. The second, 'My Styles', includes all my tips on how to shoot bright, moody and dark, and rustic food photography. These three styles are the ones I get the most questions about and are the hardest to find information for.
If you're a photographer who wants to take their art to the next level, or a beginner just picking up the basics, this book is for you.
"Snapshot" of What to Expect
Example Pages (Including Table of Contents)
Click here to view a full sample of the book
Testimonials
I am absolutely blown away by how good Shiran's book is! It is so obvious that she has put so much time and effort into making it beautiful, helpful, and easy to understand. I feel she has truly an expert when it comes to lighting, composition, styling, and story telling.  I've learned so much from it and I'm not even done reading yet!  It is so thorough and complete. I wish I would have had it when I first picked up my camera!  I really think it would be so helpful for not just beginner but intermediate photographers as well.   –Julie, Lovely Little Kitchen 
I've been a long time admirer of Shiran's blog and photography so I knew I was going to love this book but I loved it even MORE than I thought I would. Shiran has included so many extra tips and details missing from other food photography books that completely sets it apart from the rest. Not only does she cover the technical basics, a generous and thorough guide to styling and composition and editing tutorials, but she also includes workflow and tips to stay organised which is so helpful for beginner and experienced food bloggers alike. An unbelievably helpful and inspiring book! Can't wait to put what I've learned into action.   –Aimee, Wallflower Kitchen
Photography is such a struggle for me. I'm getting better each day, but I really needed someone to walk me through things in a way where I could see examples and test it in my own photos. I have devoured Shiran's book and will continue to search its pages because not only has it become a resource for me, but it's pictures are beautiful and so inspiring!   –Carrian, Oh, Sweet Basil
Thank you for your interest in Delicious Food Photography!
Remember that, like anything new, food photography is a learning process that takes time, patience, and practice. My hope is that this book will guide you through it and make food photography fun, enjoyable, and fulfilling for you.