This is my favorite recipe for funfetti cookies. They are super soft and chewy sugar cookies dotted with sprinkles, and they have an amazing buttery vanilla flavor.
Funfetti, confetti and sprinkles are becoming my new favorite words lately. I've been testing recipes for months to find this ultimate funfetti cookie recipe! I wanted it to taste less like chocolate chip cookie dough, and more like gooey butter cookies or sugar cookies. This is the same recipe as my soft sugar cookies that I shared with you a while ago, that I know many of you have already made and loved! They are perfect for any celebration, birthdays and holidays.
These Cookies are SOFT
And chewy. And super delicious with a delicate vanilla flavor. The sprinkles are just a bonus, really.
I use powdered sugar in the recipe, which makes these cookies extra soft and chewy. Powdered sugar has cornstarch in it, which helps give a soft texture to baked goods. You can use more granulated sugar instead (total of 1 cup), and the cookies will taste great, but won't be as soft.
I underbake the cookies to keep them soft in the center, as I do with almost all my cookies. Bake them just until they begin to turn golden brown around the edges.
How to Make Funfetti Cookies From Scratch
I don't use a cake mix to make these cookies. They are so easy to make from scratch and taste amazing. This recipe is simple and straightforward. Mixing butter and sugar in a mixer, adding eggs and vanilla, then the dry ingredients – flour, baking soda, and salt. Add the sprinkles and mix gently just until combined. To keep these cookies soft, once the flour is added, mix the dough as little as possible.
Sprinkles
I use these sprinkles and I'm absolutely in love with them. I bought them because of their beautiful color but they are yummy, too. Sprinkles tend to bleed too much into cookie and cake batters, but these aren't, so they're great for baked goods. I also had good results with the cheapest sprinkles that can be found in any supermarket, just make sure you like their taste before adding them to the dough.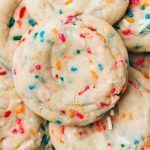 Funfetti Cookie Recipe
---
Ingredients
2

and ⅛ cups

(300 g) all-purpose flour

½

teaspoon

baking soda

½

teaspoon

fine salt

1

cup

(2 sticks/227 g) unsalted butter, softened to room temperature

⅔

cup

(130 g) granulated sugar

¾

cup

(85 g) powdered sugar

1

large egg

1

teaspoon

vanilla extract

1/2

cup

sprinkles

(or up to 2/3 cup)
Instructions
Preheat oven to 350F/180C. Line 2 baking sheets with parchment paper. Set aside.

In a medium bowl, sift together flour, baking soda, and salt. Set aside.

In a mixer bowl fitted with the paddle attachment, beat butter, granulated sugar, and powdered sugar on medium-low speed for 4 minutes. Beat in egg and vanilla extract just until combined. Add flour mixture and beat just until combined. Mix in sprinkles. Do not overmix.

Shape dough into balls, the size of 1.5 tablespoons each (I use

this ice cream scoop

for that), and place on the cookie sheets, spacing them 2-inches apart. Bake for 11-12 minutes until cookies just begin to brown at the edges, but the center is still soft (you don't want to overbake them). Allow cookies to cool on baking sheet for 5-10 minutes, then gently transfer to a wire rack to cool completely.

Store cookies at room temperature in an airtight container for up to 3 days. Cookies can also be frozen for up to 2 months.