A traditional French-style lemon tart with creamy, dreamy lemon curd filling, that tastes just like the ones in Paris. It's my mom's recipe and has been a favorite in my family for years.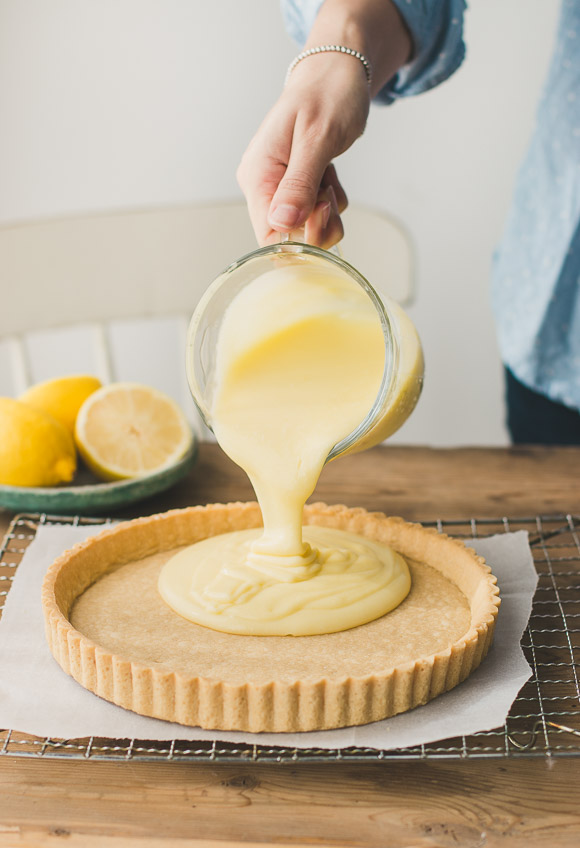 My favorite lemon tart tastes just like a classic 'tarte au citron' from France. It has shallow sides, a crumbly, sweet, cookie-like crust, and classic lemon curd filling with just enough butter to make it creamy and not too sour. Since the filling is quite rich, the lemon layer isn't very thick.
As an Amazon Associate, I earn from qualifying purchases. I endorse products that I love and use daily.
This tart requires 2 steps.
Make the tart crust. In this post, you'll find not just the recipe, but also tips for making a perfect crust. You'll need to prepare the dough, then fully bake the crust before filling it with the lemon mixture. To make things easy, you can use a store-bought tart shell, and then you'll only need to make the lemon curd.
Make lemon curd for the filling. This post includes many tips on how it's done, so be sure you read it. I like to use this double boiler when I make my curd. Once the lemon curd is ready, fill your crust with it and chill.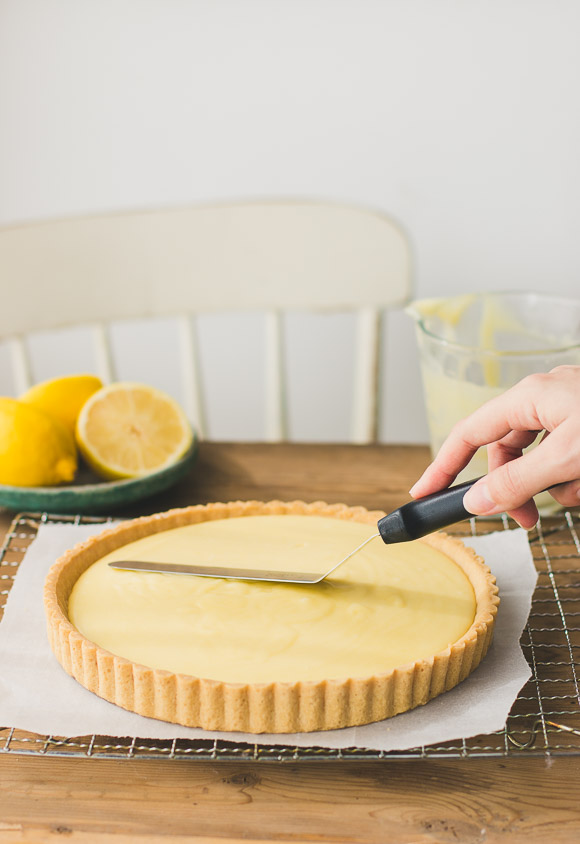 Lemon Tart Filling
The filling is similar to my favorite lemon curd, except for 2 adjustments. First, there's the addition of heavy cream, which is optional but adds richness and great taste, and you can use up to ¼ cup of it. Second, is the amount of butter. When you pour it into your chilled pie crust, use a knife or an offset spatula to evenly spread it.
Butter
I usually don't like a lot of butter in my lemon curd, but here it helps to mute the bold lemon flavor, which I find really makes this tart superb. You can cut the butter by half if you prefer, or on the contrary, add more. The butter also adds a thick, creamy texture and the long whisking when adding it makes it light and airy. You can whisk the butter by hand, or even better, use a blender. Add the butter to the lemon mixture and blend, adding a few cubes of butter at a time, until completely smooth.
More Tips
Chill the lemon curd tart for several hours before serving or the filling will be too runny. After enough chilling time, the lemon curd will firm up, making it easier to cut through the pie.
You can make this tart a day ahead of time. It keeps well in the fridge, covered tightly.
An interesting and delicious option is to add basil to the lemon curd. Add ½ cup packed fresh basil leaves along with the sugar, eggs, and other ingredients, and let them cook together. You'll discard the leaves upon sieving the mixture through a strainer.
You could top the tart with meringue, whipped cream, or berries if you want, but it's just as good as is.
Read more about crust making here.
Read more about lemon curd here.
Baker's tip: While you can certainly measure your ingredients by volume (most home bakers do), for the best results, I highly suggest measuring ingredients by weight using a food scale.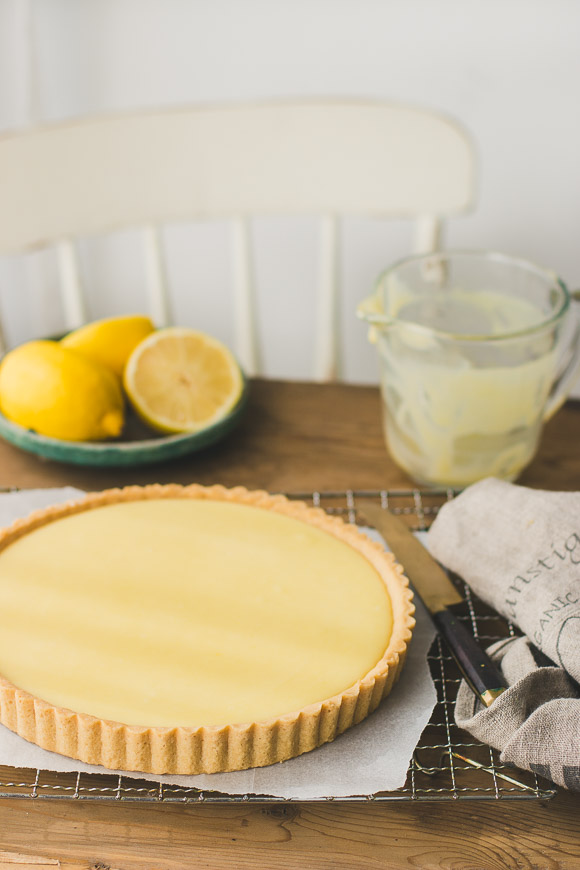 More of My Favorite Lemon Recipes:
As an Amazon Associate, I earn from qualifying purchases. I endorse products that I love and use daily.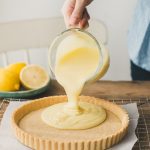 Lemon Tart Recipe
A classic, French-style lemon tart made with a buttery, flaky crust and creamy, dreamy lemon curd filling.
Total Time
1
hour
20
minutes
Ingredients
Crust
Lemon Curd Filling
2

large

eggs plus 2 egg yolks

(or 3 whole eggs)

¾

cup

(150 g/5.3 oz) granulated sugar

1

tablespoon

lemon zest

½

cup

(120 ml) freshly squeezed lemon juice (2-3 lemons for both zest and juice)

2

tablespoons

heavy cream

, optional

½

cup

(1 stick/115 g) unsalted butter, cut into small pieces
Instructions
To make the lemon curd:

In a medium heatproof mixing bowl, place eggs, sugar, lemon zest, lemon juice, and heavy cream, if using, and whisk to combine. Place the bowl over a saucepan of simmering water (bain-marie). Cook on moderate heat, whisking constantly, until mixture becomes thick (mine was ready in 10 minutes, but it can take up to 20). If you have a thermometer, it should register 170°F/75°C; otherwise, it should coat the back of a wooden spoon and leave a clear pass if you run your finger through it. The curd will thicken more once cooled.

Remove from heat and immediately strain mixture through a fine mesh sieve. Add butter, a few cubes at a time, and whisk until completely melted and incorporated, and mixture is smooth. Take your time with it—the whisking makes for an airy and light texture. Allow to cool to room temperature before filling the tart. (Lemon curd can be kept in an airtight container in the fridge for up to a week, or can be frozen for up to 2 months. To thaw, place overnight in the fridge. Whisk the mixture to smoothen it before using.)

Fill the tart shell with lemon curd, then refrigerate for at least 4 hours until chilled. Serve with berries and whipped cream if you like. The tart is rich, so cut your servings small.