Print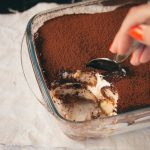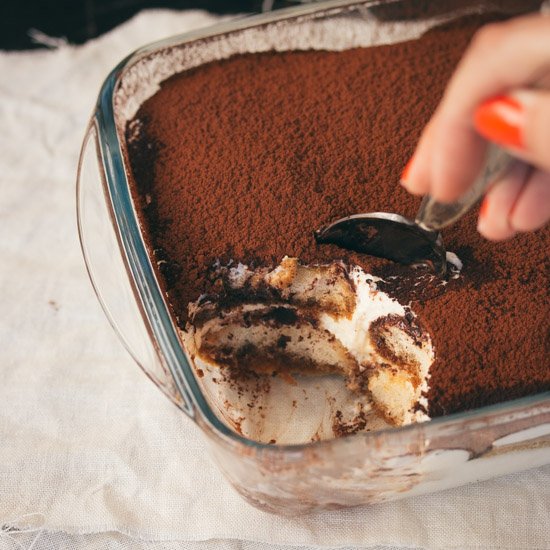 Classic Tiramisu
A recipe for traditional tiramisu – a dessert made of layers of coffee-soaked ladyfingers and a rich, velvety mascarpone cream. Read the full post to learn about different variations and substitutions for this Italian dessert.
YIELD
8
-inch cake or 5-6 individual glasses (double the recipe for a 9x13-inch dish)
Coffee Syrup:
1

cup

brewed espresso or strong coffee

(made of 1 cup hot water mixed with 2 tablespoons instant coffee granules or espresso powder)

2

tablespoons

granulated sugar

2

tablespoons

coffee or almond liqueur

, Marsala, dark rum, or brandy
Filling:
3

egg yolks

1/3

cup

(70 g/2.5 oz.) granulated sugar

2-3

tablespoons

Marsala wine

, dark rum, or brandy

3/4

cup

(180 ml) heavy cream

1 1/2

cups

(340 g/12 oz.) mascarpone cheese, at room temperature

200g

/7 oz (20-24 units) ladyfingers or Savoiardi biscuits (or less if making individual glasses)

Sifted cocoa powder or grated chocolate
For the coffee syrup: In a small bowl, combine hot coffee, 2 tablespoons sugar, and liqueur. Mix until sugar dissolves. Set aside to cool.

For the filling: Place egg yolks, sugar, and Marsala in a medium heatproof bowl and set over a bain marie (i.e. place the heatproof bowl over a saucepan of simmering water on a low heat; the bowl should not touch the water). Whisk constantly using a whisk, or preferably a hand mixer, until the mixture doubles in volume, is hot to the touch, and has a thick, foamy consistency (around 5-7 minutes). Remove from heat and set aside to cool slightly, about 15 minutes. Meanwhile, in a mixer bowl, whisk heavy cream using an electric mixer until stiff peaks form. Once egg yolk mixture has cooled, add the mascarpone and whisk until smooth. Then gently fold in the whipped cream in 2 additions until smooth.

Assemble tiramisu: Dip ladyfingers very quickly (less than a second) into the coffee syrup and line them in one layer in an 8-inch baking dish. If necessary, break a few ladyfingers to fit them in the dish. Spoon half of the filling over the ladyfingers and smooth the top. Repeat with a second layer of coffee-dipped ladyfingers, then with the rest of the cream. Cover and refrigerate for at least 6 hours or up to 2 days. I don't suggest freezing tiramisu since it will ruin its texture. Right before serving, dust the top with cocoa powder or grated chocolate. Serve cold.

For individual glasses: Spoon a dollop of the mascarpone cream mixture into the bottom of the glass. Break each ladyfinger into 4 pieces, soak in the coffee and place on top of the cream. You don't have to use all 4 pieces at once; it depends on the size of the glass. Repeat with layering filling and ladyfingers, creating 2-3 layers in total. The amount of ladyfingers you use is up to you. For each ladyfinger, add about 2-3 heaping tablespoons of cream. It doesn't have to be exact – if you like more cream, go ahead and add more. Cover and refrigerate for at least 6 hours or up to 2 days. Right before serving, dust the top with cocoa powder. Serve cold.