Print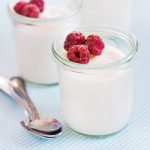 2-Ingredient White Chocolate Mousse
Creamy and light white chocolate mousse made easy with only 2 ingredients.
YIELD
6
servings (about 1/2 cup each)
Place white chocolate in a large heat-proof bowl. Add 1/3 cup heavy cream and microwave until melted and smooth. Heat gently in 20-30 second intervals, stirring in between. Allow to cool on the counter for 20 minutes or until the mixture reaches room temperature.

In the bowl of an electric mixer fitted with the whisk attachment, whisk the rest of the heavy cream until soft peaks form. Add 2 tablespoons whipped cream to the white chocolate mixture and whisk by hand until smooth. Add half of the remaining whipped cream and fold gently until combined. Add the remaining whipped cream and fold until combined and smooth.

Divide the mousse between 6 individual cups. For exactly 6 servings, each should measure 1/2 cup/120 ml. Chill the mousse for at least 2 hours, until set.

If desired, garnish with fresh berries, berry sauce, or grated chocolate.

Store mousse in the fridge, covered with plastic wrap, for up to 3 days.