Print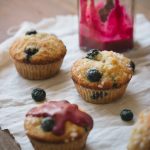 Blueberry Muffins
Moist, delicate, and buttery blueberry muffins that are sure to brighten up any morning.
1 1/2

cups

(210 g/7.5 oz) all-purpose flour

1 1/2

teaspoons

baking powder

1/4

teaspoon

baking soda

1/4

teaspoon

salt

1/2

teaspoon

cinnamon or 1 teaspoon lemon zest

1/3

cup

(75 g/2.6 oz) butter, softened

1/2

cup

plus 2 tablespoons

(125 g/4.4 oz) granulated sugar

2

tablespoons

honey

(or 2 tablespoons granulated sugar)

2

large eggs

, room temperature

1/2

teaspoon

pure vanilla extract

1/2

cup

(120 ml) buttermilk

1

cup

blueberries

(if using frozen, do not thaw)

2

tablespoons

coarse sugar/demarara sugar

, for sprinkling
Preheat oven to 425F/215C. Butter 10-12 muffin cups or line with paper liners.

In a medium bowl, sift together flour, baking powder, baking soda, salt, and cinnamon (if using). Set aside.

In a standing mixer fitted with the paddle attachment, beat together butter, sugar, honey, and lemon zest (if using) on medium speed for 3 minutes until light and fluffy. Scrape down the sides and bottom of the bowl as necessary. On medium speed, beat in eggs one at a time, beating well after each addition. Add vanilla extract and beat until combined. With the mixer on low speed, add half of the dry ingredients and beat just until combined. Add buttermilk and beat until combined. Add the other half of the dry ingredients and beat slowly or fold by hand only until combined. Do not over mix – the less you mix, the lighter the cake will be. Gently fold in blueberries.

Divide the batter between muffin cups, filling them almost all the way to the top. Bake for 5 minutes, then reduce the oven temperature to 375F/190C. Continue to bake for an additional 8-13 minutes, or until a toothpick inserted into the center of the muffin comes out clean or with just a few moist crumbs. Allow to sit on a wire rack for 8 minutes, then remove from pan and let cool completely on a wire rack.

Muffins are best the same day they are made, but can be frozen, tightly covered, for up to 2 months. To thaw, leave on the counter, still covered, or overnight in the fridge.