Print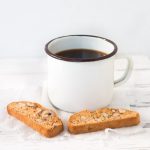 Almond Biscotti
These cookies are the perfect classic biscotti, full of flavor and with just the right crisp.
2

cups

(280 grams/10 ounces) all-purpose flour

1

teaspoon

baking powder

1/4

teaspoon

salt

1/2

teaspoon

cinnamon

(optional)

3/4

cup

(150 grams/5.3 ounces) granulated sugar

2

large eggs

1-1.5

teaspoons

almond extract*

(or 1.5 tablespoons Amaretto)

1/2

teaspoon

vanilla extract

1/4

cup

(56 grams/1/2 stick) butter, melted and cooled

1

cup

(130 grams/4.5 ounces) whole almonds, with or without the skin, preferably slightly toasted* and coarsely chopped
Preheat oven to 325°F/160°C. Line a baking sheet with parchment paper. Set aside.

In a large bowl, sift together flour, baking powder, salt, and cinnamon. Set aside.

In a mixer bowl fitted with whisk attachment, whisk eggs on high speed until light in color and doubled in size, about 2 minutes. On low speed, slowly add sugar, then vanilla and almond extract, then butter. Turn off mixer. Using a spatula, fold in flour mixture in 2 additions, then the nuts. Mix until a dough forms. The dough should be easy to handle. If you find it too sticky, add additional flour, 1 tablespoon at a time, until it no longer sticks to your hands.

On a lightly floured surface, form dough into a ball. Divide into 2 equal pieces. Shape each half into a rectangle around 8x2.5 inches in size and place them on the baking sheet, spacing them at least 4 inches from each other. Bake for about 25 minutes, until slightly risen, firm to the touch, and the top begins to crack. Cool on a wire rack for 30 minutes. Cut log into slices, around 1/2-inch thick or thinner, using a sharp knife. Return slices cut-side up to the pan in one layer. Place pan in the oven and bake for 20-30 minutes, until crisp and golden brown, flipping slices halfway through baking. The longer they stay in the oven, the harder they become. Allow cookies to cool completely.

Store cookies in an airtight container at room temperature for up to a month.
-To toast the nuts, place them on a baking sheet lined with parchment paper. Bake at 350°F/180°C for about 6 minutes. You don't need to fully toast them as they will continue to toast later when the biscotti is baked.
-You can substitute almond extract with 1.5-2 tablespoons almond liquor, such as Amaretto. Since you add more liquid to the dough, you might need to add more flour (1 tablespoon at a time) until the dough comes together.