Print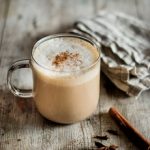 White Chocolate Chai Latte
The little twist of adding white chocolate to this comforting chai latte makes it thick and creamy with a wonderfully sweet flavor.
In a medium saucepan, bring all ingredients except for the white chocolate to a boil. Turn off the heat and allow mixture to sit for 5 minutes to let the flavors blend. Reheat again until hot, then strain mixture through a fine mesh. Add white chocolate and stir vigorously until melted and smooth. Gently reheat again on low heat if needed.

Pour drink into 2 mugs and sprinkle with a pinch of cinnamon, if desired.

Serve hot.
* If you prefer a drink that's not too sweet, half a cup will be enough for a moderately sweet drink with a noticeably chocolate flavor.