Print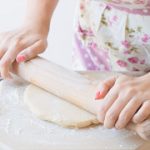 Perfect Pie Crust
Buttery, crisp, crumbly, and flaky, this is a good old-fashioned pie crust recipe, also known as pate brisee.
YIELD
2
9-inch pie crusts, enough for 1 double-crust pie
2 1/2

cups

(350 grams/12.3 ounces) all-purpose flour

1

teaspoon

salt

1-2

tablespoons

granulated sugar

1

cup

(2 sticks/227 grams) cold butter, cut into small cubes

1/4

– 1/2 cup

(60-120 ml) very cold water
Process flour, salt, and sugar in a food processor for a few seconds until combined (Instead of food processor, you can do the whole process by hand, using a pastry cutter). Add butter and pulse until mixture becomes crumbly and resembles coarse meal (different size of butter pieces or some large pieces is fine), about 15 pulses. Add 1/4 cup water and keep pulsing, adding more water as needed, one tablespoon at a time, until the dough isn't dry and starts to clump together. Do not process to the point that a large ball of dough is formed, rather the dough should be quite crumbly with large clumps. Another way to check if it's done, is to take a piece of dough and press it between your thumbs – the dough should stick well together without feeling dry or crumbly.

Turn the dough to a floured surface and form into a ball. It should come together easily without being sticky. Divide ball to half, then flatten each one slightly with your hands to form a 1-inch thick disc. Wrap each disc with a plastic wrap and refrigerate for at least 1 hour before proceeding with your pie recipe.

If you don't want to use the dough right away, you can refrigerate it for up to 3 days or freeze it for up to a month, then thaw it overnight in the fridge.