Print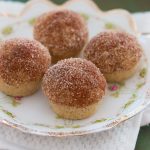 Baked Cinnamon Sugar Donuts
Moist and fluffy donuts that are baked in a muffin pan, instead of fried, and topped with a cinnamon-sugar mixture.
YIELD
16
mini donut muffins
For the donuts:
1

cup

(140 grams or 5 ounces) all-purpose flour

3/4

teaspoons

baking powder

1/8

teaspoon

baking soda

1/4

teaspoon

ground cinnamon

1/4

teaspoon

ground nutmeg

1/2

teaspoon

salt

1/3

cup

(65 grams or 2.5 ounces) granulated sugar

1

large egg

, slightly beaten

1/2

cup

buttermilk*

3

tablespoons

(40 grams or 1/3 stick) butter, melted

1

teaspoon

vanilla extract
For the cinnamon-sugar topping:
2-3

tablespoons

(30-45 grams) butter, melted

1/4

cup

(50 grams or 1.7 ounces) granulated sugar

2

teaspoons

ground cinnamon

(or 1 teaspoon for less cinnamon flavor)
Preheat oven to 350F/180C degrees. Grease 16 mini muffin cups with butter or nonstick spray.

In a large bowl sift together flour, baking powder, baking soda, cinnamon, nutmeg and salt. Add sugar and mix. Set aside.

In a small bowl whisk together the egg, buttermilk and vanilla extract. Whisk in the melted butter until combined. Pour the wet ingredients into the dry ingredients and fold with a wooden spoon or a rubber spatula just until combined. Be careful not to overmix the batter.

Divide the mixture between the mini muffin cups 3/4 of the way full (should yield about 16 cups). Fill empty cups half full with water for even baking. Bake for about 10 minutes until a toothpick inserted into the center of the donuts comes out clean or with a few moist crumbs. Let donuts cool in the pan for 5 minutes and then move to a wire rack to cool completely.

Meanwhile, make the cinnamon-sugar topping. In a small bowl mix together the sugar and cinnamon. For each donut, dip the top (or the whole thing) in melted butter and then dip into the cinnamon-sugar mixture.
- You can also cover the whole donut with cinnamon-sugar mixture instead of just the top. If you choose this option, I suggest doubling the topping recipe.
- Instead of a mini muffin's pan, you can use standard-sized muffin pan. This recipe yields about 6 muffins. Bake the muffins for 15-18 minutes.
- Buttermilk substitution: Take a liquid measuring cup and pour 1/2 tablespoon of white vinegar or lemon juice in it. Add milk until it reaches half a cup. Stir and let sit for 5 minutes.
-Donuts are best the same day they are made.
-Donuts can be frozen (with their topping) for up to 2 months.