Can you guess how many cooking and baking products I have stashed away inside my tiny kitchen? Hundreds.
Now, can you guess how many of them I barely ever use? Hundreds.
Sound familiar? 😉
I often get asked what kind of cake pans and mixers I use or recommend, so I've decided it's time to share with you a few of my favorite products. Unlike most of those unused products I own, the ones listed below get tons of use and have made my life (in baking and in the kitchen in general) so much easier. 
Disclaimer: This is not a sponsored post. Some of the links used on this page are affiliate links and I will earn commission if you purchase through them. Rest assured that all recommendations are based on my own positive experiences with the products.
---
Parrish Magic Line Cake Pans – I used to think that my cakes weren't perfect because I had done something wrong, but once I started using high quality cake pans, I realized it wasn't me! These pans are sturdy and heavy and my cakes are now cooked perfectly and evenly every single time. They rise well, and when turned out of the pan, the sides are straight and not crumbly. I was seriously blown away by their performance comparing to other brands I've been using for years. Other than the standard round cake pans, I'm also completely in love with the cheesecake pan and the square pan—especially for brownies. The corners turn out sharp and crisp and square, not rounded like in most other pans.
---
Ice Scream Scoop – Ice cream scoops are made just for ice cream, right? Wrong. I use them all the time to scoop cupcake batter into muffin tins, or cookies onto the sheet. It creates even, uniformly round cookies without the need to measure or roll each cookie between your hands. I use 2 scoops in particular:
a small scoop – for mini cupcakes/muffins and small cookies
a medium scoop – for standard-sized cupcakes/muffins and medium-sized cookies
---
Standing Mixer – I could never live without my pink mixer, and even if I could, I definitely wouldn't want to! This machine is both the Beauty and the Beast. It stands on display on my kitchen counter, and I use it 80% of the time when making baked goods.
---
Hand Mixer – Sometimes it's not necessary to use a heavy standing mixer, especially if you wash your dishes by hand, like I do. When I deal with small quantities or just want to whip up something quickly, such as whipping egg whites, I'll use the hand mixer.
---
Silpat Silicone Baking Mat – When I was in France, I saw this baking mat sold everywhere, and since it was quite cheap, I bought one to try it out. I ended up getting 2 more back at home, plus 2 for my mom. I use it every time I bake cookies, granola, nuts, and more, and nothing ever sticks to it—it's like magic. Makes life so much easier!
---
Silicone Baking Mat with Measurements – Speaking of making life easy, this mat becomes super handy when you need to roll dough into a specific measurement like a 12" round or a 16"x8" triangle.
---
Marble Board – I use this marble board whenever I make a dough for sugar cookies, pies, scones, etc. It has an ideal surface to work with, plus it's large and easy to clean. I also use it as a backdrop for my photos!
---
Digital Kitchen Scale – I always add gram measurements onto each of my recipes because that's the best way to get consistent and perfect results. Too much flour can turn soft cookies, moist cake, or perfect dough into dry, hard baked goods. Another plus is that it's quicker to measure ingredients with a scale than with measuring cups and spoons.
---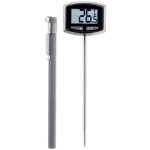 Instant-Read Thermometer – Recipes that call for using an instant-read thermometer always used to intimidate me. Once I finally got one, though, I realized it's not difficult at all, and I got used to it pretty quickly. Other than making caramel or candy, I use it to check if my breads and delicate cakes such as cheesecake are done so I don't accidently over bake them. Baking is a science, after all!
---
Oven Thermometer – When my mom told me to get one of these when I got my first oven, I didn't take her seriously for about a year. Then, when she bought one for me, I found out that my oven temperature was totally off, and it took it a long time to reach high temperatures. No wonder that my cakes turned out the way they did back then!
---
Microplane Zester/Grater – This is by far my favorite zester/grater. It's comfortable and does a perfect job. I use it to zest lemons and oranges, or to grate carrots (great for carrot cakes), onion, ginger, garlic, cheese, etc.
---
What are your favorite products? I'd love to know!