This simple to make, moist, light cake is full of almond flavor and unique in taste. The cherries are just a bonus!
From the moment I first started creating my own recipes, I fell completely in love with baking. While simply baking, even if following other recipes, is so much fun, creating the recipes myself is what really took baking to a whole new level for me. I started with little tweaks on recipes I knew, until I was comfortable enough to make bigger changes. I was amazed to see how small changes make such big difference in taste and texture. I was fascinated by it and eager to learn more and more. Now when people try or make something I created and LOVE it, my heart is filled with tremendous joy.
Since my first attempts in the kitchen were colossal failures, I vividly remember the first time I finally baked something that was worth its calories. It was this almond cake. My first crowd pleaser! The cake isn't that sophisticated, but back then when I was still an amateur, this was a huge achievement. I've made this cake more than any of my other cakes, even more than all the chocolate cakes which you know I adore. That's how much I love it!
This cake is moist, light and airy with a spongy texture, and has a burst of almond flavor. The cherries make this cake super elegant and tasty. You can use fresh cherries or canned ones that are strained well.
The cake is made using the creaming method. Cream together butter (at room temperature) and sugar. Then, beat in eggs and vanilla extract, and add dry ingredients.
Instead of folding the cherries into the batter, I arrange them on top of it. Cherries have a tendency to sink to the bottom of the cake and this step can slow down their way to the bottom. Sometimes it helps, and sometimes it doesn't. Regardless of whether they sink or not, the cake will be equally pretty and delicious, so don't worry too much about it.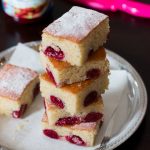 Almond Cherry Cake
Moist, light cake, full of almond flavor. The cherries are just a bonus. Simple to make and unique in taste. One of my favorites.
---
Ingredients
1/2

cup

(1 stick/115 g) unsalted butter, softened

1/2

cup

(100 g/3.5 oz) granulated sugar

2

large eggs

1

teaspoon

vanilla extract

1/2

cup

(70 g/2.5 oz) all-purpose flour

1

teaspoon

baking powder

1/2

cup

almond flour*

25

cherries

powdered sugar

, to sprinkle on top (optional)
Instructions
Preheat oven to 325F/160C. Butter an 8x8-inch pan.

In a medium bowl sift together all-purpose flour and baking powder. Add almond flour and mix. Set aside.

In a stand mixer fitted with the paddle attachment, beat together butter and sugar for about 3 minutes until light and fluffy. Scrape down the sides and the bottom of the bowl as needed. Add the eggs, one at a time, beating well after each addition. Beat in vanilla extract. Don't worry if the batter looks a bit curdled. On low speed, add flour mixture and beat just until combined. Do not overmix.

Spread the batter into prepared baking pan and smooth the top. Arrange cherries on top of the batter.

Bake for 30-35 minutes until a toothpick inserted into the center of the cake comes out clean. Let the cake cool completely on a wire rack. Sprinkle the top with powdered sugar, if you like.
Recipe Notes
- To make almond flour: place blanched almonds in your food processor or blender and pulse until you get a fine, grainy consistency.
- To double the recipe, use 13x9-inch pan, and bake for longer time.
- Store the cake at room temperature in an airtight container for up to 3 days.
- The cake can be frozen for up to 2 months. Thaw it on the counter, still covered, or overnight in the fridge.
More Recipes:
SaveSave
SaveSave
SaveSave
SaveSave