Tender and moist, this is an impressive yet easy cake that makes a perfect snack to serve with tea or coffee.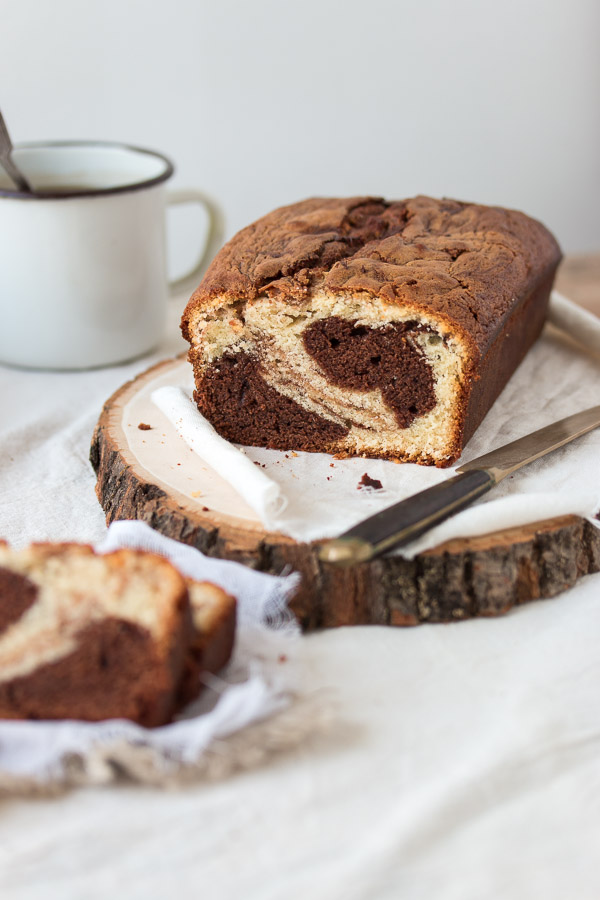 I finally took some time this weekend to cross a task off my avoid-as-much-as-possible to-do list and organize my closet. I couldn't avoid that one any longer since I was ambushed by a pile of clothes the day before. Thank God it was just the clothes closet and not my kitchen cabinet where I store my pans, since the same is going to happen there soon, too.
As it turns out, you can learn a lot about yourself by looking at your closet. While organizing it, I noticed 2 disturbing things:  (1) my overwhelming pajamas stock, which I don't even want to know what that says about me, and (2) my abundance of skinny-and-wannabe-16-again pants. This might be related to my recent need for healthier food lately. Instead of being realistic and just getting rid of them, I keep telling (i.e., lying to) myself that I'm "only" 9 pounds away from fitting into them again, I'm sure I'll need them one day, and I'm working on it. This had been going on for 5 years now.
Who am I kidding? It was finally time to let go of them all, along with my dreams of being eternally young and thin. There was one pair of pink pants that I decided were worth saving, though: the ones I wore on one of my first dates with Erez. To this day, he reminds me how horribly pink they were and how funny yet cute I looked. Let me translate Erez's kind words of 'funny yet cute' for you. It means I looked absolutely ridiculous.
So what does any of this have to do with baking a marble cake? Nothing at all, so let's move on.
This is another one of my simple cakes that I just love to make and snack on with coffee or tea. Thanks to the light and dark swirls, it's a beautiful cake that has both chocolate and vanilla flavors in it. Although it may look complicated to make, it's not. It's made by first making a simple vanilla cake, then dividing the batter into 2 and adding melted chocolate to one of them.
If you prefer using cocoa powder over chocolate, use 1/4 cup cocoa powder mixed with 2 tablespoons hot water. As for the liquid, I tried using whole milk, buttermilk, and sour cream. Buttermilk and sour cream make the cake moister, but there's a difference in taste between all 3 of them. I actually found all options to be delicious, so use whatever you have on hand.
As with all my cakes, this one is moist, but not too much. It's tender with fine crumb, and it cuts beautifully into slices.
For the marble effect, alternatively spoon chocolate and vanilla batter into the pan using a measuring scoop or an ice cream scoop (imagine a chess board). Then, swirl the batter by running a knife or skewer through it – either in circles or just back and forth. Don't worry if it looks like a mess, because I can guarantee you it will. Also, don't overdo it or the batter will turn all chocolaty (which sounds delicious, but defeats the purpose).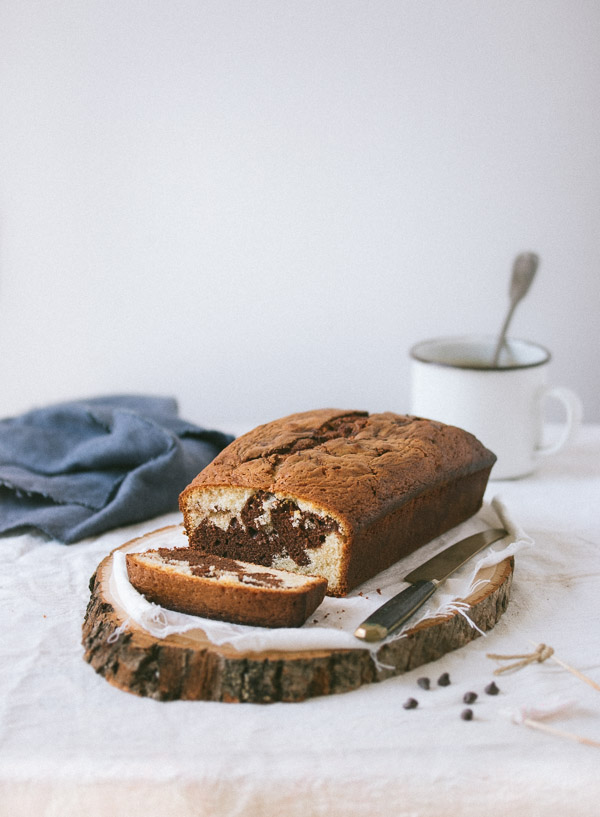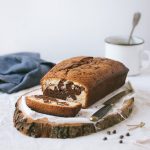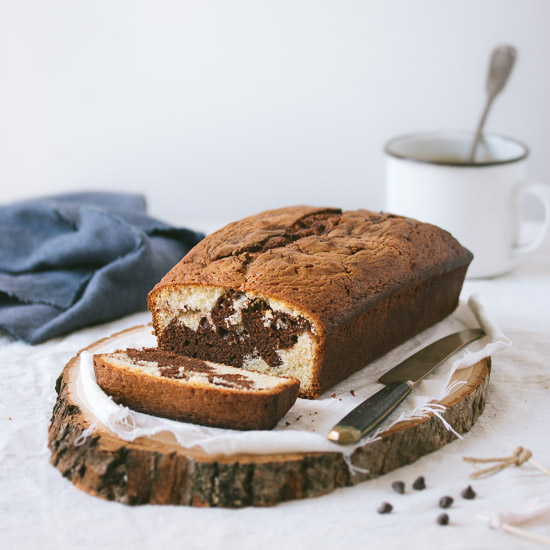 Chocolate Vanilla Marble Cake
---
Ingredients
1 1/2

cups

(210g) all-purpose flour

1 1/4

teaspoons

baking powder

1/2

teaspoon

salt

3/4

cup

(170g) unsalted butter, at room temperature

1 1/4

cups

(250g) granulated sugar

3

large eggs, at room temperature

2

teaspoons

vanilla extract

2/3

cup

(160 ml) buttermilk or sour cream

120

g

(4 oz.) bittersweet or semisweet chocolate, melted
Instructions
Preheat oven to 300°F/150°C. Butter an 8.5 x 4.5-inch or a 9×5-inch loaf pan.

In a medium bowl whisk together flour, baking powder, and salt. Set aside.

In a mixer bowl fitted with the paddle attachment, beat butter and sugar on medium speed for 4-5 minutes until light and fluffy. Beat in eggs, one at a time, until combined. Scrape down the sides and bottom of the bowl as necessary. Beat in vanilla extract. On low speed, beat in the flour mixture in 3 additions, alternating with the buttermilk/sour cream in 2 additions, starting and ending with the flour. Do not over mix.

Divide batter into two and fold the melted chocolate into one of the two mixtures.

Dollop the vanilla and chocolate mixtures alternately into the pan like a chess board – first next to each other, then in layers on top of each other. When done, insert a knife all the way down and swirl the batter gently. Avoid mixing to the point where all the batter turns chocolaty.

Bake for 80-90 minutes or until a toothpick inserted into the center of the cake comes out clean. Let cake cool slightly in pan, then turn out from the pan and allow to cool completely on a wire rack (or, you can leave it to cool in the pan if you prefer). Serve cake at room temperature.

Cake will keep for up to 5 days in the refrigerator. Alternatively, it can be frozen for 2 months. To thaw, leave on the counter, still covered, or overnight in the fridge.