This classic red salsa, made with fresh tomatoes, is a breeze to put together and always a crowd pleaser.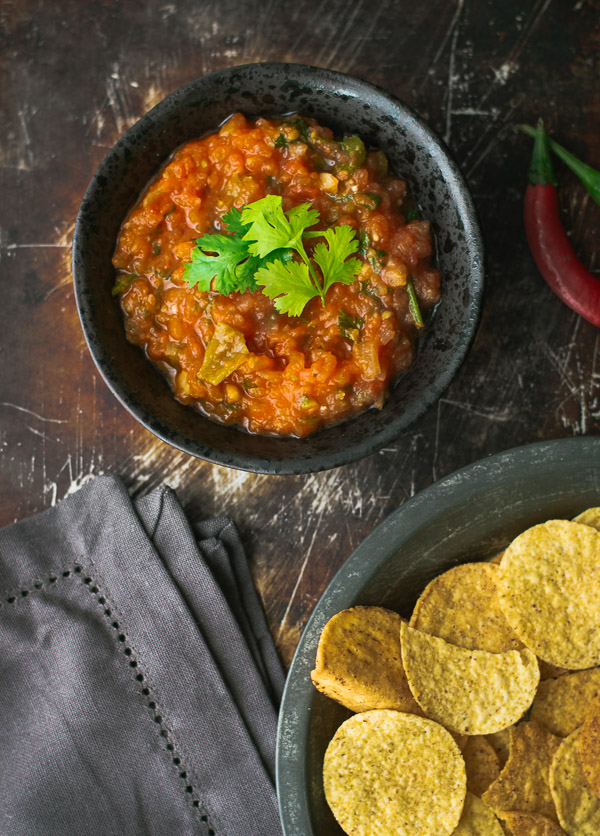 If you know me then you know I'll always find an excuse to eat. That's why food is an integral part of almost every daily activity of mine. Anything from watching TV to working to meeting up with friends is simply not complete without at least a snack, or in this case, a large bowl of grilled nachos paired with a fresh, spicy salsa. Other than a piece of cake, savory snacks are my favorite thing in the world, especially when there's some dipping involved. Luckily, making salsa is just as easy as eating it.
It only takes 5 minutes to make delicious homemade salsa. Chop the onions, tomatoes, and jalapenos and pulse all the ingredients except for the tomatoes in a food processor. Adding the tomatoes last will ensure that the salsa isn't watery, and there are still large pieces of chopped tomato. You can process the ingredients until they're either finely or roughly chopped—it's just a matter of preference.
For spicy salsa add more jalapeno pepper. You can use chili peppers as well if you prefer. I like to start by adding it moderately, as with peppers you never know what you're gonna get. If it's not spicy enough for me, I'll chop some more peppers and mix them in.
For thick salsa you can reduce the amount of olive oil and lime juice, which thin out the mixture. You can always add more liquid later on if you want. Also make sure to process the ingredients just until they're finely chopped. Over processing will make the salsa watery.
If you don't have a food processor simply chop all the ingredients finely by hand and mix them all together.
Play around with the ingredients to suit your taste the best. Unlike baking, amounts in recipes for cooking are approximate. That's because it depends on the kind of tomatoes, onions, peppers, and any other ingredients you're using. Just play with the amounts until it works for you.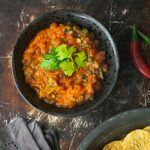 Fresh Tomato Salsa
---
Ingredients
1

small white onion

(red is also fine), quartered

5

fresh ripe tomatoes

, halved

1

jalapeno pepper

(less or more depending on desired spiciness), halved

3

cloves

garlic

2

tablespoons

fresh chopped cilantro

2

tablespoons

olive oil

2

tablespoons

freshly squeezed lime juice

(or if not available, 1 tablespoon lemon juice)

Salt

, to taste

Pinch

of ground pepper

Pinch

of sugar

, optional
Instructions
Place all ingredients except for tomatoes in a food processor and pulse a few times until minced. Add tomatoes and pulse until roughly or finely chopped, depending on desired consistency. Avoid over processing, which will make the salsa watery. Place salsa in a bowl and adjust seasoning.

Serve with tortilla chips (my recommendation: add sour cream as an additional dip) or with wraps, meat, fish, etc.

Salsa will keep for up to 2 days in the refrigerator. Wrap tightly with plastic wrap.