A simple yet perfect strawberry cream cake made of layers of vanilla sponge cake, soft whipped cream, and fresh strawberries.
I can't believe it's already been a year since I started this blog. Ok, maybe not a year exactly. I know I missed the actual date, but I guess that's because it's hard to believe just how fast the time has gone by. When I started it, it was mostly for fun without thinking much about what it would lead to. Soon, though, I realized that this blog is one of the best things to ever happen to me. I fell in love with baking all over again on a whole new level.
This blog is my space where I can talk about myself, my memories, and my ordinary-yet-sometimes-thrilling life. I can bake whatever I like and then eat all of it by myself. This is what actually happens most of the time. I can spend countless amounts of time on Pinterest and Instagram. After all, it is related to my work, so that's ok, right?
To celebrate our first year together, I decided to make a cake from my childhood. For a fancy but still easy-to-make sweet, my mom usually makes a strawberry cake role. I've taken this amazing recipe and turned it into a simple layer cake for everyone to enjoy.
The cake has 3 components: tender vanilla sponge cake, stable whipped cream, and fresh strawberries. Not much can go wrong here, really.
This sponge cake is also known as a hot milk cake. While some sponge cakes require separating the eggs, this one doesn't. Similar to other sponge cakes, this one requires to beat the eggs, which is what gives it its volume. Although light and tender, this hot milk cake is sturdy enough to support the heavy strawberry filling without cracking or collapsing. When I first made a hot milk cake, I thought it tasted unbelievable, and now I actually prefer it over butter cake for making layers.
Since the whipped cream is very delicate, I like to add cream cheese or mascarpone cheese to the heavy cream in order to stabilize it. That way it won't collapse once the cake is layered on top of it. Using powdered sugar rather than granulated sugar will also help in stabilizing it.
Last but not least are the fresh strawberries. Depending on their size, I like to cut them in half and quarters, while leaving some whole to decorate the top layer.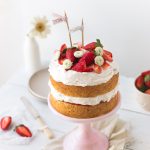 Strawberry Cream Cake
YIELD
:
2
-layer 8-inch cake
A simple yet perfect strawberry cream cake made of layers of vanilla sponge cake, soft whipped cream, and fresh strawberries.
---
Ingredients
Cake:
1 1/4

cups

(170g/6oz) all-purpose flour

1 1/2

teaspoons

baking powder

1/4

teaspoon

salt

1/4

cup

(1/2 stick/56g) butter

1/2

cup

(120ml) whole milk

3

large eggs

, at room temperature

1

cup

(200g/7 oz) granulated sugar

1

teaspoon

pure vanilla extract
Whipped Cream:
1 1/2

cups

(360ml) heavy cream

1/2

cup

cream cheese or mascarpone cheese

1/4

cup

granulated or powdered sugar

1

teaspoon

pure vanilla extract

About 1 pound/450g fresh strawberries

, cut into halves or quarters
Instructions
Preheat oven to 350F/180C. Grease 2 8-inch pans (read note if you have only one pan) and line the bottoms with parchment paper for easy release later on.

In a medium bowl, sift together flour, baking powder, and salt. Set aside.

In a small saucepan, combine butter and milk over medium heat just until butter is melted. Do not let it boil.

In a mixer bowl fitted with the whisk attachment, whisk eggs on high speed until combined and starting to foam, about 1 minute. Gradually add sugar and keep whisking until tripled in volume, about 6 minutes. Beat in vanilla.

Reduce speed to medium-low and add warm milk mixture into the egg mixture in a slow, steady stream. Add flour mixture in 3 additions and fold by hand using a rubber spatula just until combined.

Pour batter into prepared cake pans and smooth the top. Bake for 20-25 minutes, until the cake springs back when slightly touched and a skewer inserted into the center comes out clean. Allow cakes to cool on a wire rack for 15 minutes, then run a knife around the edges and invert the pan onto the rack. Let cool completely.

Without filling, cakes can be wrapped airtight and refrigerated for up to 5 days or frozen for 2 months.

For the whipped cream: In a mixer bowl fitted with the whisk attachment, whisk heavy cream with cheese, sugar and vanilla until stiff peaks form. Avoid overbeating.

Assembling the cake: Set one cake layer on a plate. Arrange about half of the strawberries in a single layer on top. Evenly spread 1/3 – 1/2 of the whipped cream over the strawberries, leaving a small border around the edge. Top with the second cake layer, this time spreading the whipped cream first and layering the strawberries on top.

Cake can be kept in the refrigerator for up to 1 day.
Recipe Notes
*If you have only one cake pan, scrape all batter into it. It will need more baking time. Once completely cooled, cut in half. If you refrigerate it first, the cake will be firmer and easier to cut.