These classic biscotti cookies are full of flavor and have an amazing crisp texture. Eat them on their own or alongside a hot cup of tea or coffee for a delicious treat!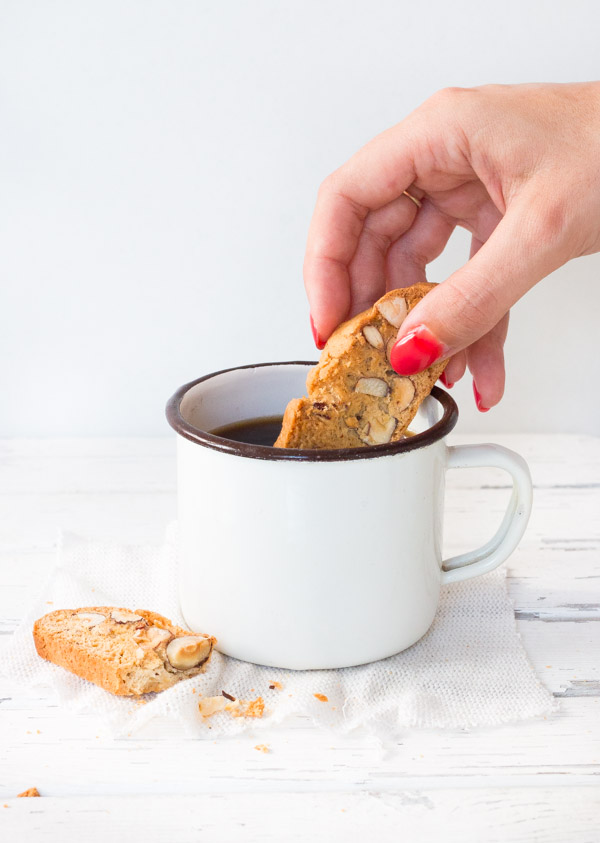 The main reason I love biscotti so much is for their crisp, irresistible texture. I also love how versatile they are – you can really put anything you like into them and they will be delicious.
So what are biscotti? Also known as cantuccini, biscotti are a classic Italian cookie that go through two rounds of baking, making them dry and crispy, creating that texture I love so much.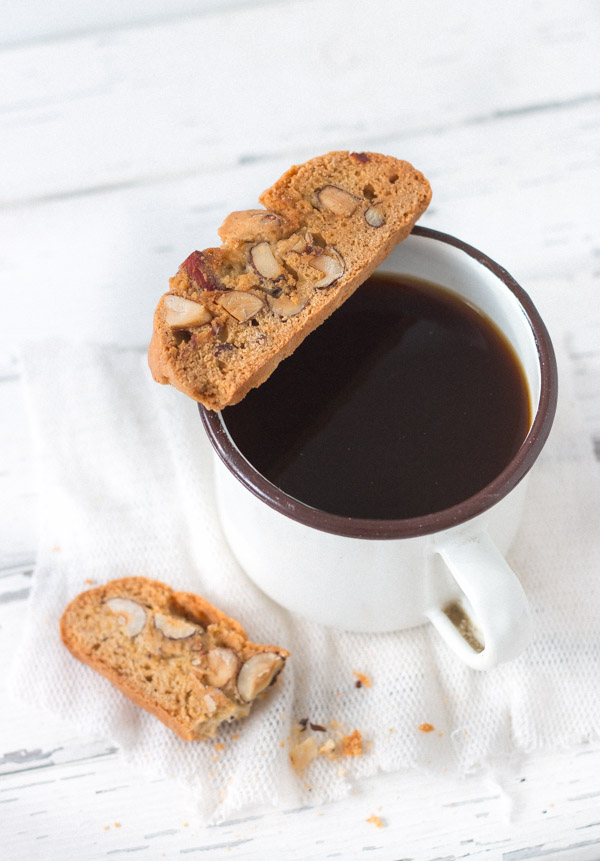 One important thing to note about this recipe is they are slightly different from traditional almond biscotti, which don't contain fat at all. I added a small amount of butter for extra tenderness and flavor, although they do still taste like classic biscotti. If you want to make the recipe the traditional way, simply omit the butter from the recipe and add 1 egg in it's place (totaling 3 eggs).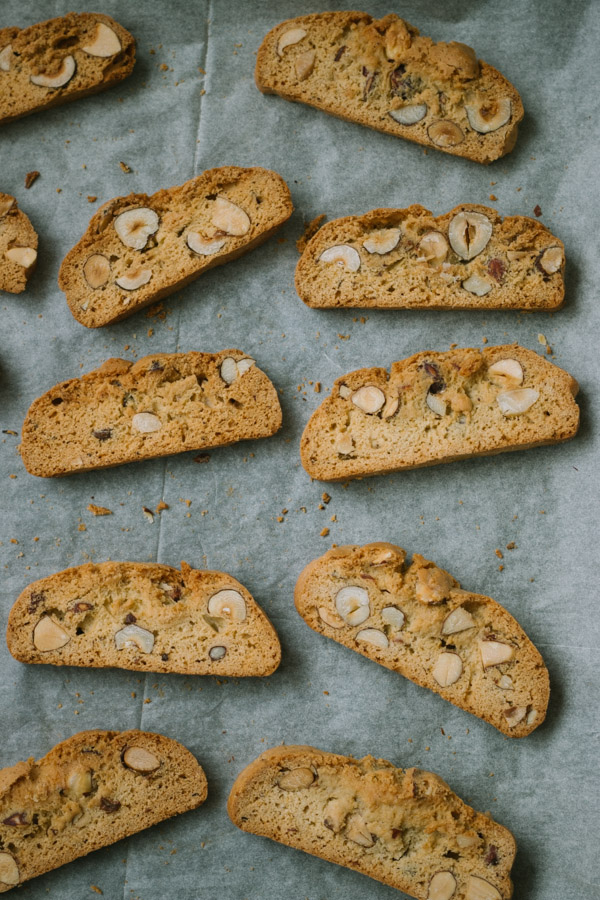 How to make almond biscotti
Toast the almonds (optional). While this step is optional, I highly recommend it because toasting the almonds first really brings out their flavor. To do this, place the almonds on a sheet pan and bake for about 6 minutes in a 350°F/185°C oven, tossing halfway through baking. Allow them to cool completely, then pulse them just a few times in a food processor so they are rough chopped. You can also use a large knife to rough chop them on a cutting board.
Whisk together the dry ingredients. This includes the flour, sugar, baking powder, salt, and cinnamon, if using.
Whip the eggs. Whisk the eggs on high speed until light and pale in color, about 2 minutes.
Add sugar, melted butter, and vanilla extract. Reduce speed to low, and slowly add sugar, melted butter and vanilla extract. 
Add the dry ingredients. Using a rubber spatula, fold in the dry ingredients in two additions. The mixture will start to form a dough.
Fold in the almonds. Do this gently to not overmix the dough.
Shape your dough. Form your dough into two 8×2.5-inch rectangles. I like to do this by forming the dough into a ball first and then splitting it in half on a floured surface so they are equal in size. Roll each half into a rectangle and place on a parchment lined baking sheet.
First bake. Bake the dough for about 25 minutes at 325°F/160°C until the dough is firm and the tops appear cracked. Remove from the oven and allow to cool for 30 minutes.
Slice into cookies. Use a serrated knife to slice the dough into slices, about 1/2-inch thick. Place on the same baking sheet cut side up.
Second bake. Bake the cookies again for about 15 minutes until they are completely dry. Remove from the oven and allow to cool.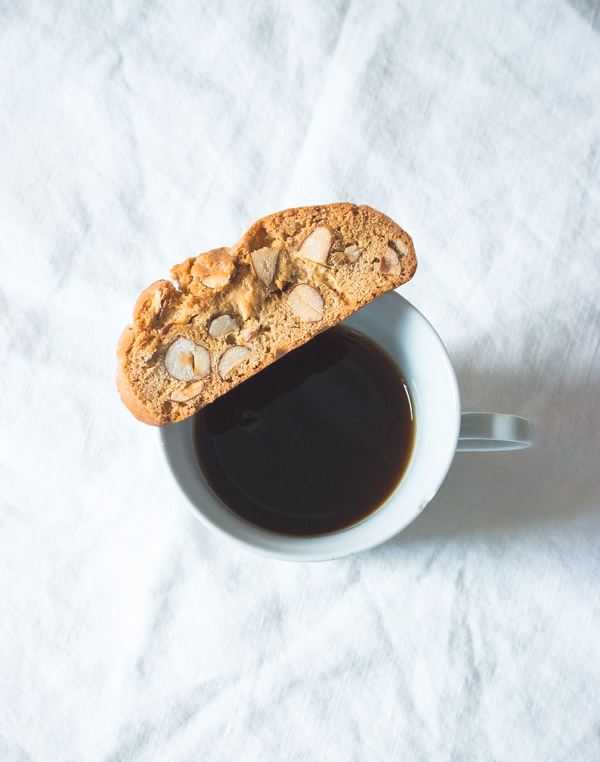 Tips for making perfect biscotti cookies
-Toast the almonds for the best flavor. While the almonds will toast while they are baking in the cookies, toasting them first really enhances the flavor. I highly recommend not skipping this step.
-Wet your hands to help shape the dough. Sometimes the cookie dough may feel a bit dry when shaping it. To make it easier, wet your hands with cold water.
-The longer the almond biscotti bake, the crispier they will be. If you prefer your cookies a bit softer, you can remove them a bit sooner from the oven after the second bake.
Why are biscotti so crispy?
Biscotti, which translates to bread baked twice, are extra crispy cookies because they are baked twice; first, the dough is formed into a rectangle shape and baked. Once removed from the oven, you slice the dough into individual cookies. Then, the cookies are baked again to dry them out and create that crispy, delicious texture.
More of my favorite biscotti cookie recipes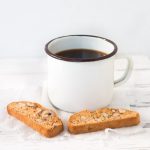 Almond Biscotti
These cookies are the perfect classic biscotti, full of flavor and with just the right crisp.
---
Ingredients
2

cups

(280g) all-purpose flour

1

teaspoon

baking powder

1/4

teaspoon

salt

1/2

teaspoon

cinnamon

(optional)

3/4

cup

(150g) granulated sugar

2

large eggs

1-1.5

teaspoons

almond extract*

(or 1.5 tablespoons Amaretto)

1/2

teaspoon

vanilla extract

1/4

cup

(56g) butter, melted and cooled

1

cup

(130g) whole almonds, with or without the skin, preferably slightly toasted* and coarsely chopped
Instructions
Preheat oven to 325°F/160°C. Line a baking sheet with parchment paper. Set aside.

In a large bowl, sift together flour, baking powder, salt, and cinnamon. Set aside.

In a mixer bowl fitted with whisk attachment, whisk eggs on high speed until light in color and doubled in size, about 2 minutes. On low speed, slowly add sugar, then vanilla and almond extract, then butter. Turn off mixer. Using a spatula, fold in flour mixture in 2 additions, then the nuts. Mix until a dough forms. The dough should be easy to handle. If you find it too sticky, add additional flour, 1 tablespoon at a time, until it no longer sticks to your hands.

On a lightly floured surface, form dough into a ball. Divide into 2 equal pieces. Shape each half into a rectangle around 8×2.5 inches in size and place them on the baking sheet, spacing them at least 4 inches from each other. Bake for about 25 minutes, until slightly risen, firm to the touch, and the top begins to crack. Cool on a wire rack for 30 minutes. Cut log into slices, around 1/2-inch thick or thinner, using a sharp knife. Return slices cut-side up to the pan in one layer. Place pan in the oven and bake for 20-30 minutes, until crisp and golden brown, flipping slices halfway through baking. The longer they stay in the oven, the harder they become. Allow cookies to cool completely.

Store cookies in an airtight container at room temperature for up to a month.
Recipe Notes
-To toast the nuts, place them on a baking sheet lined with parchment paper. Bake at 350°F/180°C for about 6 minutes. You don't need to fully toast them as they will continue to toast later when the biscotti is baked.
-You can substitute almond extract with 1.5-2 tablespoons almond liquor, such as Amaretto. Since you add more liquid to the dough, you might need to add more flour (1 tablespoon at a time) until the dough comes together.