Cranberry orange biscotti is a delicious treat especially during the holidays, and it pairs perfectly with tea, coffee, and hot chocolate! Trust me, I tried them all!
Today is a cold day, and you know how much I like those. Those days when you're not feeling guilty watching Netflix all day while dipping one biscotti after another in your hot chocolate. It's the weather… it's not you. So yeah, this is the sort of day I'm having, and I almost hate to admit how much I enjoy it.
Christmas is just around the corner, and I'm sure you're already busy brainstorming what you'll be cooking and baking. Who am I kidding, you've probably been doing that for a month now. These biscotti cookies would be perfect to nibble on during the holiday or as a gift.
What I like about biscotti is that you can make them ahead of time, because they are dry cookies and they stay fresh for long, so you can make them today before the Christmas madness starts.
I played with my classic biscotti recipe to make these cranberry orange biscotti. I did change a couple of things but the recipes are similar. This recipe is even simpler because you won't need a mixer, you just need to mix all the ingredients together.
They are really good on their own with a subtle but noticeable orange flavor, but they are even more delicious if they are dipped or drizzled with white chocolate. Bittersweet chocolate works too but personally, I prefer the flavor of the white chocolate. If you prefer dipping the biscotti in chocolate, you'll need to double the amount of chocolate in the recipe.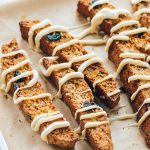 Cranberry Orange Biscotti
---
Ingredients
2

cups

(280 g/10 oz) all-purpose flour

¾

cup

(150 g/5.3 oz) granulated sugar or brown sugar

1

teaspoon

baking powder

¼

teaspoon

salt

½

teaspoon

cinnamon

, optional

zest from 1 large orange

3/4

cup

dried cranberries

3

large eggs

¼

cup

(1/2 stick/55 g) unsalted butter, melted and cooled

2

tablespoons

fresh orange juice

1

tablespoon

orange liqueur

, optional

100

g/3.5 oz melted white chocolate

, to drizzle, optional
Instructions
Preheat oven to 350°F/175°C. Line a baking sheet with parchment paper. Set aside.

In a large bowl, mix together flour, sugar, baking powder, salt, cinnamon, and orange zest. Stir in dried cranberries. Set aside.

In another medium bowl mixed together eggs, butter, orange juice, and liqueur. Add the mixture to the flour mixture, and mix with a spatula until combined and a dough is formed. If dough is too sticky, add additional flour, 1 tablespoon at a time, until it no longer sticks to your hands.

Transfer dough into a lightly floured surface, and form into a ball. Divide into 2 equal pieces. Shape each half into a rectangle the size of 8x3-inch (20x8cm). Place them on the baking sheet, spacing them 4-inch (10cm) apart.

Bake for 25 minutes or until firm to the touch, and the top begins to crack. Remove from the oven without turning off the heat. Allow biscotti to cool on a wire rack for 20-30 minutes. Cut each log into ½-inch thick slices (they can be thicker or thinner, so make them any size you want), using a sharp knife. Place slices cut-side up on the baking sheet in one layer. Place in the oven and bake for 10 minutes, then turn slices over and bake the other side for 10 minutes. Allow cookies to cool completely on a wire rack.

Drizzle biscotti with melted white chocolate, if desired, using a spoon or a piping bag.

Store cookies in an airtight container at room temperature for up to a month.