Cranberry orange biscotti is a delicious treat especially during the holidays, and it pairs perfectly with tea, coffee, and hot chocolate! You're going to love the amazing crunch and flavors of cranberry, orange, cinnamon and white chocolate.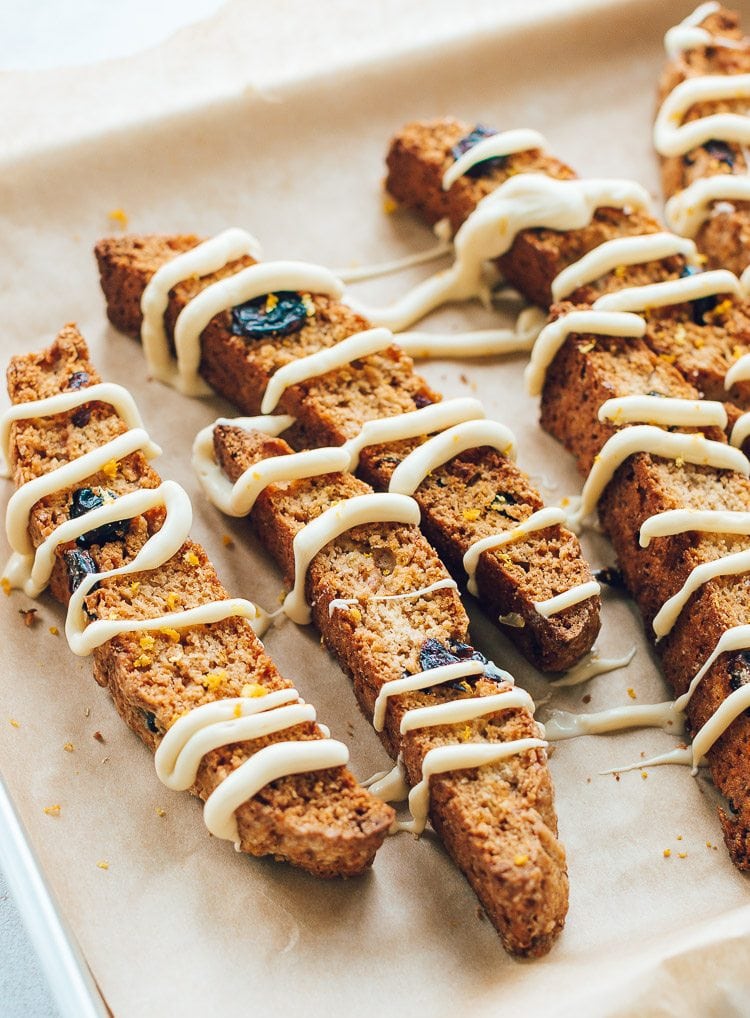 Even though it's still pretty hot out, I can't help but start dreaming about the chilly fall days ahead. While I do love summer, there's something so cozy and comforting about fall and winter. I love wearing sweats and cuddling on the couch with my girls while drinking a mug of tea or hot chocolate and of course, dipping some cookies in it. And these cranberry orange biscotti are one of my favorite chilly day treats!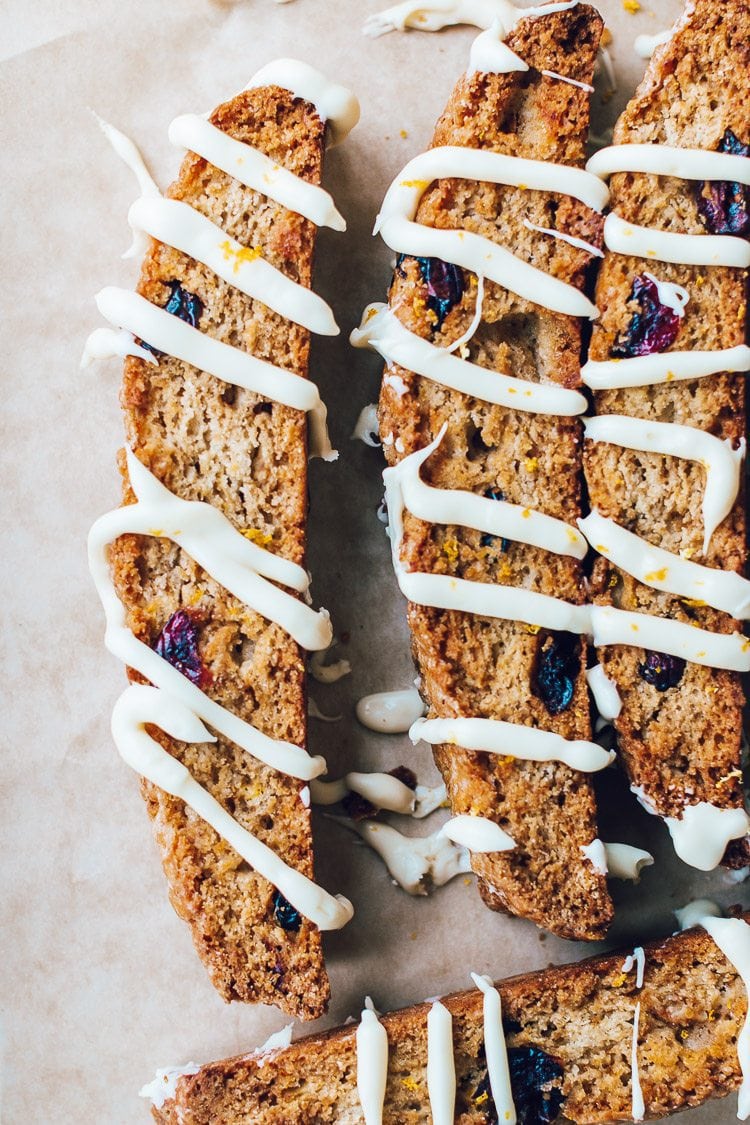 These biscotti cookies are also perfect to nibble on during the holidays, as a gift, or part of a cookie exchange! They have just a touch of cinnamon, giving them some lovely fall flavor. What I like about biscotti is that you can make them ahead of time, because they are dry cookies and they stay fresh for long, so don't need to worry about them going stale.
I played with my classic biscotti recipe to make these cranberry orange biscotti. I did change a couple of things but the recipes are similar. This recipe is even simpler because you won't need a mixer, you just need to mix all the ingredients together.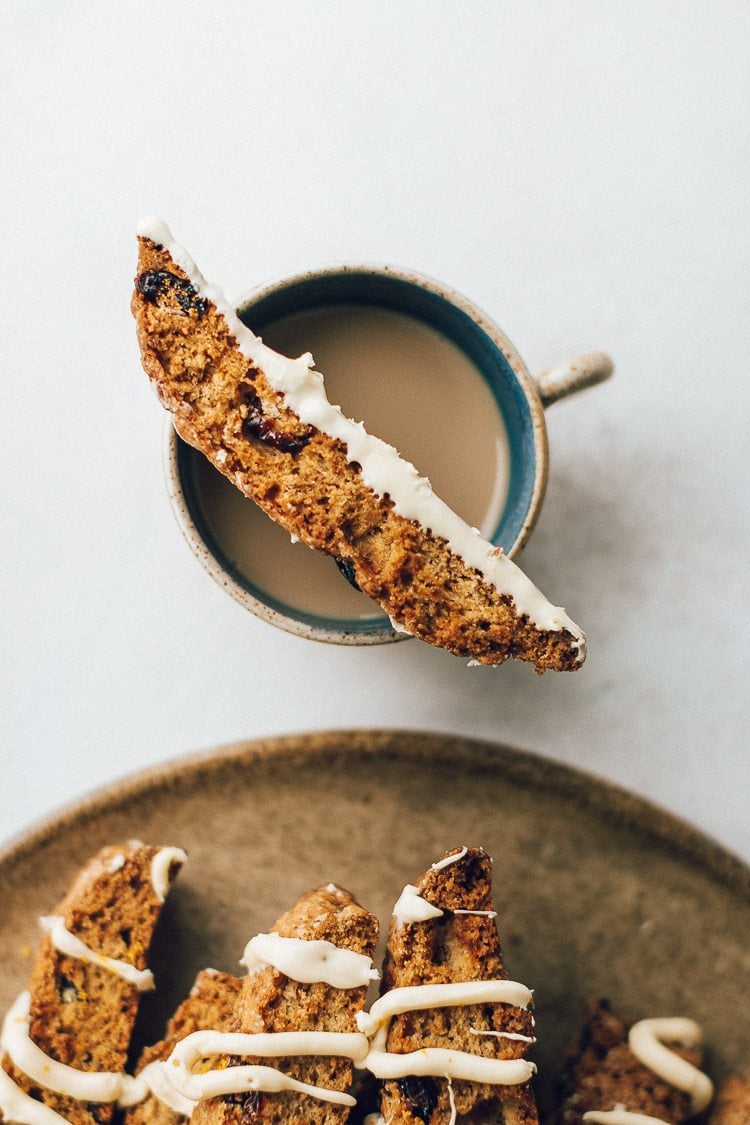 What are biscotti cookies?
Let's start with the basics. What are these crunchy cookies anyways and how are they prepared? Biscotti are a classic Italian cookie known as cantucci in Italian. They are long and thin and  baked twice which is what gives them their crispy, dry texture. Biscotti can be flavored with all kinds of add-ins, like chocolate, dried fruit, and nuts.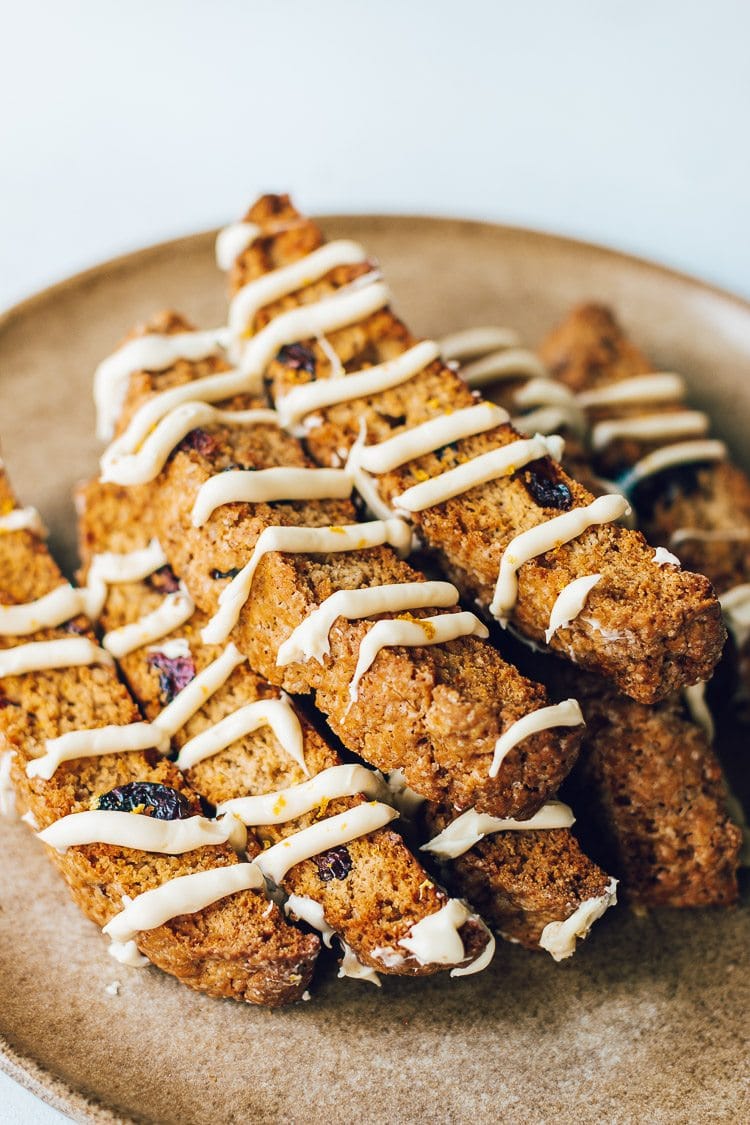 How to make cranberry orange biscotti
This recipe is incredibly simple to make and does not require a mixer, another reason I love it!
Whisk together the dry ingredients. This includes the flour, sugar, baking powder, salt, cinnamon, and orange zest. Throw in the dried cranberries and combine.
Combine the wet ingredients. Combine the cooled melted butter, orange juice, eggs, and liqueur, if using.
Mix it all together. Pour the dry ingredients into the wet and combine, being careful not to overmix.
Shape your dough. Form your dough into two 8×13-inch rectangles. I like to do this by forming the dough into a ball first and then splitting it in half on a floured surface so they are equal in size. Place the rectangles on a parchment lined baking sheet.
First bake. Bake the dough for about 25 minutes until the dough is firm and the tops appear cracked. Remove from the oven.
Slice into cookies. Use a serrated knife to slice the dough into slices, about ½-inch thick. Place on the same baking sheet.
Second bake. Bake the cookies again for 10 minutes, and flip them. Bake another 20 minutes until they are completely dry. Remove from the oven and allow to cool.
Drizzle with white chocolate. Once the cookies are cooled, drizzle melted chocolate over them in a zip zag pattern. You can also melt some dark chocolate and dip half of each cookie in it, placing it back on parchment paper to dry. Both are delicious!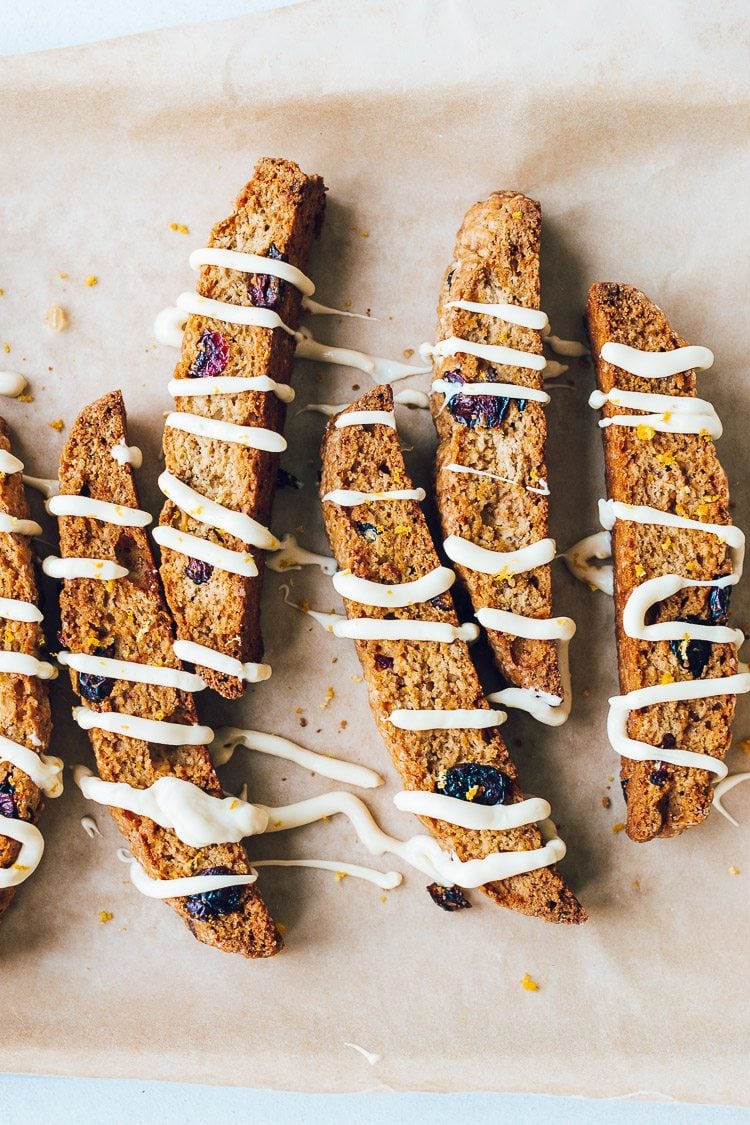 More cookie recipes you'll love: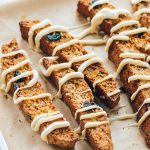 Cranberry Orange Biscotti
Ingredients
2

cups

(280 g/10 oz) all-purpose flour

¾

cup

(150 g/5.3 oz) granulated sugar or brown sugar

1

teaspoon

baking powder

¼

teaspoon

salt

½

teaspoon

cinnamon

, optional

zest from 1 large orange

¾

cup

dried cranberries

3

large eggs

¼

cup

(½ stick/55 g) unsalted butter, melted and cooled

2

tablespoons

fresh orange juice

1

tablespoon

orange liqueur

, optional

100

g/3.5 oz melted white chocolate

, to drizzle, optional
Instructions
Preheat oven to 350°F/175°C. Line a baking sheet with parchment paper. Set aside.

In a large bowl, mix together flour, sugar, baking powder, salt, cinnamon, and orange zest. Stir in dried cranberries. Set aside.

In another medium bowl mixed together eggs, butter, orange juice, and liqueur. Add the mixture to the flour mixture, and mix with a spatula until combined and a dough is formed. If dough is too sticky, add additional flour, 1 tablespoon at a time, until it no longer sticks to your hands.

Transfer dough into a lightly floured surface, and form into a ball. Divide into 2 equal pieces. Shape each half into a rectangle the size of 8x3-inch (20x8cm). Place them on the baking sheet, spacing them 4-inch (10cm) apart.

Bake for 25 minutes or until firm to the touch, and the top begins to crack. Remove from the oven without turning off the heat. Allow biscotti to cool on a wire rack for 20-30 minutes. Cut each log into ½-inch thick slices (they can be thicker or thinner, so make them any size you want), using a sharp knife. Place slices cut-side up on the baking sheet in one layer. Place in the oven and bake for 10 minutes, then turn slices over and bake the other side for 10 minutes. Allow cookies to cool completely on a wire rack.

Drizzle biscotti with melted white chocolate, if desired, using a spoon or a piping bag.

Store cookies in an airtight container at room temperature for up to a month.