Light and rich classic cream scones with chocolate chips and bananas.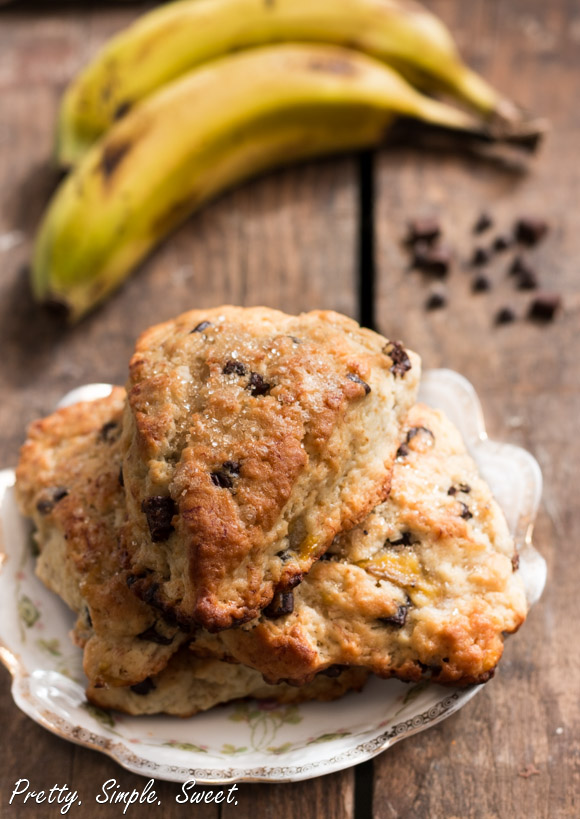 Although almost all of my recipes are super easy and simple to make, there are times when I want them to be even easier (laziness alert!). And I believe that's the reason why scones were invented.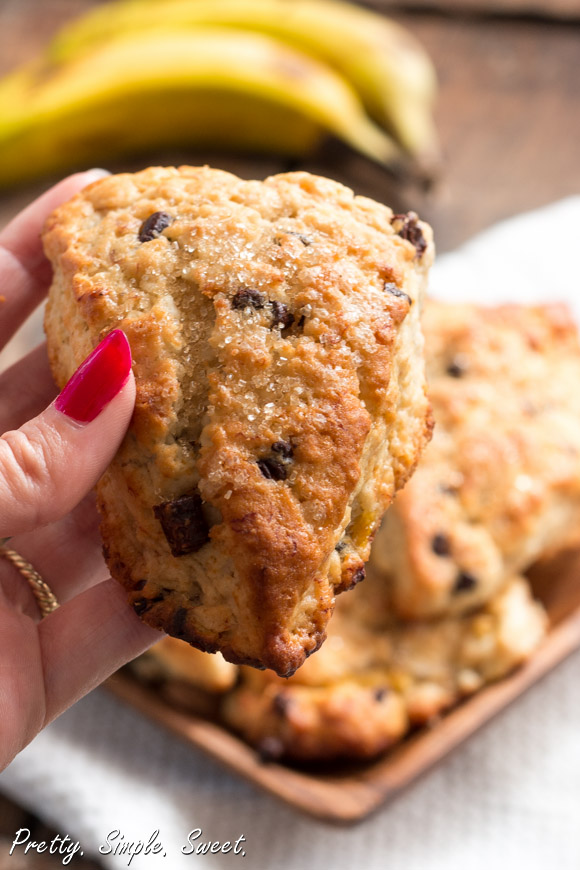 Classic scones are plain and go well with butter or jam, but I like to load mine with bananas and chocolate chips. Or orange and almonds. Or raspberries and lemon. Or cherries and chocolate. You get the picture.
Scones are quick breads that aren't too sweet. They are crunchy on the outside and soft on the inside. They are made from a few simple ingredients: flour, butter, liquid (such as heavy cream, buttermilk etc.), sugar (usually a small amount) and sometimes eggs. Eggs make scones richer in flavor but heavier in texture.  Today's recipe uses heavy cream as the liquid, which gives the scones a wonderful, subtle and sweet taste with a rich texture. They are the perfect classic cream scones. The chocolate and bananas are just a bonus and a combination made in heaven!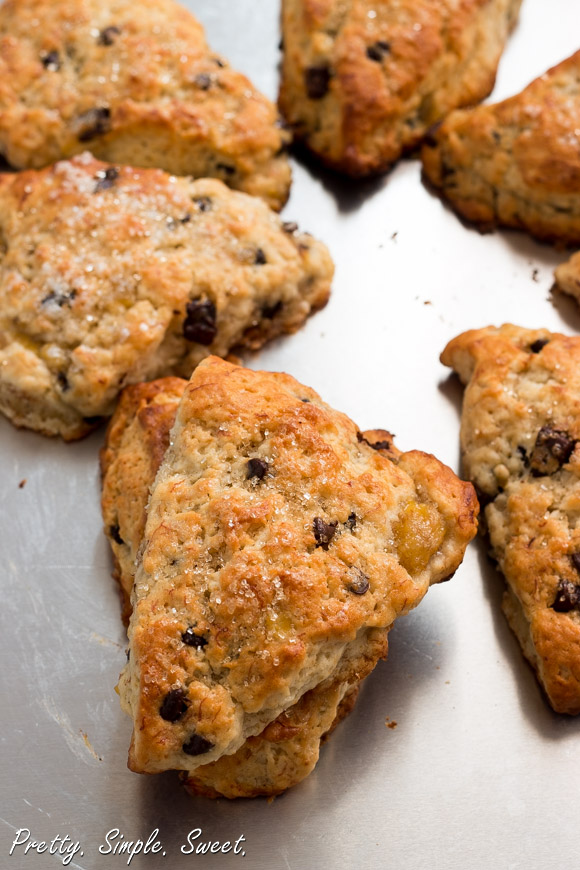 Cold ingredients (butter and heavy cream) are necessary when making this banana chocolate chip scones, otherwise the butter will melt fast and the dough will be messy and hard to handle. To make the scones, start by mixing the dry ingredients in a bowl. Then cut in the butter using a pastry cutter, a fork, two knives or your fingers, until the mixture resembles coarse meal – there should be uneven pieces of butter in the mixture – some as small as peas and some the size of oatmeal. You can also pulse all of these ingredients in a food processor and then transfer the mixture to a bowl (before adding the cream and vanilla). Add the vanilla and heavy cream to the mixture and stir with either a spatula, wooden spoon or fork until a dough begins to form. Avoid overmixing so the scones will turn out as light as possible. Fold in bananas and chocolate chips until combined. Once added, the bananas will add moistness to the dough, so knead gently.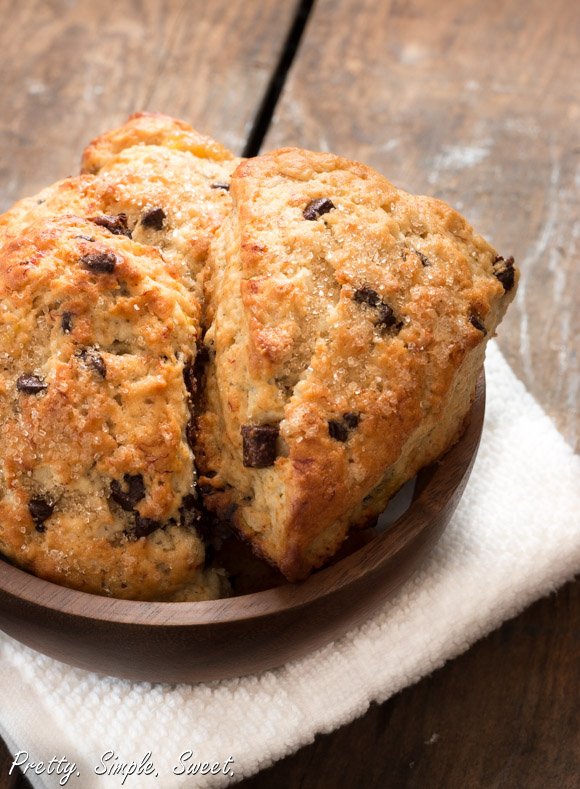 Keep kneading the dough on a floured surface a few more times (about 6 times) until the dough is slightly sticky but easy to handle. Pat the dough into a 9-inch circle and cut it into 8 even rectangles (like a pizza). I suggest sprinkling the coarse sugar on the top of the scones for extra crunchiness.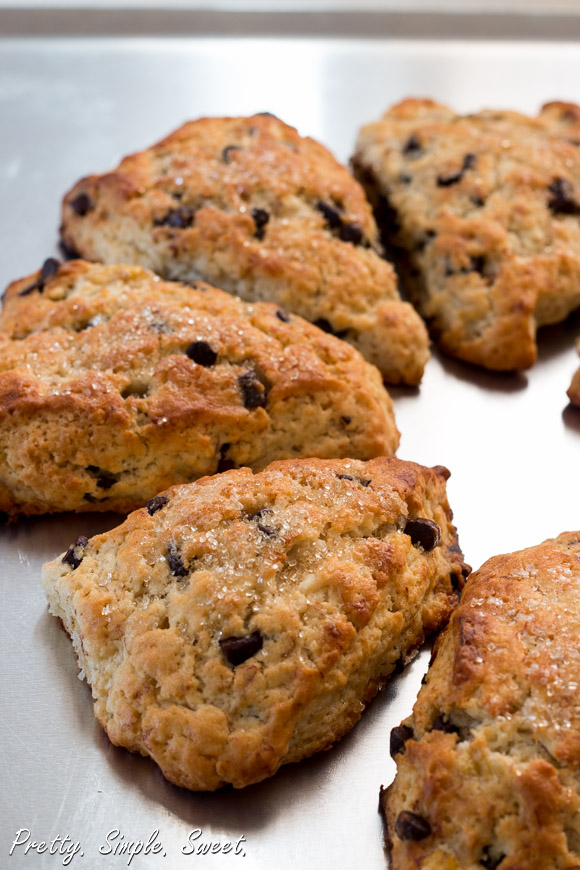 After I baked these scones, I put them in the freezer (right after I ate 3 of them). The next morning I gave 2 frozen scones to my mom and told her to wait until they were at room temperature. Later that day she told me that after she took one bite, it was so good that she ate the whole thing almost frozen. She said she just couldn't help herself.
Like mother, like daughter.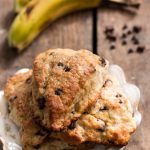 Banana Chocolate Chip Scones
Light and rich classic cream scones with chocolate chips and bananas.
Ingredients
2

cups

(280 grams or 10 ounces) all-purpose flour, sifted

1

tablespoon

baking powder

½

teaspoon

salt

¼

cup

(50 grams or 1.7 ounces) granulated sugar (or ⅓ cup for sweeter scones)

⅓

cup

(75 grams or 2.6 ounces) cold butter, cut into ¼-inch pieces

¾

cup

heavy cream

(plus more as needed), plus 1 tablespoon (for brushing the tops)

½

teaspoon

vanilla extract

⅓

cup

banana pieces

½

cup

(170 grams or 6 ounces) chocolate chips or chunks

Coarse/turbinado/demerara sugar

, for sprinkling
Instructions
Preheat the oven to 400F degrees. Line a large baking sheet with parchment paper or silicone baking mat. Set aside.

In a large bowl, whisk together flour, baking powder, sugar and salt. Cut in the butter, using a pastry blender or your fingers. Alternatively, you can pulse the ingredients in a food processor. Mix until mixture resembles coarse meal (uneven pieces of butter in the mixture is good!). Add ¾ cup heavy cream and vanilla extract and stir with a spatula or a fork until dough begins to form. If dough is too crumbly, add more heavy cream - up to ¼ cup. Don't overmix. Gently fold in bananas and chocolate chips. The dough will be slightly sticky.

Transfer dough to a floured surface and knead dough gently, about 5-6 times, until a ball forms. Pat the dough into a 9-inch (22 cm) circle, about ¾-inch thick. Cut the circle into 8 even wedges.

Place the scones on prepared baking sheet. Brush the tops with a bit of heavy cream. Sprinkle with coarse sugar. Bake scones for 15-18 minutes, or until golden brown. Transfer baking sheet to a wire rack and allow it to cool for 10 minutes. While scones are still hot, sprinkle again with coarse sugar for extra crunchiness.

These scones are delicious either warm or at room temperature.

Scones are best eaten the same day they are made, but they can be frozen for up to 1 month.
Don't forget to try more delicious recipes like these blueberry scones!