Moist, delicate, and buttery blueberry muffins that are sure to brighten up any morning.
After weeks of searching, my friend Rene finally found some fresh blueberries for me. She had seen them a few days ago at the supermarket, and when she heard that I had been looking everywhere fruitlessly, she went to get me some, but they were sold out. She's a persistent girl, though, so she kept looking every time she was there until she hit the jackpot – a single package hidden at the back of the shelf. Now that's what I call a good friend. Thanks to Rene, we can now all enjoy these delicious blueberry muffins, and trust me, that's something to be grateful for.
Although I usually use frozen blueberries, sometimes they brutally dye my entire cake blue no matter how many tricks I try. If you don't have fresh blueberries on hand, frozen will work, just be sure to use them straight from the freezer; if they thaw, they'll bleed into the batter. Coat the berries in flour or sugar (flour will help prevent them from sinking to the bottom), then quickly add them in and mix as gently and sparingly as possible until combined.
Through my own trial and error with many muffin recipes, I've found that it's usually easy to substitute butter with oil or milk with any other dairy product such as yogurt, buttermilk, or sour cream. I also like to add a touch of honey to my muffins, something I don't normally see in other recipes. The honey adds moisture and gives some extra flavor that I feel goes especially well with blueberries. If you like the taste of molasses, then you can add 2 tablespoons of it instead of 2 tablespoons sugar, or you can substitute some of the granulated sugar with brown sugar.
I do have another recipe for blueberry muffins (who am I kidding, I have at least 5 more) that is more bread-like and calls for oil and yogurt. It's quicker to prepare since it doesn't require creaming the butter and sugar in a mixer, and instead just calls for mixing dry ingredients with wet ingredients in a bowl like a typical muffin batter. I'll post this recipe for you another time – just hope that Rene finds more blueberries soon.
Using the creaming method gives these muffins a more cake-like texture and fine crumbs. They are delicate with a hint of vanilla flavor. I personally like to sprinkle some coarse sugar to give the top an extra crunch, but you can use granulated sugar, which will melt during the baking process and create a hard crust. A simple streusel recipe (like the one here) also goes perfectly with these.
The blueberry glaze, although delicious, isn't necessary for these already-amazing-and-flavorful-muffins, especially if you just want them for a morning snack. You can find the recipe here.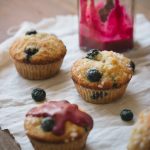 Blueberry Muffins
Moist, delicate, and buttery blueberry muffins that are sure to brighten up any morning.
---
Ingredients
1 1/2

cups

(210 g/7.5 oz) all-purpose flour

1 1/2

teaspoons

baking powder

1/4

teaspoon

baking soda

1/4

teaspoon

salt

1/2

teaspoon

cinnamon or 1 teaspoon lemon zest

1/3

cup

(75 g/2.6 oz) butter, softened

1/2

cup

plus 2 tablespoons

(125 g/4.4 oz) granulated sugar

2

tablespoons

honey

(or 2 tablespoons granulated sugar)

2

large eggs

, room temperature

1/2

teaspoon

pure vanilla extract

1/2

cup

(120 ml) buttermilk

1

cup

blueberries

(if using frozen, do not thaw)

2

tablespoons

coarse sugar/demarara sugar

, for sprinkling
Instructions
Preheat oven to 425F/215C. Butter 10-12 muffin cups or line with paper liners.

In a medium bowl, sift together flour, baking powder, baking soda, salt, and cinnamon (if using). Set aside.

In a standing mixer fitted with the paddle attachment, beat together butter, sugar, honey, and lemon zest (if using) on medium speed for 3 minutes until light and fluffy. Scrape down the sides and bottom of the bowl as necessary. On medium speed, beat in eggs one at a time, beating well after each addition. Add vanilla extract and beat until combined. With the mixer on low speed, add half of the dry ingredients and beat just until combined. Add buttermilk and beat until combined. Add the other half of the dry ingredients and beat slowly or fold by hand only until combined. Do not over mix – the less you mix, the lighter the cake will be. Gently fold in blueberries.

Divide the batter between muffin cups, filling them almost all the way to the top. Bake for 5 minutes, then reduce the oven temperature to 375F/190C. Continue to bake for an additional 8-13 minutes, or until a toothpick inserted into the center of the muffin comes out clean or with just a few moist crumbs. Allow to sit on a wire rack for 8 minutes, then remove from pan and let cool completely on a wire rack.

Muffins are best the same day they are made, but can be frozen, tightly covered, for up to 2 months. To thaw, leave on the counter, still covered, or overnight in the fridge.