Incredibly soft, thick and chewy butterscotch cookies loaded with butterscotch chips and pretzels. No mixer required.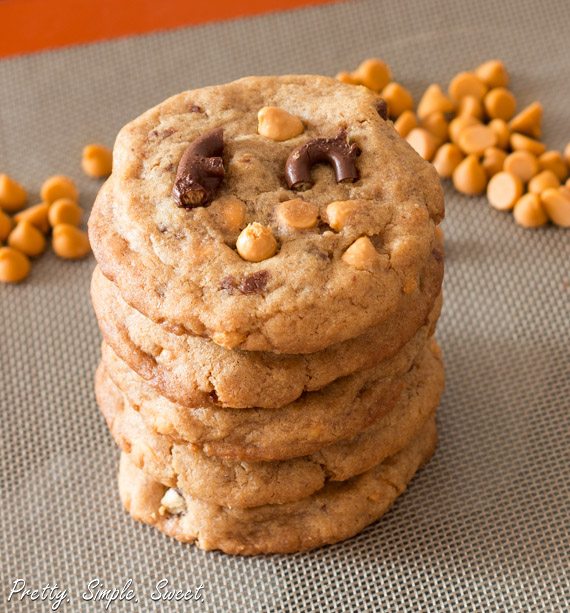 When I started this blog, my biggest fear was that no one would read it. I wasn't sure how I was going to reach any potential readers. I know – that's what marketing is for, right? But something amazing happened early on, way before I even started thinking about marketing my blog, that changed everything.
Back then, I had very few visits to my blog – 2-6 a day. Ten if I was lucky. One day, while I was looking into google analytics (yes, I did it when I had just 6 readers, wouldn't you?), I noticed hundreds of visits. At that moment, I couldn't believe it was real!  Let me tell you this – when it happens for the first time (i.e. you realize people are reading what you write), it's pretty exciting!
After having a 30 second dance party in my living room, I decided to try and understand how this happened. A little bit of research and it became clear. Someone with quite a lot of followers, pinned my Vanilla Pudding Chocolate Cookies Recipe on Pinterest, which brought all that traffic to my blog. The power of Pinterest, I'm telling you.
The cookies became popular very fast. Some of you wrote me that these are the best cookies you've ever tried (thank you! :)). I listened to your feedback and decided to experiment some more with pudding flavors. First in the series: butterscotch.
Let me give you a quick reminder why pudding cookies are so good. Pudding mix has cornstarch in it, which makes cookies extremely soft– it's amazing. Not only do you get the perfect texture, but the taste is divine. The cookies have strong and unique butterscotch flavor. The pretzels add nice crunch. Final result? A thick, soft and chewy cookie. Whoever tastes this cookie will never guess the secret ingredient.
While cookies usually have the tendency to spread during baking – these cookies stay thick, almost holding their shape as is before they went into the oven. The center of the cookie doesn't fully bake and stays incredibly soft.
I'm dying here. Let me grab a cookie and get back to you…
No mixer is required for these cookies. Melt the butter and whisk in sugars and pudding mix. Whisk in eggs and vanilla extract. Add dry ingredients and mix with a wooden spoon just until batter is mixed. Add butterscotch chips and pretzels. Don't overmix – otherwise it might result in tough cookies. I made the cookies 3-tablespoons in size. I wanted big cookies! If you make smaller cookies, bake them for less time.
I like to refrigerate the cookie dough for at least 30 minutes before baking. The dough can be refrigerated for up to 3 days, covered. After you take the dough out of the fridge, leave it out for a few minutes at room temperature until it is easy to handle (at first when you take it out of the fridge it will be hard from the cold). While this step is necessary in some of my cookies recipes, pudding cookies will be enough thick even without refrigerating, so you can skip this step if you like.
Bake cookies for 9-11 minutes, until the edges of the cookies start to brown. Slightly underbake cookies so they would stay soft.
Prepare yourself for some butterscotch goodness.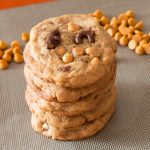 Butterscotch Pudding Pretzel Cookies
Incredibly soft, thick and chewy butterscotch cookies loaded with butterscotch chips and pretzels. No mixer required.
---
Ingredients
1 3/4

cups

(250 grams or 8.8 ounces) all-purpose flour

1

teaspoon

baking soda

1/2

teaspoon

salt

3/4

cup

(1.5 sticks or 170 grams) butter, melted

1/2

cup

(100 grams or 3.5 ounces) granulated sugar

1/2

cup

(100 grams or 3.5 ounces) brown sugar

80

grams

(2.8 ounces or 1/2 cup) instant butterscotch pudding mix

1

large egg

1

teaspoon

vanilla extract

3/4

cup

butterscotch chips

3/4

cup

chocolate covered pretzels

(or just regular pretzels)
Instructions
In a medium bowl sift together flour, baking soda and salt. Set aside.

Place the melted butter in a large bowl and whisk in granulated sugar, brown sugar and pudding mix. Whisk in the egg and vanilla extract. Add flour mixture and mix just until combined. Do not over mix. Stir in butterscotch chips and pretzels.

Chill the dough for 30 minutes (or up to 3 days). This step is not mandatory since the cookies will be thick enough even without refrigerating.

Preheat oven to 175C/350F degrees. Line pans with parchment paper.

If the cookie dough is hard to handle, leave it on the counter for a few minutes.

Drop rounded balls of dough onto prepared baking sheet, the size of 3 tablespoons each. Bake for 9-11 minutes, until cookies just begin to brown at the edges. Cookies will appear undone but will continue to bake on the warm baking sheet. Leave to cool for 10 minutes, then transfer to a wire rack to cool completely.
Recipe Notes
- Store cookies in an airtight container for up to 3 days.
- Cookies can be frozen for up to a month.