The flavor of these vanilla pudding chocolate chip cookies is amazing, and they are so soft, they will melt in your mouth! This recipe has been a favorite in our home for years.

If you like chewy, soft cookies, then you're at the right place! These cookies are for you. They have such have a unique flavor, and they literally melt in your mouth.
The cookies are just a tad bit crispy around the edges and have very soft and chewy centers. They are thick and puffy. I call them little vanilla clouds. Heavenly little clouds. And I mean, just look at them. They look gorgeous! Delicious on their own, but I add chocolate chips for taste and texture.
The ingredients for this recipe are pretty basic. Ones you'll find in every chocolate chip cookie recipe, with the exception of instant vanilla pudding mix (which really brings the softness of the cookies to a whole different level). Naturally, it also adds more vanilla flavor (but not too powerful), which is always a good thing.
Now let's talk about how you make the cookies and why they are so soft! If you ever searched for a soft cookie recipe online, you probably encountered one that contains cornstarch (and if not – good! because we will talk about it in the next chocolate chip cookies post). The cornstarch is added to cookies for extra softness. Adding even as little as a teaspoon can do magic. Too much and it will affect the taste (not in a good way). While there is no cornstarch in this recipe, it is hidden in the vanilla pudding mix.
As I said, making this recipe is very simple. You don't even need a mixer! You start by melting the butter in the microwave. Next, whisk in the sugars and the egg and then add the dry ingredients. Easy, right?
Don't over mix your cookie dough. As soon as the flour mixture is mixed, stop. Otherwise you will end up with tough cookies. At this point I recommend chilling the batter in the refrigerator for let's say at least 30 minutes (or even up to three days if you want to make these ahead of time). If you don't have the time, skip this step. While the batter is in the fridge chillin' (literally) the flour absorbs the liquids, eventually resulting in a thicker cookie that won't spread out while baking.
After you let your cookies chill, if they are too tough to handle, just leave them in room temperature for a few minutes before you start to scoop them onto your cookie sheet. You can use a medium ice cream scoop or just a tablespoon. I always bake my cookies for less time than what other recipes suggest because I like them slightly under baked (another secret for soft cookie centers).  From my experience the most you should bake a cookie is 8-10 minutes and that's it!  (Unless, of course, if you make bigger cookies). They will appear as though they aren't fully baked and that is ok. You will notice that by this point, the edges will have started to get a brown color.
Once out of the oven, leave them to cool for 10 minutes and then move them to a wire rack. If you touch them while they are fresh out of the oven, they will break.
More Chocolate Chip Cookies: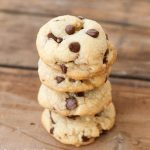 Vanilla Pudding Chocolate Chip Cookies
---
Ingredients
1 3/4

cups

(250 grams or 8.8 ounces) all-purpose flour

1

teaspoon

baking soda

1/2

teaspoon

salt

3/4

cup

(1.5 sticks or 170 grams) butter, melted

1/2

cup

(100 grams or 3.5 ounces) granulated sugar

1/2

cup

(100 grams or 3.5 ounces) brown sugar

80

grams

(2.8 ounces or 1/2 cup) instant vanilla pudding mix

1

large egg

1

teaspoon

vanilla extract

1

cup

(180 grams or 6 ounces) chocolate chips or chocolate chunks
Instructions
In a medium bowl sift together flour, baking soda and salt. Set aside.

Place the melted butter in a large bowl and whisk in granulated sugar, brown sugar and pudding mix. Whisk in the egg and vanilla extract. Add flour mixture and mix just until combined. Do not over mix. Fold in chocolate chips.

Chill the dough for at least 30 minutes (or up to 3 days). You can skip this step if you want.

Preheat oven to 175C/350F degrees. Line pans with parchment paper.

If the cookie dough is hard to handle, leave it on the counter for a few minutes.

Drop rounded balls of dough onto prepared baking sheet using heaping tablespoons or a medium (about 1.5-tablespoons) ice cream scoop, leaving about 2-3 inches (5-8 cm) between each cookie.

Bake for about 8-10 minutes, until cookies just begin to brown at the edges. Cookies will appear undone but will continue to bake on the warm baking sheet. Leave to cool for 10 minutes, then transfer to a wire rack to cool completely.

Store cookies in an airtight container for up to 3 days. Cookies can also be frozen for up to a month.