Crunchy on the outside and fudgy on the inside, these sugar-coated cookies are a chocolate lover's dream. They are also perfect for the holidays!
This has been a crazy month of birthday celebrations, starting with a girls' night out, followed by a surprise trip from Erez to Amsterdam (isn't he the greatest?), and ending with a girls' plus boys' night out which included many, many cookies. Among those sweets were these crinkle cookies that my friend Rene said I'd have to try. It's no wonder why we're best friends. She knows the way to my heart.
So what makes these cookies so good? These cookies have lots of chocolate in them. You can use semi-sweet or bittersweet chocolate. The recipe also includes ground almonds, which give a nice flavor and subtle crunch. Use blanched almonds and process them in the food processor just until they're finely ground; don't over-process them. The outside texture of these cookies is a bit crunchy with the inside being soft and fudgy.
Booze it up. I've tasted these cookies with different liquors and alcohol flavors that compliment chocolate, and it really adds a nice touch. Add it or leave out it—whichever you prefer.
Double the sugar, double the joy. These cookies are rolled in powdered sugar. For that reason, the cookies themselves don't contain a lot of sugar. During baking, the sugar causes the cookies to crack, creating their uniquely beautiful appearance.
These cookies need some chilling time, but they are worth it, I promise. Usually an hour is enough, but even longer would be preferable so that the cookies bake up thick. I usually leave mine in the fridge overnight and bake them first thing in the morning, then eat 10 for breakfast.
Don't overbake. We usually tend to overbake cookies because, while inside the oven, they don't look done even when they actually are. Keep in mind that they keep cooking while on the warm baking sheet, and firm up once cooled. Overbaking these cookies will make them dry out and lose their amazing fudgy texture, so bake them just until they are cracked and puffed, and the edges appear done. The center should remain soft.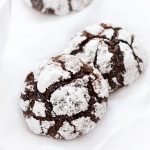 Chocolate Crinkle Cookies
Crunchy on the outside and fudgy on the inside, these sugar-coated cookies are a chocolate lover's dream. They are also perfect for the holidays!
---
Ingredients
230

g/8 oz dark chocolate

, roughly chopped

1/4

cup

(1/2 stick/55 g) unsalted butter

1/2

cup

(70 g/3.5 oz) all-purpose flour, sifted

2/3

cup

(60 g/2.1 oz) almond meal

1/2

teaspoon

baking powder

1/4

teaspoon

salt

2

large eggs

1/2

cup

(100 g/3.5 oz) granulated sugar

2

tablespoons

(30 ml) Irish cream, or coffee or almond liquor, optional

2

teaspoons

pure vanilla extract

1

cup

(100 g/3.5 oz) sifted powdered sugar, for rolling
Instructions
Place butter and chocolate in a heat-proof bowl and microwave in 20 or 30-second increments, stirring between each, until melted. Alternatively, melt butter and chocolate over a double boiler. Do not overheat.

In a medium bowl, combine flour, ground almonds, baking powder, and salt.

In the bowl of an electric mixer fitted with the whisk attachment, whisk eggs and sugar on high speed until fluffy and foamy and pale yellow. Reduce speed to medium or medium-high and slowly add the chocolate mixture, then the vanilla extract and liquor. Add the flour mixture and mix just until combined. The batter will be too runny at this point, so place it in the fridge for 60 minutes or longer until it firms up.

Preheat oven to 350F/175C degrees. Line 2 baking sheets with parchment paper.

Place powdered sugar a small bowl.

Using a teaspoon or an ice-cream scoop (I used

this one

), scoop 1 inch/2.5 cm rounded pieces of dough, and roll them into balls between your hands. Roll each ball generously in powdered sugar, and place on prepared baking sheets, spacing them 2 inches apart.

Bake for 8-10 minutes, until cookies are cracked and still soft in the center. Overbaking the cookies will make them dry. Allow cookies to cool on the baking sheets for 10 minutes, then transfer them to a wire rack to cool completely.

Cookies can be stored in an airtight container at room temperature for 3 days.