Moist chocolate muffins flavored with coffee and pecans with a super crunchy top. Perfect for a morning or afternoon snack. 
Spontaneity isn't my strong suit, but when Erez asked me if I'd like to go on a last minute trip, how could I have possibly turned that down? With a fast decision and a small suitcase, we found ourselves in magical Sicily. Besides eating an enormous amount of pizza and gelato all day long, we had no idea what to expect from the island, but clearly it exceeded our expectations.
The streets of Sicily have a classic European atmosphere, with plenty of archeological sites and buildings. Things are relatively cheap, the beaches are beautiful, the hotels are done a charming boutique style, the views are breathtaking, and the people are welcoming and smiling all the time. Life seems good in Sicily, which is why I keep asking Erez if we can please move there. But he ignores me, saying that I ask that about every place we visit. He might have a point.
Although the time I spent in Sicily inspired me to make some ricotta and pistachio-based desserts, this morning, sweet thoughts about the trip were still floating around in my head, leaving a silly smile spread over my face. I just want to take this morning easy, sitting on the balcony with a cup of coffee in one hand and a giant muffin in the other. Yep, that sounds like a good plan.
These muffins are moist, flavorful, and very chocolatey with a super crunchy top and a half-bread/half-cake texture. They're the kind of muffins you hope to find at your favorite bakery. While I added plenty of notes for the recipe, just know that it is amazing as-is. The amount of coffee really is up to you, so just experiment with it.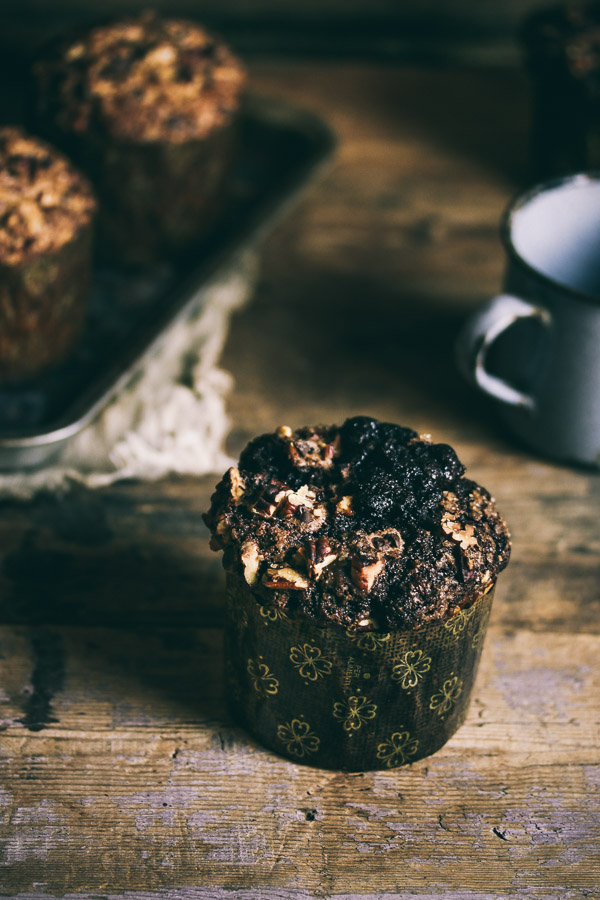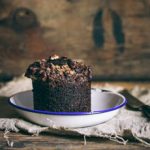 Chocolate Espresso Muffins
YIELD
:
12
standard-sized muffins
Moist chocolate muffins flavored with coffee and crunchy pecans. Perfect for a morning or afternoon snack.
---
Ingredients
For the Muffins:
1 1/2

cups

(210g/7.4 oz.) all-purpose flour

1/2

cup

(50g/1.7 oz.) unsweetened cocoa powder

1/2

teaspoon

baking powder

1

teaspoon

baking soda

1/2

teaspoon

ground cinnamon

, optional

1/4

teaspoon

salt

1/2

cup

(100g/3.5 oz.) granulated sugar

1/2

cup

(100g/3.5 oz.) light brown sugar (or granulated sugar)

1

large egg

, slightly beaten

3/4

cup

(180ml) whole milk

1/4

cup

(60ml) strong espresso or brewed coffee, cooled

1/2

cup

(1 stick/113g) butter, melted

1

teaspoon

vanilla extract

1/2

cup

pecans or walnuts

, coarsely chopped

1/2

cup

dark chocolate chips or chunks
For the Crunchy Topping:
2

tablespoons

coarse/turbinado/demerara/brown sugar

2

tablespoons

chopped pecans

2

tablespoons

chocolate chips
Instructions
Preheat oven to 375F/190C. Butter 12 muffin cups or line them with liner papers.

In a large bowl, sift together flour and cocoa powder. Add baking powder, baking soda, cinnamon, salt, and sugars and mix to combine.

In a medium bowl, mix together egg, milk, coffee, melted butter, and vanilla extract. Pour the wet ingredients into the flour mixture and fold with a wooden spoon or rubber spatula just until combined. Do not overmix. The batter should be quite thick and lumpy. Fold in nuts and chocolate chips.

Divide the mixture evenly between the muffin cups. Make the topping by tossing together sugar, pecans, and chocolate chips in a small bowl, then sprinkle evenly on top of the batter. Bake for 15-20 minutes, or until a toothpick inserted into the center of the muffins comes out clean. Transfer pan to a wire rack and let cool for 10 minutes, then remove muffins from pan and let cool completely.

Muffins will keep for 2 days in an airtight container at room temperature. They can also be frozen for up to 2 months. To thaw, leave them on the counter, still covered, or overnight in the fridge.
Recipe Notes
- This recipe provides a very subtle hint of coffee. If you want a stronger coffee flavor, use a double shot espresso. Alternatively, you can add 1-2 tablespoons of instant coffee granules (combine with the milk or hot coffee until dissolved) or espresso powder (mix with the dry ingredients).
- If the espresso liquid measures either less or more than 1/4 cup, simply change the amount of milk accordingly. The milk and espresso should be a total of 1 cup.
- For more of a mocha flavor rather than chocolate, reduce the cocoa powder by 1/4 cup.
- You can substitute the butter with 1/2 cup neutral oil such as canola, vegetable, or safflower.