Moist and tender espresso cake with delicious bits of pecans and dark chocolate.
Coffee is something you either hate or can't live without, and I'm most certainly a top member of the latter group. In fact, on the rare occasion of skipping my morning coffee, you may want to avoid me for a little while.
But rather than drinking coffee, I've recently found a new and better way to get my daily dose of caffeine, and that is, as you can already imagine, inside a cake.
This coffee cake is tender and moist and perfect as a morning snack. You can control the amount of coffee used so that the flavor is either strong or subtle. Speaking of which, don't be afraid to use strong coffee here because even with a double shot espresso, my final cake only ended up with a mild coffee flavor. Last time I made it, I added coffee granules in addition to the espresso, and liked it even better.
I find that espresso yields the best flavor, but you can replace it with (very strong) freshly brewed coffee or use instant coffee granules dissolved in ¼ cup boiling water.
Crunchy pecans and chocolate are my favorite add-ins to this cake, although sometimes I only use pecans. The bittersweet flavors combine perfectly with one another, so I definitely recommend using both.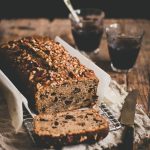 Chocolate Pecan Espresso cake
---
Ingredients
1 ¼

cups

(180 g/6.5 oz) all-purpose flour

1

teaspoon

baking powder

1

teaspoon

ground cinnamon

, optional

Pinch

of salt

½

cup

(1 stick/113 g) unsalted butter, softened to room temperature

1

cup

(200 g/7 oz) dark brown sugar

2

large eggs

1

teaspoon

pure vanilla extract

¼

cup

(60 ml) very strong espresso or brewed coffee, cooled to room temperature

2/3

cup

(160 ml) yogurt or sour cream

½

cup

(80 g/3 oz) chopped dark chocolate

½

cup

chopped pecans

, plus more for sprinkling
Instructions
Preheat oven to 350F/175C. Grease a 9×5-inch loaf pan. Set aside.

In a medium bowl sift together flour, baking powder, cinnamon, and salt. Set aside.

In a medium bowl using a mixer fitted with the paddle attachment, beat butter and sugar on medium speed for about 5 minutes, until light and fluffy. Scrape down the sides and bottom of the bowl as necessary. Beat in eggs, one at a time, until combined. Beat in vanilla extract. On low speed, beat in the flour mixture in 3 additions, alternating with the sour cream and espresso in 2 additions, starting and ending with the flour. Do not overmix. Fold in chocolate and pecans.

Scrape batter into prepared pan and smooth the top. Sprinkle with pecans if you like.

Bake for 50-55 minutes, until a toothpick inserted into the center of the cake comes out clean. If the top browns too quickly while baking, cover pan loosely with aluminum foil. Let cake cool completely on a wire rack.

Store cake at room temperature in an airtight container for up to 3 days or refrigerate for up to 5 days.
SaveSave
SaveSave