This creamy, smooth, shiny chocolate frosting is my absolute favorite on layer cakes and cupcakes.
This perfect chocolate buttercream icing uses butter and powdered sugar as the base. With both cocoa and melted chocolate to deepen the chocolate flavor, this classic frosting is a chocolate lover's best friend – especially when paired with a deliciously moist cake such as this one. Once you add the heavy cream, the frosting will become super smooth and silky, but you can replace it with whole milk if you prefer (but do keep in mind that it will change the taste and texture).
If you happen to have corn syrup, you can substitute some of the powdered sugar with it. This will make an extra smooth frosting. Either natural unsweetened or Dutch-processed cocoa powder are ok to use. Either milk, semisweet or bittersweet chocolate can be used.
It's very important to sift the powdered sugar and cocoa powder, or the frosting will be grainy. Also, make sure to beat the butter and sugar and cocoa for at least 3-4 minutes until completely smooth. If the frosting is somewhat grainy, switch to the whisk attachment.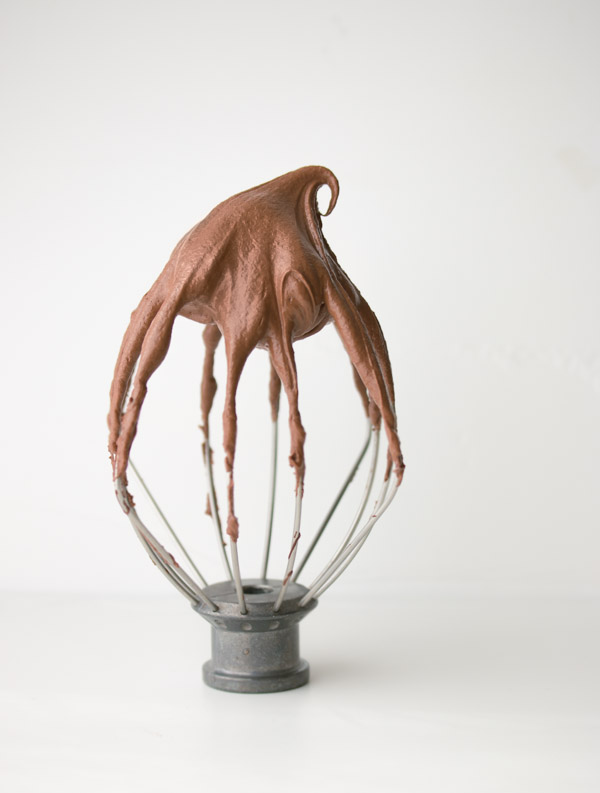 Chocolate Frosting
Yields:
enough to frost 1 2-layer 9-inch cake or 1 4-layer 6-inch cake
This creamy, smooth, shiny frosting is my absolute favorite on layer cakes and cupcakes!
Ingredients
2½ sticks (300 g) unsalted butter, room temperature
2 cups (240 g) powdered sugar, sifted (plus more as necessary)
⅓ cup (30 g/ 1 oz) cocoa powder, sifted
1 teaspoon pure vanilla extract
170g (6 oz) dark chocolate, melted and slightly cooled
¼ cup (60ml) heavy cream
Pinch of salt (optional)
Instructions
In the bowl of an electric mixer fitted with the paddle attachment, beat butter at medium speed until pale and fluffy, about 2 minutes. Add powdered sugar in 2 additions and beat until smooth. Add cocoa powder and beat until completely creamy and smooth. Beat in vanilla and melted chocolate until combined. Add heavy cream, a bit at a time, until desired consistency. Add powdered sugar as necessary until frosting is spreadable. Add salt, to taste, to cut sweetness (optional).
Use immediately or store in the fridge, covered, for up to 3 days. Before using, bring to room temperature and beat or whisk by hand until smooth again, about a minute.