Chocolate ganache is a smooth and silky emulsion made with 2 ingredients: chocolate and cream. It is perfect as a filling or for glazing desserts such as cakes, cupcakes, and even donuts. Here's everything you ever wanted to know about this magical confection.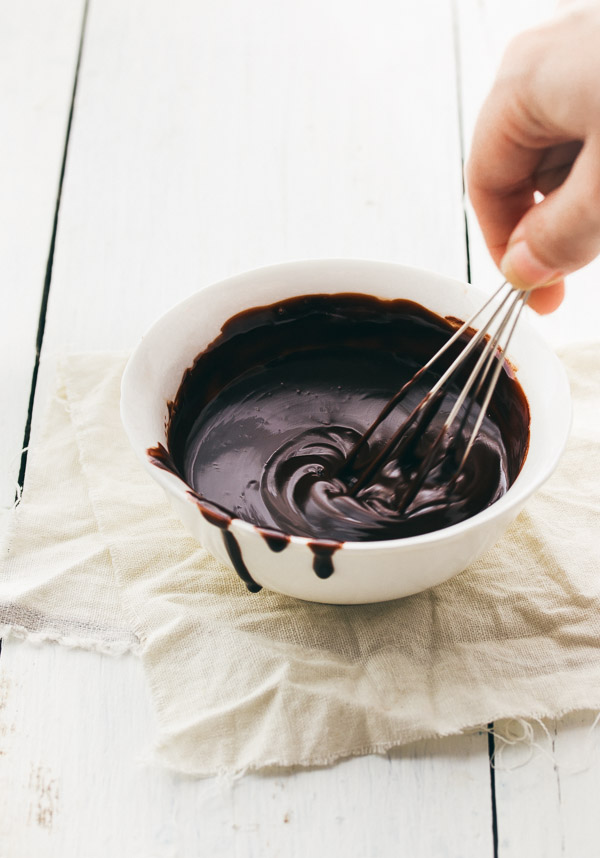 There's probably no other recipe in this world that I've made more than chocolate ganache. I've mentioned it in my other posts more than I can remember, constantly suggesting it as a sauce or frosting, like in these amazing chocolate cupcakes. It's such an easy and delicious recipe. Whenever I have leftovers, I eat the rest of it with a spoon, or drizzle it on pancakes or ice cream.
In this post, we're talking all things chocolate ganache: what it is, how to make it, and how to use it. By the end, you'll be rushing to the kitchen to whip up a batch of the stuff just to eat it by the spoonful.
What is chocolate ganache?
Chocolate ganache consists of two primary ingredients: chocolate and full-fat cream.
It can be made with different types of chocolate in varying amounts of chocolate and cream. Some recipes add additions of oil, unsalted butter, liqueur, or even nuts or dried fruit, depending on how it's going to be used. In Europe, it's actually more common to use unsalted butter instead of cream for its  creamy mouthfeel. 
Ganache can be used as a glaze, sauce, filling, frosting, or to make truffles. The difference between all of them is the ratio of chocolate to cream. In this recipe I use a basic 1:1 ratio, so for every 2 ounces of chocolate, I use 2 ounces of heavy cream. I use it mainly to glaze cakes, but also to top pancakes, waffles, or just about any dessert. I also use it as a filling for layer cakes, cupcakes, macarons, cookies, and tarts. At room temperature, this glaze is quite thick.
The two most common types of dark chocolate ganache are:
1:1 – one part chocolate to one part cream
The recipe in this post is a 1:1 ganache. It calls for:

-230g semisweet or bittersweet chocolate
-1 cup (240 ml) heavy cream  
1:1 ganache is perfect as a glaze, like in my easy chocolate cake recipe. It has a thin, viscous consistency and is incredibly smooth at room temperature, although you might need to heat it for a few seconds before you glaze a cake so it's runny enough. 1:1 ganache also works great as a filling for a variety of desserts.
2:1 – two parts chocolate to one part cream
Let's take the recipe above and adjust it to a 2:1 ganache. All we need to do is simply double the chocolate:

-460g semisweet or bittersweet chocolate
-1 cup (240 ml) heavy cream  

This ganache sets up firm at room temperature. 2:1 ganache can also be used for piping on cakes and cheesecakes, like my chocolate cheesecake. It's also perfect for making chocolate truffles.
The thicker you want the ganache to be, the more chocolate you should use. For a runnier glaze, you could even try using a 1:2 ratio, one part chocolate to two parts cream, but feel free to try different ratios to see what you prefer.
Tip: I do recommend using a scale to make ganache, which allows you to create perfect ratios of chocolate to cream by weight. But if you don't have one, don't worry. You can use measurements by volume, too!
Milk and white chocolate ganache
Making ganache with milk and white chocolate involves some alterations because they both have more milk solids and sugar than dark chocolate does.
Fortunately, these substitutions are simple. 
To achieve the same consistencies of 1:1 and 2:1 ganache with milk or white chocolate, you can use the following substitutions:
*To achieve the consistency of a 1:1 dark chocolate ganache (one part chocolate to one part cream) substitute a 1.5:1 ratio. For example:
-345g milk or white chocolate
-1 cup (240 ml) heavy cream
*To achieve the consistency of a 2:1 dark chocolate ganache (two parts chocolate to one part cream) substitute a 2.5:1 ratio. For example:
-345g milk or white chocolate
-1 cup (240 ml) heavy cream
How to make chocolate ganache
The first step is to chop the chocolate into small pieces. If using chocolate chips, you can simply use them as they are. 
There are two methods to making ganache:
Boil the cream. Pour the cream into a pot and bring it just to a boil. Be careful not to let it boil for too long or the liquid will begin to evaporate and the cream will start to reduce. Pour the boiling cream over the chocolate in a heatproof bowl. I recommend letting it sit for about a minute before whisking it together to emulsify.

Melt together in the microwave.

Place chocolate and cold cream in a heat proof bowl. Microwave in 30 second increments, whisking together until the chocolate is fully melted and the cream is incorporated.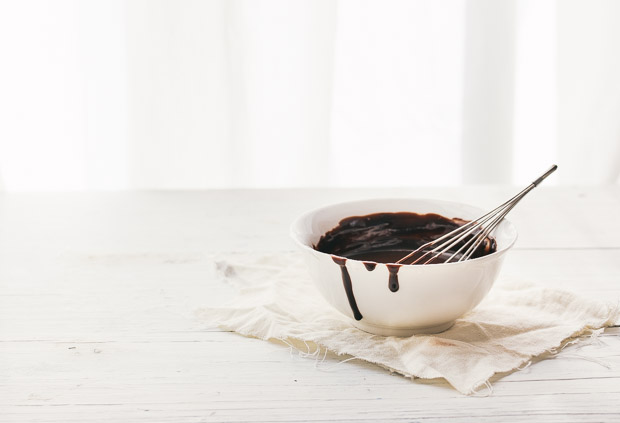 Piping ganache
Chocolate ganache makes an indulgent frosting for cakes and cupcakes. To do this, I recommend using a 2:1 ganache for this because it sets up firm. If you are going to serve a cake or cupcakes directly from the refrigerator, feel free to reduce the chocolate a bit or add a bit more cream so it's slightly softer. But if your dessert is going to be sitting out, particularly if it's warm, I recommend sticking with a 2:1 ratio.
Once you make the ganache, let it solidify in the refrigerator. When it solidifies slightly but is still soft enough to pipe, place it into a piping bag or use a spoon to fill and top your cakes or cupcakes. 
Tip: You may have to microwave the ganache for a few seconds to soften it before piping depending how much it sets. Microwave in 5-10 second increments and mix together between to equalize the temperature. Once the ganache is at the right consistency, you can pipe it onto your cake.
Whipped ganache
Yep, that's right! You can actually whip chocolate ganache into a creamy, fluffy frosting. With a light, mousse-like consistency, it's another perfect topping for frosting cakes and cupcakes. If you want to try something new, I highly recommend whipping some up (pun intended)!
To make whipped ganache:
Make a

1:1 dark chocolate ganache (or it's equivalent with milk or white chocolate).

 

Let it chill in the refrigerator until the ganache is completely solidified – around 4-6 hours should do the trick.

Scoop the ganache into a bowl. Use a handheld mixer or a stand mixer with the whisk attachment to beat the ganache until it's light and fluffy, about 2-3 minutes. 

Spread or pipe onto cakes or cupcakes immediately.
What kind of chocolate should I use?
Because chocolate is the primary ingredient in ganache, the better quality chocolate you use, the better the flavor. But any chocolate, from premium brands to grocery store chocolate chips, will work.
Tips for making perfect chocolate ganache
Use full-fat cream.

To create an emulsion that does not break or look separated, smooth and creamy ganache requires full-fat cream (35% or higher). Do not use half and half or low-fat cream.



Don't include add-ins until the ganache is made.

If you plan on adding extracts, liqueurs, or chopped nuts, do so after you've emulsified the chocolate and cream. Otherwise, your ganache might seize, which results in hard, gritty ganache that will not melt. This can happen when chocolate comes in contact with water or other liquids.



Make sure all of your equipment is completely dry.

If chocolate had an arch rival, it would be water. Water will cause chocolate to seize, making it unusable (This happens even to the best bakers, so don't get discouraged if your chocolate seizes).

Keep ganache refrigerated.

The shelf-life of ganache depends on how much cream it contains. Ganache with less cream will stay fresher, longer, and can sometimes be kept at room temperature because of its low water level. However, I always prefer to keep desserts with ganache refrigerated to ensure they don't spoil and stay as fresh as possible.

Freeze leftover ganache.

You can keep ganache frozen for up to 6 months. To thaw, simply put it in the refrigerator or let it sit out at room temperature until thawed. Then, keep refrigerated.



A few of my favorite recipes with chocolate ganache: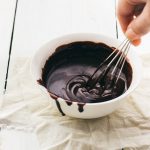 Chocolate Ganache
Make 1/2 of this recipe if you want to drizzle the ganache onto the top of a 9-inch or 10-inch round cake or bundt cake.
---
Ingredients
230 g/8 oz.

semisweet or bittersweet chocolate

, finely chopped

1

cup

(240 ml) heavy cream

1-3

teaspoons

alcohol such as brandy or liquor of your choice

, optional
Instructions
Place chocolate in a medium heat-proof bowl. Set aside. In a small saucepan over medium heat, bring cream just to a boil. Immediately pour cream over chocolate and let sit without stirring for 1-2 minutes. Then, whisk mixture gently until completely melted and smooth. Add alcohol, if using, and whisk to combine.

Ganache can be kept in the fridge, covered, for up to a week. Reheat gently (to avoid burning) in the microwave.