Made with only 2 ingredients, this smooth, silky, shiny chocolate ganache is perfect as a filling or for glazing desserts such as doughnuts and cakes.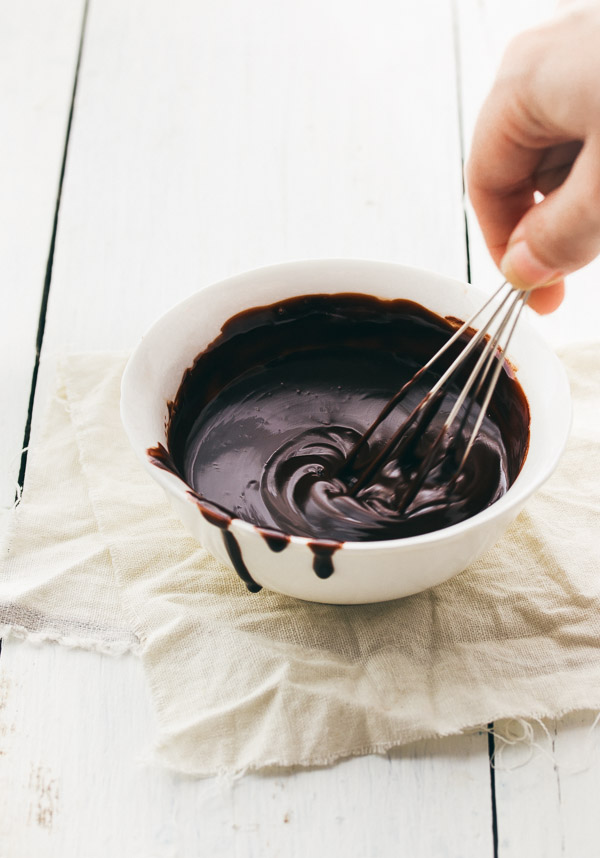 There's probably no other recipe in this world that I've made more than chocolate ganache. I've mentioned it in my other posts more than I can remember, constantly suggesting it as a sauce or frosting (as in these amazing chocolate cupcakes). That's because it's such an easy and delicious recipe. Whenever I have leftovers, I just eat the rest of it by myself with a spoon.
Chocolate ganache consists of only 2 ingredients: chocolate and cream. Additions can be made, though, such as oil or corn syrup for a shiny glaze; butter for shine, firmness, and a creamier consistency; or alcohol or spices for flavor. This is a good recipe to play with and figure out what you like.
The process of making a ganache is simple: heat cream in a small saucepan, pour it over some chocolate, let the mixture sit for 2 minutes to melt, then stir until smooth. That's all there is to it.
Another way to make ganache is by heating chocolate and cream together in the microwave. If you do, remember to pay close attention. You'll need to heat the mixture gently in 20-second increments, stirring between each increment to make sure the chocolate doesn't burn. Unless you want to use it warm or hot, you'll also need to leave it on the counter to cool slightly before using.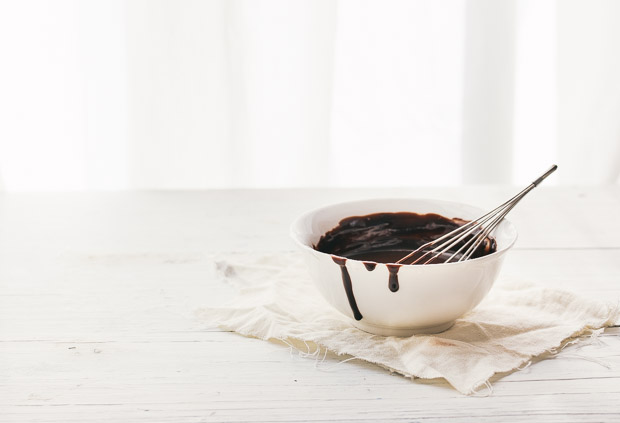 Ganache can be used as a glaze, sauce, filling, frosting, or to make truffles. The difference between all of them is the ratio of chocolate to cream. In today's recipe, we use a basic 1:1 ratio, so for every 2 oz. of chocolate, we use 2 oz. of heavy cream. I use it mainly to glaze cakes, but also to top pancakes, waffles, or just about any dessert. I also use it as a filling for layer cakes, cupcakes, macarons, cookies, and tarts. At room temperature, this glaze is quite thick.
The more stable you want the ganache to be, the more chocolate you should use. For a runny glaze (for example, for pralines filling), use approximately a 2:1 ratio in favor of the cream. On the other hand, for a stable and spreadable ganache to use as a frosting or for truffles, use a 1:2 ratio (or even a higher ratio) in favor of the chocolate.
In ganache recipes, you can usually substitute milk chocolate for dark chocolate. But for a white chocolate ganache, you'll need a bit more chocolate than cream. For example, in the recipe below, you'd need 12 oz. of white chocolate instead of 8.
Tip: If you want a lighter frosting with a mousse-like, airy texture, you can whip the ganache until it reaches the desired consistency. You'll need to let the ganache cool completely in the fridge for a few hours before whipping.
Chocolate Ganache
Yields:
approximately 1 and ¾ cups
Make ⅓ to ½ of this recipe if you want to drizzle the ganache just onto the top of a 9-inch or 10-inch round cake or bundt cake.
Ingredients
230 g/8 oz. semisweet or bittersweet chocolate, finely chopped
1 cup (240ml) heavy cream
1-3 teaspoons alcohol such as brandy or liquor of your choice, optional
Instructions
Place chocolate in a medium heat-proof bowl. Set aside. In a small saucepan over medium heat, bring cream just to a boil. Immediately pour cream over chocolate and let sit without stirring for 1 minute. Then, whisk mixture gently until completely melted and smooth. Add alcohol, if using, and whisk to combine.
Ganache can be kept in the fridge, covered, for up to a week. Reheat gently (to avoid burning) in the microwave.
SaveSave