A tender, delicate sour cream cake with not one, but two layers of cinnamon crumbs – both inside and on top of the cake.
I remember the first time I tasted a piece of coffee cake – or at least, what I thought a coffee cake meant at that time. I was a little girl, sitting in a small lovely coffee shop in Napa Valley, and I kept staring at the large pieces of cakes that had a delightful cinnamon smell.  I asked the waitress what kind of cake it was and she said it was a coffee cake. I told her that I don't like coffee, so she smiled, but I didn't understand why. I ordered it anyway because the cinnamon smell was killing me. My first thought after I took a bite was that it doesn't taste at all like coffee! Now, before you think I'm a total weirdo, let me defend myself and say that I have tasted many coffee cakes before that, I just didn't know they were called that. Back then I knew nothing about desserts, except that I wanted to eat them all the time (not that anything has changed since then…). It took me a while, but eventually I figured it out – the name suggests that the cake is supposed to be eaten alongside coffee. But, that still didn't make sense. Don't all cakes go well with coffee?
This recipe is amazing, and the best part of it is the layers of cinnamon streusel. I love it so much that I thought to myself, why add just one layer of streusel, when I can add two? If you're anything like me, you'll like this idea. So, instead of sprinkling the streusel just on top of the cake, I have added another layer inside the cake. One layer just didn't seem to be enough for me. The cake is tender and moist with just the right amount of crumbs. I used sour cream as the liquid, which makes this cake super delicate. The cake isn't overly sweet like some coffee cakes I've tried before. You can taste both the cake and the crumbs in this cake – the crumbs don't overpower the cake taste since the cake is delicious on its own!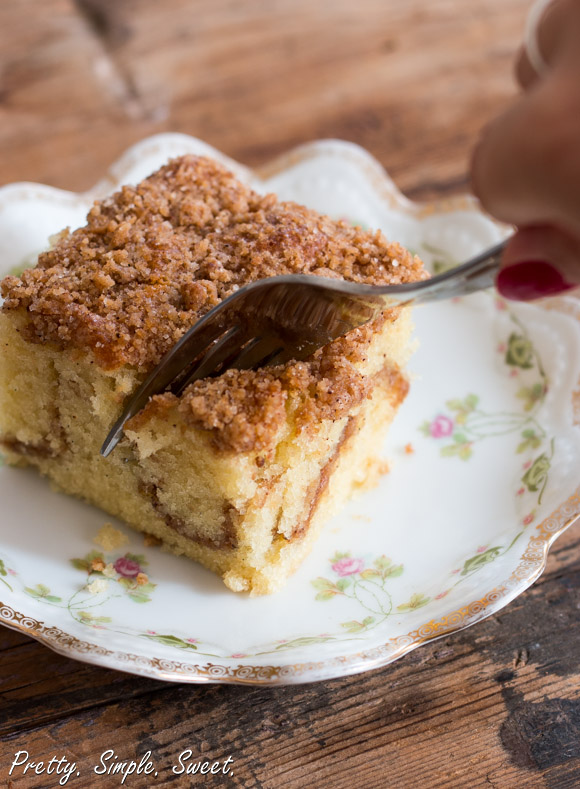 Making the streusel is super-duper easy. No pastry cutter or food processor is needed. All you need to do is mix melted butter with the dry ingredients. The mixture becomes moist and crumbly as a result. The cake is done by using the creaming method. That means creaming the butter and sugar first, then beating in the eggs and vanilla. Only then do you add the dry ingredients and sour cream alternatively. Then, scrape half of the batter to the pan, then half of the crumbs and repeat.
If during baking the crumbs start to brown too much (although it didn't happen to me), cover the cake loosely with aluminum foil. My cake was ready in 35 minutes, but start checking it after 30 minutes. A toothpick inserted into the center of the cake should come out clean or with a few moist crumbs. The cake isn't ready if the batter on the toothpick is still wet.
So… how do you like your coffee? I like mine with a cake!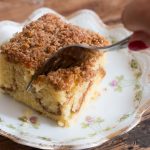 Cinnamon Streusel Coffee Cake
A tender, delicate sour cream cake with not one, but two layers of cinnamon crumbs – both inside and on top of the cake.
---
Ingredients
For the streusel:
3/4

cup

plus 2 tablespoons

(125 grams or 4.5 ounces) all-purpose flour

1/3

cup

(65 grams or 2.3 ounces) granulated sugar

1/3

cup

(65 grams or 2.3 ounces) brown sugar (light or dark)

2

teaspoons

ground cinnamon

1/8

teaspoon

salt

6

tablespoons

(85 grams or 3 ounces) butter, melted
For the cake:
1 1/2

cups

(210 grams or 7.4 ounces) all-purpose flour

1 1/4

teaspoons

baking powder

1/4

teaspoon

baking soda

1/4

teaspoon

salt

1/2

cup

(1 stick or 115 grams) butter, softened to room temperature

1

cup

(200 grams or 7 ounces) granulated sugar

2

large eggs

, at room temperature

1.5

teaspoons

vanilla extract

1

cup

sour cream
Instructions
Preheat oven to 350F/180C degrees. Grease a 9-inch pan (round or square). Set aside.

To make the streusel: In a medium bowl, whisk together flour, granulated sugar, brown sugar, cinnamon and salt. Add the melted butter and mix with a fork until the mixture is uniformly moistened and crumbs form. Set aside.

To make the cake: In a medium bowl sift together flour, baking powder, baking soda and salt. Set aside.

In a mixer bowl fitted with the paddle attachment, beat the butter on medium speed for one minute until creamy. Add sugar and beat on medium speed for about 3 minutes, until light and fluffy. Beat in the eggs, one at a time until combined. Scrape down the sides and bottom of the bowl as necessary. Beat in vanilla extract. On low speed, beat in the flour mixture in 3 additions, alternating it with the sour cream in 2 additions (starting and ending with the flour). Do not overmix.

Scrape half of the batter into the prepared pan and smooth it into an even layer. Sprinkle the streusel mixture evenly over the batter. Scrape the remaining batter on top and smooth it into an even layer. Sprinkle the remaining streusel mixture evenly on top of the cake. Gently press down with your hands so the crumbs will stick to the batter.

Bake the cake for 30-40 minutes, until a toothpick inserted into the center comes out clean. Place the cake in the pan on a wire rack to cool completely.

Store cake at room temperature in an airtight container for up to 3 days or refrigerate for up to 5 days.