With its creamy vanilla custard and crunchy caramelized top, here's a full guide on how to make the perfect classic creme brulee.
The last time I went to dinner at my parents' house, they had a special guest, so they asked me to make his favorite dessert – creme brulee. Although I've made it several times before, it was only on this occasion that I took the time for some serious learning and experimenting to make it perfect. Here are the results! 🙂
Creme brulee is much easier than most people realize. Erez was next to me in the kitchen the whole time I was making it, and later kept saying to the guests how easy peasy it was (of course it is when you just watch someone else do it 😉 ). As long as you know what you're doing and what can go wrong, and follow some exact rules (it is science, after all), you can easily prepare it yourself in just 15 minutes. So… who's ready to try?
Classic creme brulee is made with 4 simple ingredients:
Cream: Some recipes use both cream and milk, which make the dessert lighter. For the richest flavor, though, I suggest using cream only. If you still want to replace some of the cream with milk, substitute up to 2/3 cup of the cream with milk at a 1:1 ratio. Heat them together in the saucepan during the first step.
Eggs: Some recipes use either whole eggs, egg yolks, or a combination of them. Usually, one whole egg replaces 2 egg yolks, but as with the cream, the more egg yolks you use in custard, the creamier and richer the dessert ends up. It's not just about flavor, but also texture. The number of egg yolks for this recipe can be either 4, 5, or 6 without changing anything else. I like using 4 for a less eggy taste, but it will be richer if you choose to use more. All options are great and depend solely on personal taste.
Sugar: Usually, not much sugar is added to the custard. For the recipe below, you could use anywhere from 2 tablespoons of sugar to 1/3 cup, depending on taste. I suggest starting with 1/4 cup the first time.
Vanilla: For a classic creme brulee, using vanilla bean is best. However, using vanilla paste or extract is perfectly fine as well!
* You may also add some alcohol if you like – about 2 teaspoons of either rum, brandy, or a flavored liqueur of your choice. Add it to the mixture after all other ingredients have been combined.
Dishes:
I've tried using both classic ramekins and traditional shallow dishes. I liked the shallow ones better; the ratio of caramel topping to thin custard seems to be best. Still, 4, 5, or 6 ounce (4 ounces equals 1/2 cup/120ml) classic ramekins can also be used. The shallow dishes are about 1 inch high and 4 inch in diameter. Each one will yield 4-6 servings depending on the size of the dish and how much you fill it – you can play a bit with that as well.
How to make creme brulee:
Heat cream and vanilla in a saucepan until the mixture begins to boil. Meanwhile, whisk eggs and sugar in a bowl just until well blended but not airy. Pour the hot cream slowly into the egg mixture while whisking constantly. This technique is called tempering – since the hot cream is mixed with the colder eggs and sugar, it will prevent the eggs from curdling. Once done, the mixture should be smooth and creamy. Be sure to strain the mixture to retrieve and discard any cooked egg pieces.
Preparing the waterbath for baking:
A waterbath simply means placing the ramekins inside a large pan and filling the pan with boiling water until it reaches halfway up the sides of the ramekins. The easiest way to do this is by first placing the large pan with the ramekins in the oven, then pouring the hot water into it. This is also the safest way 😉 Be quick about it, though, so that the oven temperature doesn't drop due to the open door. This method is often used to help delicate desserts retain moisture and reach an even temperature while baking.
In addition, it's best to place a regular kitchen towel in the bottom of the pan so that the ramekins don't touch the hot pan directly.
Baking time:
Creme brulee is baked at a low temperature. It's done once the custard has set and, if you gently shake the dish, it only has a slight wobble.Once ready, take the ramekins gently out of the pan and place them on a wire rack to cool to room temperature. Afterwards, chill for a few good hours in the refrigerator. No shortcuts on this one! I served mine after 4 hours of chilling, which is usually the minimum time, and although it was delicious, I felt like it wasn't completely set. Preferably, let it chill for a longer time (and up to 2 days).
How to caramelize brulee topping:
You'll need a torch for this one. I like to use coarse sugar, such as demerara, for the topping, but granulated sugar is fine, too. Add sugar on top of the custard. Depending on the dish you use, it should be about 1-2 teaspoons. Shake the ramekins gently from side to side until the custard is evenly coated. Using a torch, move around to caramelize all the top. It's ok if the browning isn't quite even.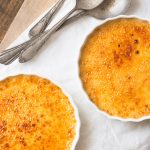 Crème Brulee
With its creamy vanilla custard and crunchy caramelized top, here's a full guide on how to make the perfect classic crème brulee.
---
Ingredients
2

cups

(500ml) heavy whipping cream

1

vanilla bean

, split and seeded (or 1.5-2 teaspoons pure vanilla extract or paste)

4

large egg yolks

(or more – refer to above post)

1/4

cup

(50 grams/1.7 ounces) granulated sugar

about 6 teaspoons demerara or granulated sugar

, for the caramelized topping
Instructions
Preheat oven to 300F/150C. Place a kitchen towel on the bottom of a large roasting pan or baking dish (to prepare the waterbath). Place 4 6-ounce ramekins, 6 4-ounce ramekins, or 4 shallow fluted dishes on top of the towel.

In a saucepan, heat cream, vanilla pod and seeds on medium heat just to a boil. Meanwhile, whisk together eggs and sugar in a medium heatproof bowl until well blended, but not airy. Remove vanilla bean from the hot cream mixture, then pour the mixture slowly and gradually into the egg mixture while simultaneously whisking the egg mixture constantly to prevent curdling. Strain the mixture, then pour evenly among the dishes.

Place roasting pan in the oven and pour in boiling water until it reaches halfway up the ramekins. Bake for 25-35 minutes until the custard has set and is just slightly wobbly when gently shaked. Let ramekins cool on a wire rack to room temperature, then chill in the refrigerator for at least 4 hours, preferably longer, and up to 2 days.

To serve, sprinkle 1-2 teaspoons of sugar on each dish. Shake the ramekins gently from side to side until evenly coated. Using a torch, start caramelizing the top until nicely browned and bubbly. Preferably, let sit for a few minutes in the refrigerator, uncovered, to let the top harden and the custard get cold again; otherwise serve immediately.