Rich, creamy, and satiny, this is my go-to recipe for a simple and classic cheesecake.
I'm back from Spain – well, at least physically. Mentally, I'm still walking through the narrow picturesque passageways of Seville, sharing a huge paella with hubby, and doing some shopping. And by some, I mean a lot. See why it's so hard to come back to reality?
Althoug I travel quite a bit, I usually don't spend a lot of time in a single city. There's always so much to see that it's hard to just sit and relax. That's why I was so excited about this particular trip; I knew I'd have plenty of time to explore both Madrid and Seville. The whole idea was meeting with my brother for his spring break and just chilling. So while the first 2 days our itinerary were full of touristy stuff, it was only after I "saw everything" that I really got to know the cities' hidden gems and completely fell in love with them.
Still, I have to admit, getting back to reality isn't so bad, especially since the only thing I really needed to do today was make this cheesecake, share with you how amazing it is, and then eat all of it by myself. Well, almost all of it. I did save a piece for Erez.
This creamy cheesecake is made of very basic ingredients. After all, sometimes simple is best. It may sound cliché, but in this case it's true. Heavy cream adds richness and makes for a delightful creamy texture. Although optional, I like to top the cake with a tangy sour cream topping that compliments the sweet cake wonderfully. I also like to bake the cheesecake in a water bath, which gives it an exceptional texture, but if you really want to skip that part, I've included instructions on how to bake the cake without it.
If you're unfamiliar with the concept of a water bath, don't worry. While making this cake, I recalled that it took me a while to learn how to make a truly perfect cheesecake, so I'll soon prepare for you a full guide on everything you need to know.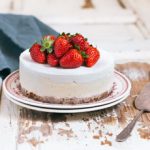 Simple Classic Cheesecake
---
Ingredients
Crust:
150

g

(about 1.5 cups) vanilla wafer crumbs (pulse in a food processor or blender until finely ground, then measure)

1/4

cup

(1/2 stick/55g) unsalted butter, melted
Filling:
2

pounds

(900 g) full-fat cream cheese, room temperature

1

cup

(200 g/7 oz.) granulated sugar

4

large eggs

, room temperature

1/2

cup

(120 ml) heavy cream

1

and 1/2 teaspoons pure vanilla extract

Grated lemon zest from 1 lemon

, optional
Topping (optional):
1

cup

(240ml) sour cream

1/4

cup

(30g/1 oz.) powdered sugar

1/2

teaspoon

pure vanilla extract
Instructions
Preheat oven to 350°F/180°C.

In a medium bowl, stir crumbs and melted butter together until combined and moistened. Put mixture in a 9-inch springform pan and press with your fingers (or use the bottom of a glass) to form an even layer of crumbs. Bake for 8-10 minutes, until golden brown. Allow to cool completely on a wire rack. Meanwhile, prepare the filling.

In a mixer fitted with the paddle attachment, beat cream cheese on medium-low speed until smooth and lump-free, about 1-2 minutes. Add sugar and beat until blended. Scrape down the sides and bottom of the bowl as necessary. Beat in eggs, one at a time, until fully combined. Add cream, vanilla extract, and lemon zest and beat just until combined and smooth. Pour batter over cooled crust and spread evenly.

If baking in a water bath: After baking the crust, reduce oven temperature to 325°F/160°C. Wrap the bottom and sides of the pan with one large piece of foil, then repeat with another piece. This will ensure that water from the bath doesn't seep into the cake. Place the pan inside a large roasting pan, then pour enough boiling water into the roasting pan to come halfway up the sides. Place gently in the oven and bake for 60-70 minutes or until the sides are set but the center is still slightly wobbly.

If not baking in a water bath: After baking the crust, increase oven to 425°F/220°C. Bake cake for 10 minutes, then lower temperature to 225°F/110°C and continue baking for about an hour, or until the sides are set but the center is still slightly wobbly.

Allow cake to sit at room temperature for 15 minutes, then prepare the topping by whisking together sour cream, powdered sugar, and vanilla extract until smooth, and pour it over the warm cake. Let cool completely to room temperature, then refrigerate for at least 4 hours, preferably more, until completely set.

Cover cheesecake with plastic wrap and keep in the refrigerator for up to 5 days.