My favorite basic go-to crepe recipe – perfect for both sweet and savory fillings.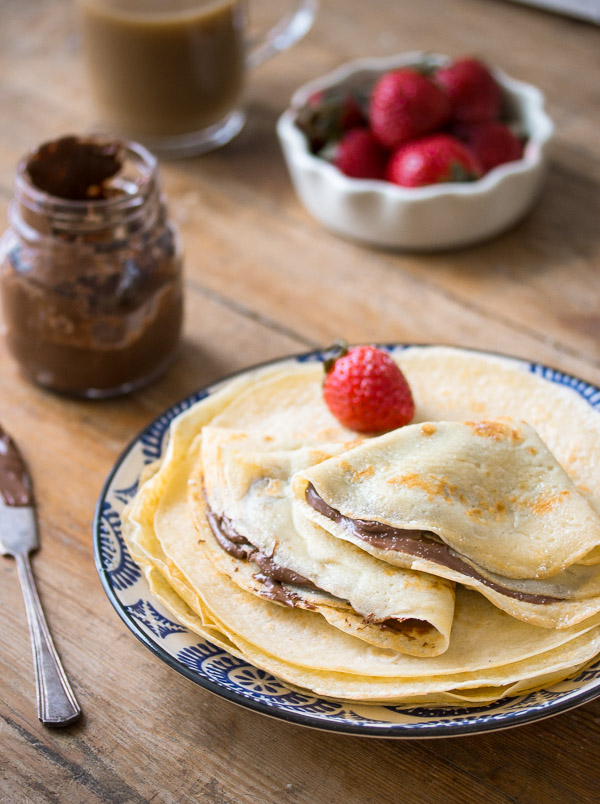 Last weekend, it was finally time for me and Erez to celebrate our first wedding anniversary. It was such a good, long weekend away from home. We stayed at a spa hotel and did nothing but dip our legs in the pool every couple of hours, read cooking magazines (well, I did at least), and eat. And eat. And eat.
Breakfast was buffet-style, which is really dangerous for someone who can't control herself around food – not that I know anyone like that, of course. The selection of food was endless, and so was the dessert section: pastries and muffins and sweet rolls and waffles and pancakes and crepes. After tasting everything (twice), it was time to get back home and give my stomach a good, long rest. That didn't happen, though, because the next morning I made crepes for breakfast.
This is my absolute favorite crepe recipe. As you know, I try many variations for every single dish I make until I get the perfect one, and these crepes have yet to disappoint me. The batter is easy to work with and is great for either thick or very thin crepes, and it cooks perfectly into beautiful rounds.
I used to think that all crepes tasted pretty much the same, but after tasting a few lately, I've noticed a big difference. This recipe is MUCH tastier.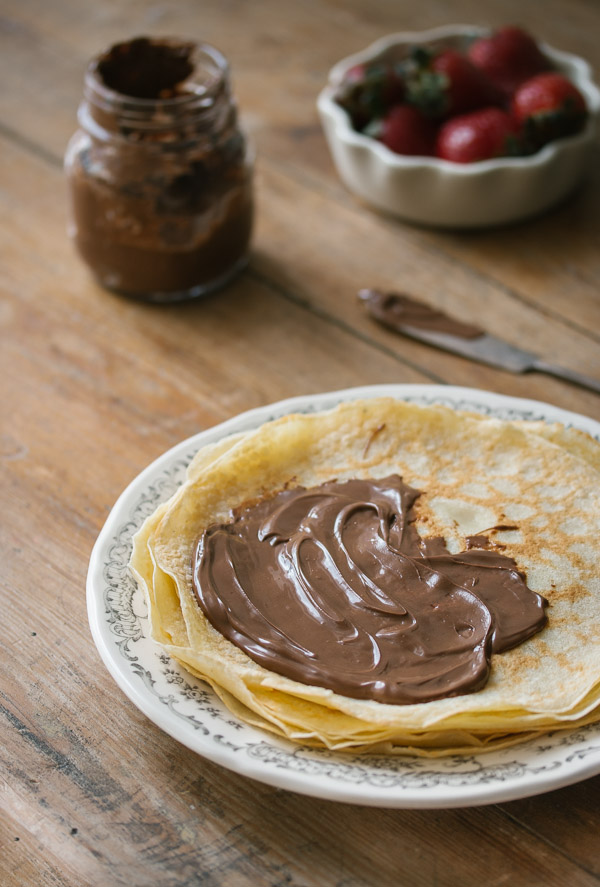 Crepes are easy to make, and are quite similar to making pancakes. Start by mixing all the ingredients, dry then wet, together to make a very runny batter. Next, heat a pan, coat it with a bit of oil or butter, and pour about 1/4 cup batter for each crepe. I use a 9-inch pan, and my crepes are about 7-inch in size. I usually get 9-10 crepes out of this recipe.
While most recipes suggest mixing all of the ingredients in a blender, you can definitely mix them by hand, using a whisk, until combined thoroughly. The blender does a better job at creating a smoother batter, but it's not a must. Some recipes also suggest letting the batter rest for at least 30 minutes to let the bubbles subside so the crepes won't tear while cooking. Personally, I've skipped this step many times and my crepes have never torn, so you can try to cook them right away.
Spread any sweet or savory filling you like onto the crepes, then fold twice – once in half, then in quarters. Some of my favorite fillings include: Nutella, butter and jam, peanut butter, chocolate ganache, bananas, strawberries, whipped cream, cheese, scrambled eggs, chicken, mushrooms, and avocado. The crepes taste delicious, but they are pretty neutral in flavor, which is why they go well with almost anything. Still, if you're like me, your first choice for a filling will be nothing other than Nutella and banana slices.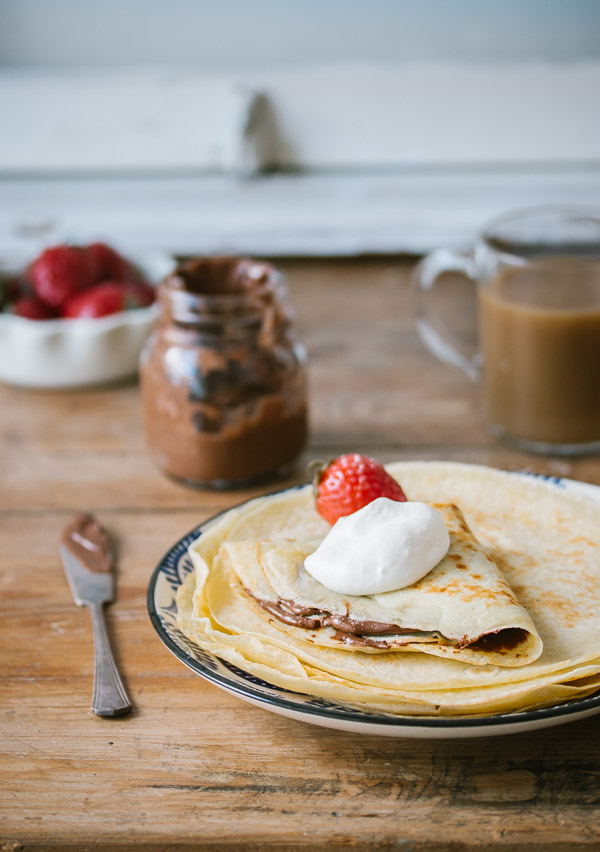 Crepes
My favorite basic go-to crepe recipe – perfect for both sweet and savory fillings.
---
Ingredients
1

cup

(140g/5 oz.) all-purpose flour

2

tablespoons

granulated sugar

1/4

teaspoon

salt

2

large eggs

3/4

cup

(180ml) whole milk

1/2

cup

(120ml) water

1

teaspoon

pure vanilla extract

2

tablespoons

(28g) unsalted butter, melted and slightly cooled

Butter or neutral oil

, for coating the pan

Optional: 2 tablespoons liquor of your choice
Instructions
Note: For a savory crepe, you can omit the vanilla extract and part or all of the sugar.

Place flour, sugar, and salt in a large bowl and mix to combine. In another medium bowl, place eggs and beat slightly. Add milk, water, vanilla extract, and melted butter (and liquor if using) to the eggs and whisk to combine. Make a well in the center of the flour mixture and pour in the egg mixture. Whisk until thoroughly combined and smooth. Alternatively, place all ingredients in a blender or food processor, pulsing or mixing on medium speed for about 20 seconds until creamy and smooth, then transfer batter to a bowl.

At this point, you can cover the bowl and place batter in the fridge for up to 2 days until ready to use.

Optional: Place crepe batter in the refrigerator for 1 hour. This allows the bubbles to subside and will reduce the chance that the crepes will tear during cooking. I usually skip this step and my crepes never tear.

Heat a griddle, frying pan, or heavy skillet over medium heat. Coat with a little butter or oil. For each crepe, drop 1/4 cup of batter onto pan. Swirl the pan in a circular motion to evenly spread batter. Cook for about 2 minutes, or until the bottom appears light brown. Flip carefully using a thin spatula and cook for another 1-2 minutes. Transfer to a plate and cover loosely with aluminum foil to keep warm. Repeat with remaining batter, stacking finished crepes on the plate on top of one another. Make sure to coat pan with oil every 2 or 3 crepes to prevent sticking.

Crepes can be kept in the fridge, covered, for up to 3 days, or frozen for up to 1 month.