Traditionally served on the Jewish holiday Purim, these Hamantaschen cookies are made of a delicate cookie dough and are filled with anything from poppy seed, nut, or date filling to chocolate spread or jam. You won't need any other recipe!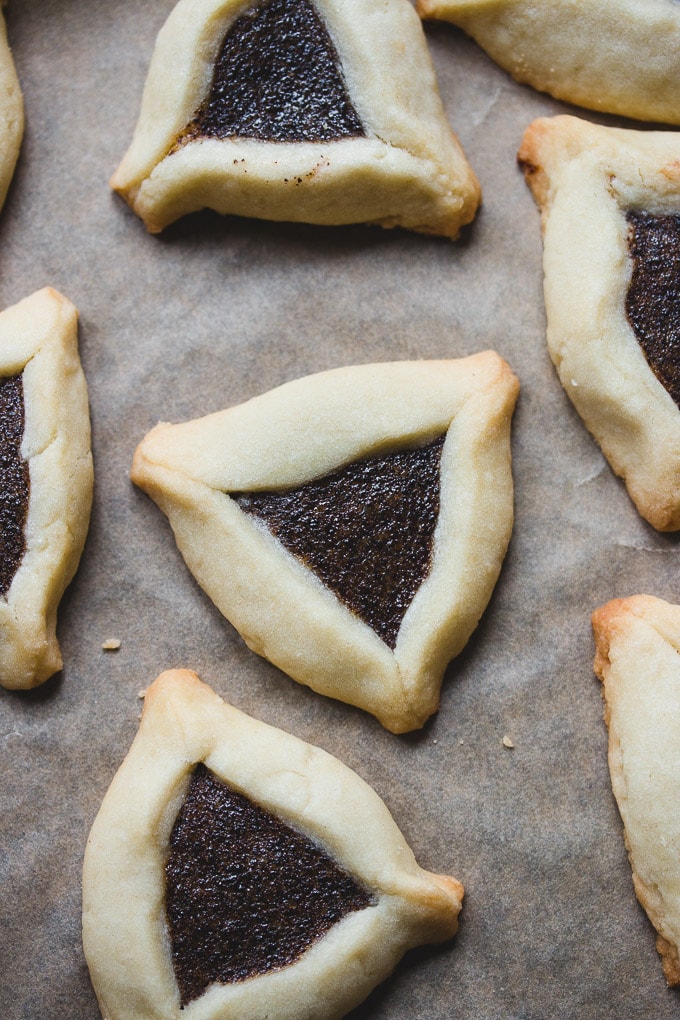 In the last few years, I've come to a conclusion on why I love the holidays so much. It's not just about being on vacation or spending some quality time with my family. Nope. It's the food! LOTS of food. Of course, I could make the special holiday treats all year long, but then they wouldn't be so special anymore!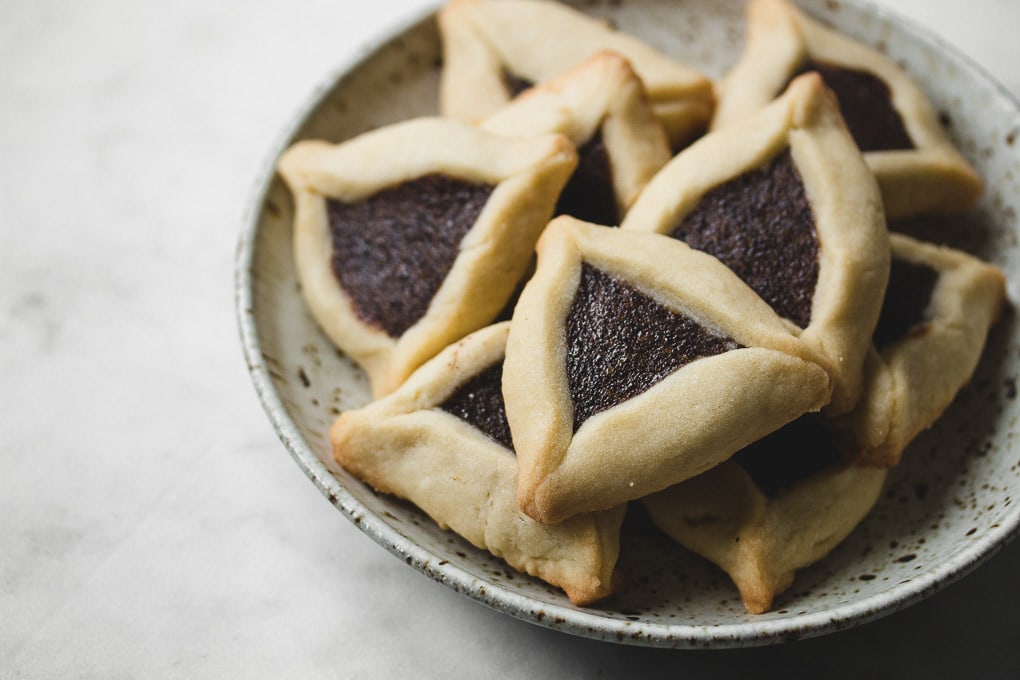 Hamantachen are triangular-shaped filled cookies that are the traditional Purim treat. The most classic filling is poppy seed, but these days you can find any flavor you can dream of inside these cookies.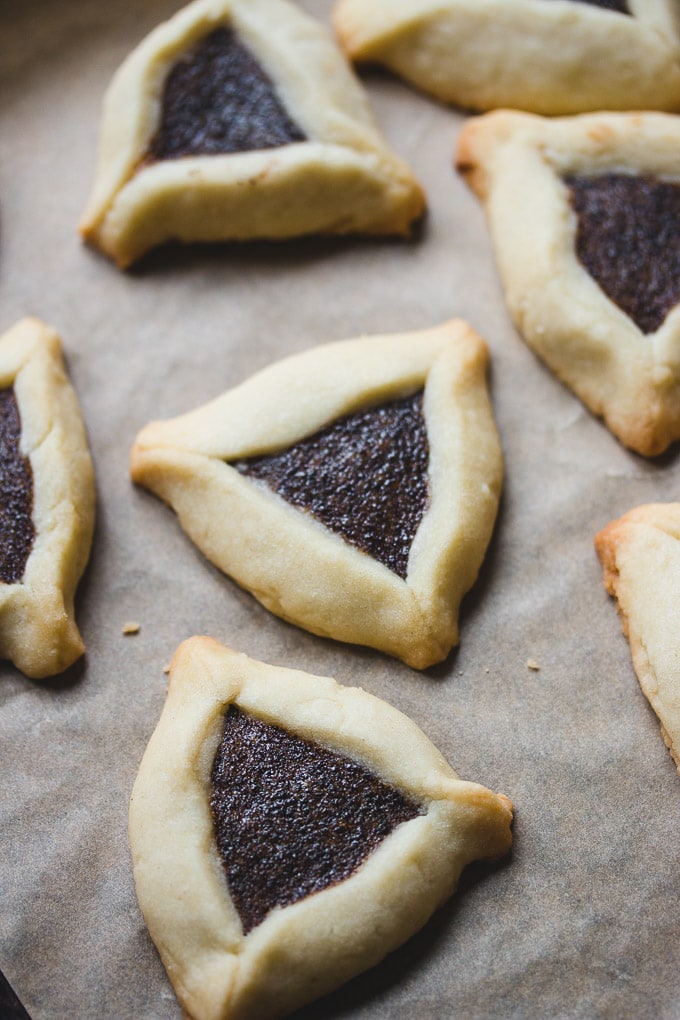 Cookie Dough
Powdered sugar and egg yolk make these cookies extra tender with a melt-in-your-mouth texture. You can use a whole egg and granulated sugar instead, just keep in mind that it would slightly change the texture and the cookies would be more crumbly. I use lemon zest and vanilla extract for extra flavor.
When making the dough, if it's too crumbly and doesn't come together, add a bit of water until it does. On the other hand, if it's too wet, flour your hands and knead gently. Work the dough as little as possible to keep the cookies tender. Here are some photos of when I made a pie dough using a food processor, and the idea is similar.
Here's a visual guide on how to shape these cookies.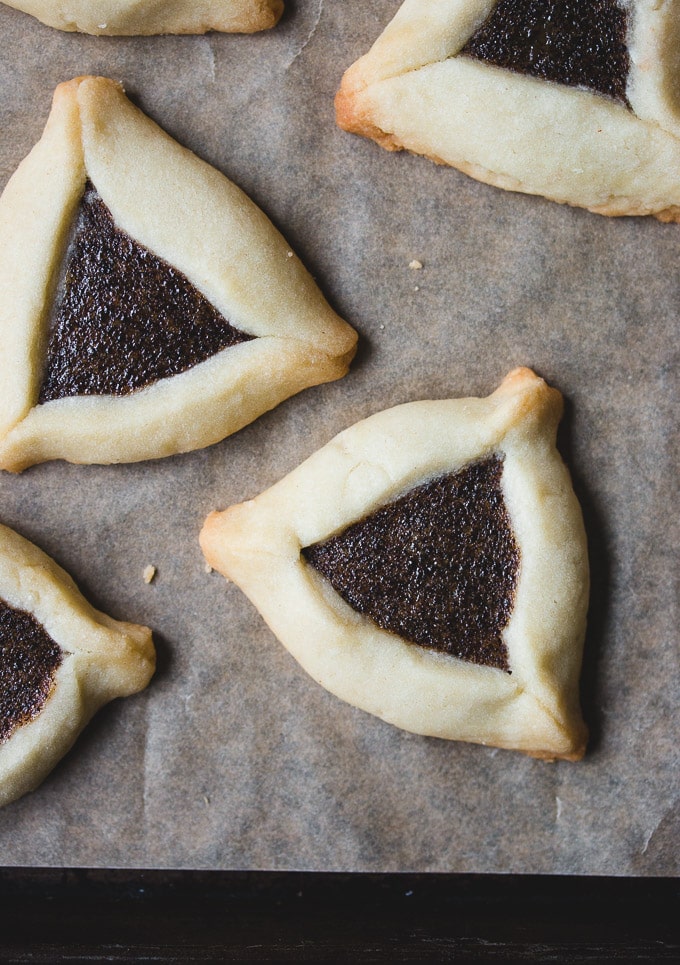 Fillings
The most traditional filling in hamantaschen is poppy seed so that's the filling I use for this recipe. For the best flavor use freshly ground poppy seeds. You can grind them yourself at home using a coffee or spice grinder. Once ground, freeze the ground seeds until you're ready to use them. If you don't feel like making the poppy seed filling, you can use any other filling such as nut or date filling, or you can just use store-bought spreads such as Nutella, chocolate, Halva, butterscotch, jams, or preserves.
It's important that the filling is thick enough to prevent it from leaking out of the dough during baking. If it's not, you can add finely ground vanilla wafers or nuts. When using Nutella, for example, I use finely ground hazelnuts. If using jam that isn't thick enough, you can cook it in a saucepan until it gets thicker. Don't be tempted to overfill the cookies as that may also cause them to leak. I use about 1 teaspoon for medium-sized cookies.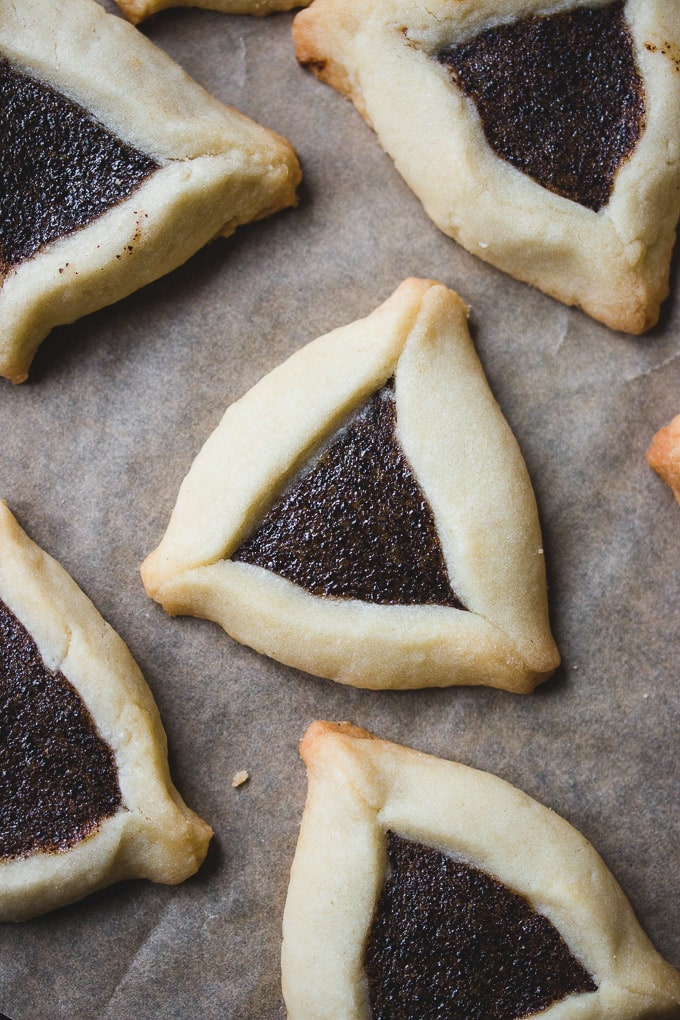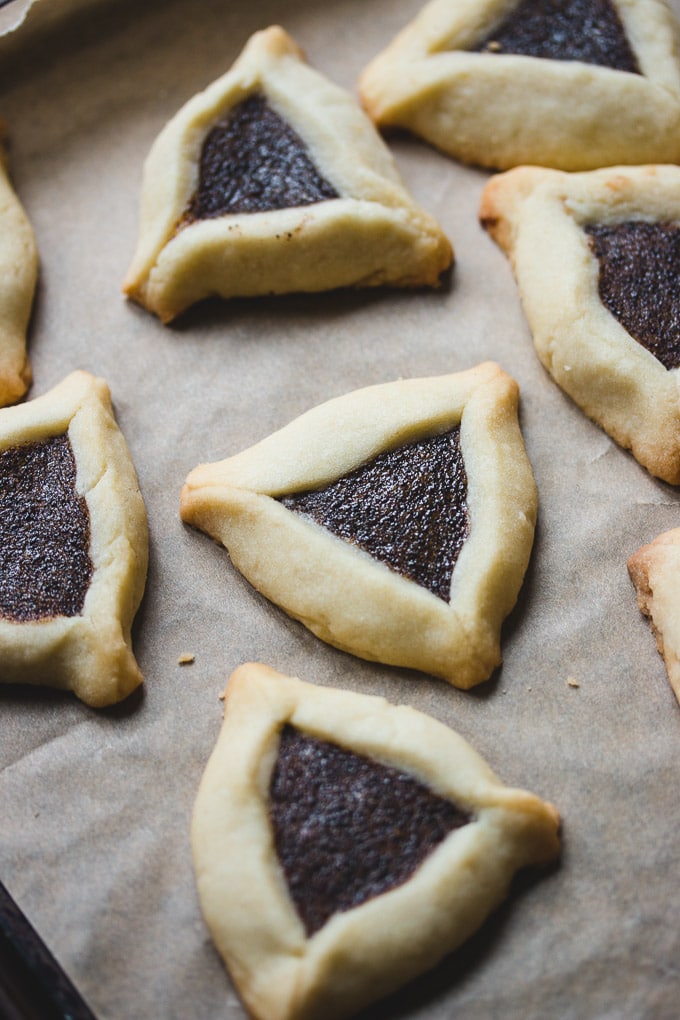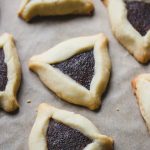 Hamantaschen
---
Ingredients
Cookie Dough
2 and 1/4

cups

(315g) all-purpose flour

3/4

cup

(90g) powdered sugar*

1/4

teaspoon

salt

200g

(1 and 3/4 sticks) unsalted butter, cut into 1/4-inch cubes and chilled

1

large egg yolk

Lemon zest of 1/2 medium lemon, optional

1

teaspoon

pure vanilla extract
Poppy Seed Filling
1

cup

(100g) freshly ground poppy seeds**

1/3

cup

(80ml) whole milk

2

tablespoons

(28g) unsalted butter

1/3

cup

(70g) granulated sugar

1

tablespoon

honey

Pinch

of salt

Zest of 1/2 lemon or orange

1/4

cup

ground or finely chopped nuts

(walnuts, hazelnuts, pecans), optional

2-4

tablespoons

raisins

, optional

Powdered sugar

, for sprinkling on top, optional
Instructions
Make the cookies: Process flour, sugar, and salt in a food processor for a few seconds until combined. Add butter and pulse several times until mixture becomes crumbly and resembles coarse meal. Add egg yolk, lemon zest, and vanilla, and keep pulsing until dough starts to clump together. Do not process to the point that a large ball of dough is formed; rather, the dough should be quite crumbly with large clumps. If dough is too dry, add water, 1-2 teaspoons at a time. Another way to check if the dough is done is to take a piece of dough and press it between your thumbs – the dough should stick well together without feeling dry. Avoid overworking the dough throughout the process.

Turn the dough to a floured surface and form into a ball. It should come together easily without being sticky. Flatten the ball slightly with your hands (for easy rolling later on) and wrap with plastic wrap. Refrigerate for at least 1 hour, or up to 3 days.

Make the filling: In a medium saucepan, place poppy seeds, milk, butter, sugar, honey, and salt and cook over medium-low heat, stirring occasionally, for about 10 minutes or until the seeds absorb the milk and the mixture has thickened. Remove from heat. Add lemon zest, nuts, and raisins, and mix to combine. Let cool to room temperature before using.

Preheat oven to 350F/180C. Line 2 pans with parchment paper and set aside.

Roll out the dough on a floured surface until it's about 1/8-inch (4mm) thick. If the dough is too crumbly and breaks, leave it for a few minutes to soften. Cut rounds of dough using a 3-inch (8 cm) cutter or a glass.

Transfer rounds gently using a thin spatula to the prepared baking sheets, placing them 1-inch (3cm) apart. Put 1 teaspoon of filling in the center of each round, then fold up the edges to form a triangle, pinching the corners together tightly to prevent filling from leaking while baking.

Bake for about 15 minutes or until the cookies are golden just at the edges. Let cool in the pan for 5 minutes, then transfer to a cooling rack to cool completely. Sift powdered sugar on top.

Store cookies at room temperature in an airtight container for up to 5 days.
Recipe Notes
* Powdered sugar can be replaced with 1/2 cup granulated sugar. Note that cookies with powdered sugar will have a more tender, melt-in-you-mouth texture.
** Don't use whole poppy seeds, just freshly ground. Use a spice or coffee grinder for this, not a food processor. Also, some spice shops will grind them for you.