This classic, South American alfajores recipe is filled with melt-in-your-mouth dulce de leche and rolled in shredded coconut. They are so soft, delicate, decadent, and so easy to make! You'll love how the different textures come together to create an amazing cookie. 
As far as I know, there are two ways of making alfajores: the Argentinean style and the American style. While the latter is usually made of a simple shortbread cookie, the classic Argentinean cookies are so much better in texture, and are the most melt-in-your-mouth cookies on this planet. Ok, that may be an exaggeration, but let me have my moment.
What are alfajores?
Alfajores are a classic Argentinian cookie filled with dulce de leche and rolled in coconut. Not only is this combination heavenly, but the cookie itself is extremely soft and tender.
The coconut adds a great flavor and cuts some of the sweetness, so I strongly suggest adding it. While you can make your own dulce de leche at home, I prefer using store-bought for these cookies because it really tastes just as good.
In this recipe, two ingredients to point out are cornstarch and egg yolks:
Cornstarch: Adds a soft, melt-in-your mouth texture to the cookies.
Egg yolks: I prefer using egg yolks instead of whole eggs because yolks help create an amazingly tender cookie.
How to make the best alfajores cookies
Combine the dry ingredients in a bowl, including flour, cornstarch, baking powder, and baking soda.
In a mixer with the paddle attachment, beat the butter and sugar until the fluffy, about 3 minutes. This helps incorporate air into the cookies. If you see some of the butter stuck to the side of the bowl, use a rubber spatula to scrape it down.
Slowly add the egg yolks and vanilla extract one at a time, mixing completely before adding the next. Don't forget to scrape the bottom and sides of the bowl to make sure all ingredients are fully incorporated.
Lastly, add the dry ingredients in three additions, and mix until the dough just comes together.
Let's talk about the chilling time for these cookies. I know it can be frustrating when you just want your cookies and you want them now. Totally been there! But for cookies that hold their shape well and don't spread out while baking, the dough has to be chilled long enough. For this recipe, you'll need to chill the dough twice. The first time is once the dough has been made. It'll be too soft for rolling, so you'll need to chill it for 1-2 hours in the shape of a ball, until firm. The second chilling is before baking the cookies. Just place the sheet of cookies in the fridge or freezer until they're firm, at least 15 minutes.
Bake until the cookies are barely brown and remove from the oven. Once they are cooled, place a bit of dulce de leche in the middle of a cookie, and press down with another cookie forming a sandwich. Roll the exposed dulche de leche on the sides in coconut, and indulge.
Tips for making the best alfajores cookies
When making the dough, if it feels dry, you can add a little bit of cold water or milk a little at a time, just until the dough comes together.
Mix the dough just until the ingredients are combined. If mixing for a long time, the cookies can turn out tough from producing too much gluten. Overall, play with the dough as little as possible.
While it can be tempting, don't fill your alfajores with too much dulce de leche because the cookies may start to fall apart with too much filling.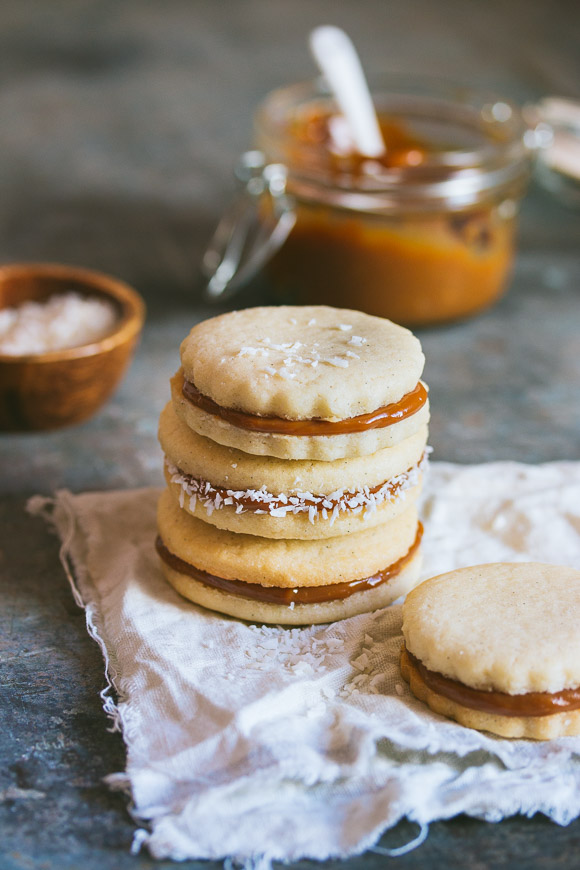 More of the best cookie recipes: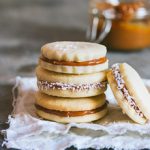 Alfajores (Dulce de Leche Sandwich Cookies)
Total Time
:
2
hrs
30
mins
YIELD
:
3
dozen 2-inch cookie sandwiches
Classic alfajores filled with dulce de leche and rolled in shredded coconut. They are so soft they'll melt in your mouth!
---
Ingredients
1 1/2

cups

(200g) all-purpose flour

2 1/8

cups

(300g) cornstarch

2

teaspoons

baking powder

1/2

teaspoon

baking soda

1

and 3/4 sticks (200g) unsalted butter, at room temperature

3/4

cup

(150g) granulated sugar or 1 1/4 cups (150g) powdered sugar

3

large egg yolks

2

teaspoons

vanilla extract

350

g

(12 oz.) dulce de leche, for filling

1/2

cup

unsweetened shredded or desiccated coconut

, for rolling
Instructions
In a medium bowl, sift together flour, cornstarch, baking powder, and baking soda. Set aside.

In a mixer bowl fitted with the paddle attachment, beat butter and sugar on medium speed until light and fluffy, about 3 minutes. Beat in egg yolks and vanilla extract just until combined. Reduce speed to low. Add the flour mixture and beat just until combined. Do not overmix or the cookies will turn out tough.

Form the dough into a ball, then flatten slightly to form a disc. Wrap with plastic wrap and refrigerate for 1-2 hours, until firm enough to roll.

If you don't want to use the dough right away, you can refrigerate it for up to 3 days or freeze it for up to a month, then thaw it overnight in the fridge.

Take the dough out of the fridge and let it sit on the counter for a few minutes to soften slightly for easy rolling. On a lightly floured surface (or between 2 pieces of parchment paper), roll the dough to a 1/8 or 1/4-inch (3-5mm) thickness. Cut out into rounds using a 2-inch (5cm) fluted or round cookie cutter, and place the cookies on baking sheets lined with parchment paper.

If at any point the dough becomes too warm, place it back into the fridge for a few minutes. Re-roll the remaining scraps and repeat. Place sheets with cookies in the freezer or fridge for at least 15 minutes, until firm, so that they will be less prone to spreading.

Preheat oven to 350F/180C. Bake for 7-10 minutes, or until cookies appear golden brown at the edges. Allow cookies to cool in the pan for 10 minutes, then gently transfer to a wire rack to cool completely.

Spread the bottom half of the cookies with dulce de leche (about a teaspoon). Sandwich together with remaining cookies, pressing slightly so that the caramel oozes out the sides. Roll the sides in shredded coconut.

Store cookies at room temperature in an airtight container for up to a week or freeze for up to 2 months. To thaw, leave on the counter, still covered, or overnight in the fridge.