This quick, no-bake, gluten-free dessert is refreshing after a heavy meal or as a summer treat. Serve it with anything from whipped cream or mascarpone to cheesecakes, crepes, and pavlovas.
Birthday celebrations are over and everything is going back to normal… or, should I say, boring. I am left with some good memories, though, so I'm not complaining.
The highlight of the week was my dinner with Erez. Although he's a foodie like me, he watches what he eats carefully. I do not. He also doesn't like the idea that I want to order a dessert every single time, no matter where we eat. I get him, but it's beyond my control. 😉
That's why I like birthdays: I get to order anything I want and however much of it I want. And boy, did I take advantage of that this year! That's why, by the time we got to the last course, I was completely full. We asked the waitress for a recommendation of a light dessert we could share, and she had no doubt in her mind that mascarpone and honey poached figs would be perfect. I hesitated. Cream and fruit? It didn't even sound like a dessert to me. We ordered it anyway because she seemed like she knew what she was talking about. It turned out to be oh-so good, light, refreshing, and was the perfect ending to a perfect day.
As simple as it is, it's really that good. All it takes is heating some water with sugar and honey, then adding the figs for just a few minutes. That's it! Once the figs are ready, you can keep simmering the honey-water sauce until it thickens and use that as a syrup for the figs or whatever you serve them with. Actually, the sauce, with its delicate sweetness, is the best part!
The amount of time the figs should be poached depends on how ripe they are and how tender you want them to be. The riper they are, the less time they'll require. I like the figs tender, but not mushy; to achieve this, poach them for about 5-10 minutes. Make sure to turn them around once in a while so that they cook evenly.
Use poached figs on whatever you like. They're perfect as is, so you can serve them with just a dollop of creme fraiche, whipped cream or mascarpone, or for a healthier version, try ricotta cheese or Greek yogurt. They're also wonderful alongside crepes, cheesecakes or pavlovas.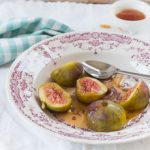 Honey Poached Figs
YIELD
:
4
servings (4 fig halves per serving)
This quick, no-bake, gluten-free dessert is refreshing after a heavy meal or as a summer treat. Serve it with anything from whipped cream or mascarpone to cheesecakes, crepes, and pavlovas.
---
Ingredients
2

cups

water

1/4

cup

honey

2

tablespoons

brown or granulated sugar

1/2

vanilla bean

, split lengthwise and seeded (optional)

1

cinnamon stick

(optional)

8

figs
Instructions
In a small or medium saucepan that's large enough to hold the figs, heat water, honey, and sugar (and vanilla and cinnamon, if using) on medium-high. Cook until sugar dissolves. Reduce heat to medium-low and add figs. Let simmer until tender but not mushy, 5-10 minutes, turning them occasionally so that each side is poached evenly. Using a slotted spoon, transfer figs to a bowl. Let the water-honey liquid continue simmering on medium-low heat until liquid reduces and thickens to a syrup consistency, about 15 more minutes. Let cool.

Once the figs have cooled slightly, remove stems and cut in half.

Keep sauce and figs in the refrigerator until ready to use. Serve at room temperature.

Arrange figs and serve as desired. Figs can be served either a dollop of whipped cream, mascarpone, crème fraiche, or yogurt, or alongside desserts such as cake, cheesecake, or crepes. Drizzle with syrup.
Recipe Notes
- You can either cut the figs in half before or after poaching, depending on whether you want the figs to look clean or coated with sauce.
- Optional flavorings: The pod and seeds of 1/2 vanilla bean, 1 whole clove, 1 small cinnamon stick, 1 star anise, 2 stripes of orange peel, or 3 fresh ginger slices. Add to the saucepan, along with the water, honey, and sugar during the first step. Discard once sauce is done.
SaveSave