Perfectly soft and chewy bars with a strong peanut flavor, both from peanuts and peanut butter.
I love New York. There's something about that city that makes me want to dance in the streets from happiness. Whenever I visit, all I do is walk around the noisy streets, shop, and nibble a jumbo muffin or cupcake.
Last time I was there, luckily (or maybe unfortunately), my hotel was right near the famous Magnolia Bakery. That meant that each morning, my usual healthy breakfast (ehh, who am I kidding?) was replaced with a sugar attack. My body probably wasn't happy, but I was. I tasted most of the desserts in the bakery. I bet you think I'm joking, but I'm not.
I specifically remember their peanut butter blondies. I had tasted many before them, obviously, but there was something extra delicious about these. They were full of peanut butter flavor and had a salty crunch in every single bite. After that trip, I was into baking peanut butter blondies like crazy to try and create a recipe that's just as good. That brings me to some great news – I've done it!
These peanut butter cookie bars are chewy, crumbly, sweet, and salty. They're crispy on the edges and delightfully soft in the center. To keep them soft, be careful not to over bake them as that will dry them out. If they're slightly underdone, they'll be even more delicious.
The bars are simple to make, using simple ingredients. The brown sugar makes for moister bars and adds flavor; it can be replaced with granulated sugar, although the texture will be slightly different.
In addition to peanut butter, I added peanuts, which enhance the flavor and add crunch. For the peanut butter, you can use either crunchy or smooth. However, in any of my recipes, unless otherwise mentioned, never use natural peanut butter.
Now, go pour yourself a large glass of milk and enjoy!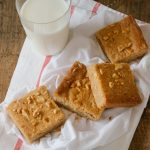 Peanut Butter Blondies
Perfectly soft and chewy bars with a strong peanut flavor, both from peanuts and peanut butter.
---
Ingredients
1

cup

(140 g/5 oz.) all-purpose flour

1

teaspoon

baking powder

1/4

teaspoon

salt

7

tablespoons

(100 g/little less than 1 stick) unsalted butter, softened

1/2

cup

plus 2 tablespoons

(150 g/5.3 oz.) smooth or crunchy peanut butter

1/2

cup

(100 g/3.5 oz.) light brown sugar

1/3

cup

(65 g/2.3 oz.) granulated sugar

1

large egg

1

teaspoon

pure vanilla extract

2/3

cup

peanuts

(salted or not), coarsely or finely chopped
Instructions
Preheat oven to 325F/160C degrees. Line an 8×8-inch or 9×9-inch pan with parchment paper or foil, leaving enough overhang on the sides for lifting the bars out of the pan after baking. Grease the pan if you don't use foil.

In a medium bowl, sift together flour, baking powder, and salt. Set aside.

In a standing mixer fitted with the paddle attachment, beat together butter and peanut butter on medium speed until smooth. Add both sugars and beat until light and fluffy, about 2 minutes. Scrape down the sides and bottom of the bowl as necessary. Add the egg and vanilla and beat until combined. Add flour mixture and beat on low speed just until combined. Don't over mix. Fold in chopped peanuts (reserve a few for the top if you like).

Scrape the dough into the prepared pan and smooth the top. Sprinkle with peanuts. Bake the bars for 20-25 minutes or until the top is golden brown and a toothpick inserted into the center comes out clean. Let the bars cool completely, then lift the bars out of the pan and cut into squares.

Store bars at room temperature or in the fridge in an airtight container for up to 3-4 days. Serve at room temperature. Bars can also be frozen for up to 2 months.