These fluffy and soft hot cross buns are lightly spiced, filled with a mix of dried fruit, and glazed with honey or jam for extra shine. They are so perfect that you won't need any other recipe!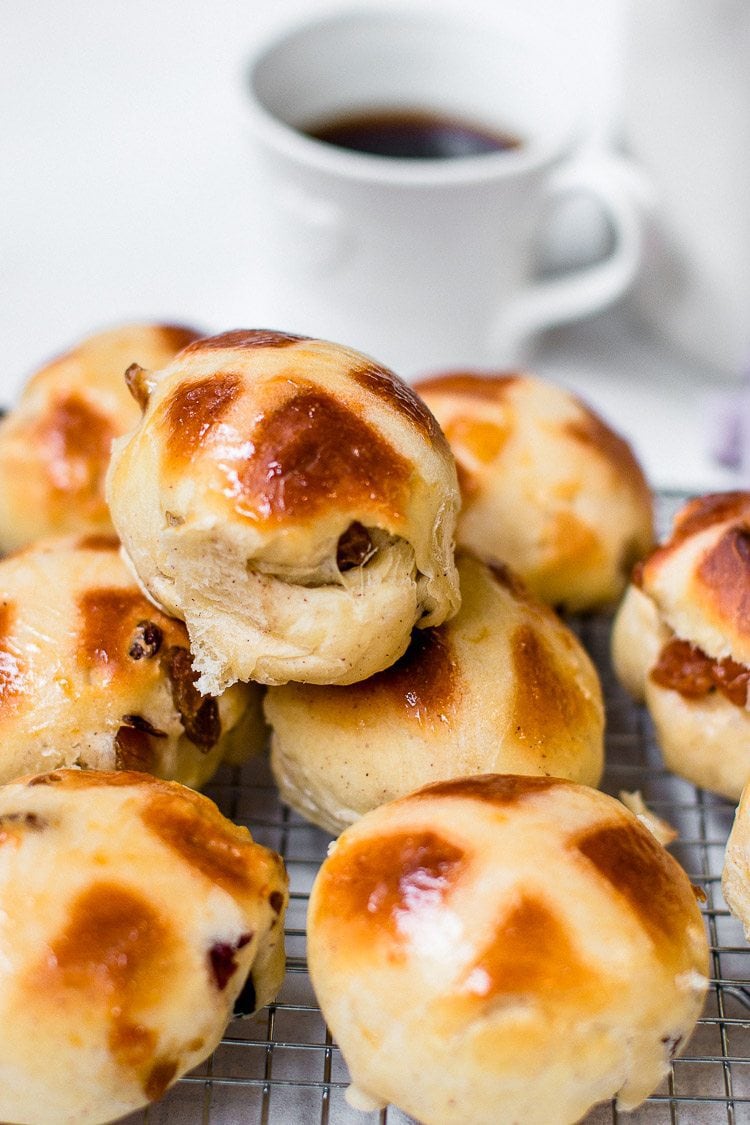 Hello January! Or more specifically, goodbye December!
These last couple of months have been hectic, crazy, and exciting, but a part of me is glad that the holiday season is behind me, and that I can unwind, relax, and not check my phone every 10 minutes. Oh, and plan out my next vacation of course. Seychelles islands are on my radar now.
As a fresh new start for 2018 I'm posting my ultimate recipe for hot cross buns. They are a favorite around Easter time, but you really don't need a holiday as an excuse to make these. You can bake them on the weekend or at your next family dinner. I love making my dinner rolls every chance I get, because they go well with everything, but when I want that extra something special to bring to event, I'll make these instead. The rolls are fluffy, soft, airy and perfect, especially if you spread them with some butter.
The rolls are best the same day they are made, but you can freeze them, and rewarm every time you want a fresh slice. They will taste just as good after freezing. I freeze my rolls and breads all the time, mostly to avoid the temptation, otherwise I'll eat all the rolls myself within 24 hours. I know that because it has happened to me once. Or twice. Or more.
The recipe is easier than it looks, so don't let the many steps intimidate you.
This is what you'll need to do:
Mix all the ingredients in a mixer bowl for 10 minutes. Cover and let the dough rise for 1.5-2 hours.
Add the dried fruit to the dough. Why after rising and not adding it to the dough at the beginning? Because their heaviness could prevent the dough from rising well, or that it would rise very slowly, so it's easier to just add them after. Knead the dough by hand for about a minute until the dried fruit is evenly distributed.
Divide dough into 12 pieces, and shape each piece into a ball. Place on a baking sheet or a 19*13-inch pan. I like that the buns are touching each other after baking, so I place them close to each other, but you can also just space them out evenly on the baking sheet for round individual buns. Cover the buns and let them rise for 60-90 minutes.
Make the flour paste for the cross. The cross is there just for appearance, not flavor, so you can skip this step if you don't care about it and just want yummy buns. The paste is made of flour, sugar, and water. Add enough water, a little at a time, to make a thick paste. If you added too much water and the paste is liquid, add more flour. Using a piping bag or a ziplock bag (or a spoon), pipe a line along each row of buns, then repeat in the other direction to create crosses.
Bake for 15-20 minutes until deep golden brown.
Spread dough with warm honey or apricot jam for shine and extra sweetness.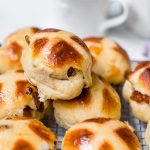 Hot Cross Buns
---
Ingredients
Buns:
3¼

cups

(450g) all-purpose or bread flour

2¼

teaspoons

(7g/0.25 oz) instant yeast

1/4

cup

(55g) granulated sugar

1

teaspoon

ground cinnamon

1/2

teaspoon

ground allspice

, optional

1¼

teaspoons

fine sea salt

½

cup

(120 ml) whole milk or water, lukewarm, plus more as needed

⅓

cup

(75g) unsalted butter, melted and slightly cooled (or 1/3 cup flavorless oil such as canola)

2

large eggs

¾

cup

(about 120g) mixed dried fruit (raisins, sultanas, currants, dried cranberries, dried apples or apricot)

optional add-ins: zest of 1 orange

, 2-3 tablespoons candied orange peel or ginger
Paste for the cross:
4

tablespoons

(40) g all-purpose flour

1

tablespoon

(12 g) sugar

2-3

tablespoons

water

, or more as needed
Glaze:
3

tablespoons

honey or apricot jam

, for brushing the tops
Instructions
In the bowl of a standing mixer place flour, yeast, sugar, cinnamon, and allspice, and mix to combine using a large spoon. add salt and stir until combined. Add milk, butter, and eggs. Attach dough hook to the mixer and mix on low speed for 2-3 minutes, until dough starts to come together. If the dough is dry, add a bit more milk or water, 1 tablespoon at a time. Increase mixer speed to medium-low and keep kneading for another 8-10 minutes until the dough is elastic and pulls away from the sides of the bowl.

Place dough in a lightly greased bowl and cover with plastic wrap. Let rest for 1.5 -2 hours or until dough has doubled in size (if it's a cold day, this may take longer).

When dough has risen, gently punch it to remove air. With the dough still in the bowl, tip in the dried fruit and the optional add-ins, if using, and knead into the dough (by hand) for about a minute, just until everything is evenly distributed. Divide the dough into 12 equal portions and shape each one into a ball. Arrange the buns on a baking sheet lined with parchment paper, leaving some space between them because dough will expand. It's ok if the buns will touch each other after rising. Cover loosely with plastic wrap or a clean towel, then set aside and let rest for 1 hour or until doubled in size.

Preheat oven to 375F/190C.

To make the paste: mix the flour and sugar, then add enough water, 1 tablespoon at a time, to make a thick paste. If you added too much water and it's too liquid, add more flour. Using a piping bag or a ziplock bag (or a spoon), pipe a line along each row of buns, then repeat in the other direction to create crosses. Bake until deep golden brown, 15-18 minutes. Heat the honey or apricot jam in the microwave for several seconds until melted, then brush the warm honey/jam over the top of the warm buns. Allow buns to cool to room temperature. Serve buns warm or at room temperature.

Rolls are best the same day they are made, but can be frozen for up to 2 months. Rewarm in the oven before serving.