So you really want to start a food blog, but don't where to start? I've been in your shoes, trust me, and I only wish that back then I knew how simple it was!
Stick with me for the next 15 minutes, and then start sharing your recipes to the world!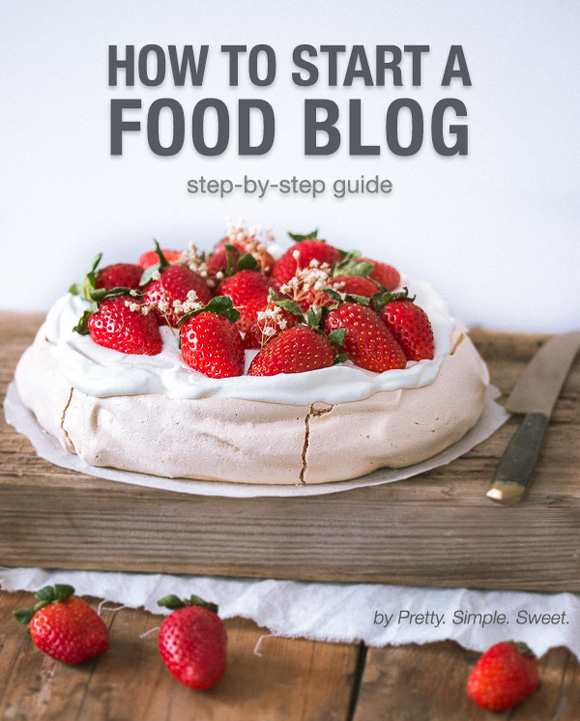 It only takes 4 simple steps to start a blog:
Choose a name and make sure its domain is available (i.e. myfirstblog.com)
Register your domain and sign up with a hosting service
Install WordPress (that thing that you write posts with)
Add some final touches (make it pretty and usable)
Disclaimer: Some of the links used in this page are affiliate links and I will earn commission if you purchase through them. Rest assured that all recommendations and advice is based on my own positive experience with the services that I use and trust.
[line]
Now, let's dive into some detail:
1. Choose a name and make sure the domain name is available
That's the exciting part! You are about to choose a name that will market your blog for years to come.
My domain is prettysimplesweet.com. When I got started, I cleared some time to brainstorm and picked names that I loved and thought people could easily connect to.
After you come up with a list of your favourite names, you need to make sure the domain name is available. You can use the following tool for that (make sure you don't purchase the domain at this stage – you can get it for free with the hosting service)
If you find this process frustrating, you can get help with finding a cool (and available) name for your blog on Fiverr. Check out this girl who will get you a cool name in just $5.
2. Register your domain and sign up with a hosting service
So, you've found the perfect name – that's awesome! Now all you need to do is to register it and sign up with a hosting service.
A hosting service is a what runs your blog and takes care of all the technical aspects of making sure your blog is up and running and serves everyone who wants to access your content. I recommend signing up with a hosting service that specializes in managing WordPress installations. The leader in WordPress hosting, and also recommended by wordpress.com (the guys who develop and maintain WordPress) is Bluehost. Bluehost is a good and safe bet for a hosting service to get you started quickly and safely.
First, go to the Bluehost signup page here, you'll see the different plans. I suggest that you start with the cheaper starter plan. Note that Bluehost charges for a discounted yearly fee rather than a costly monthly plan – you can always upgrade at a later stage.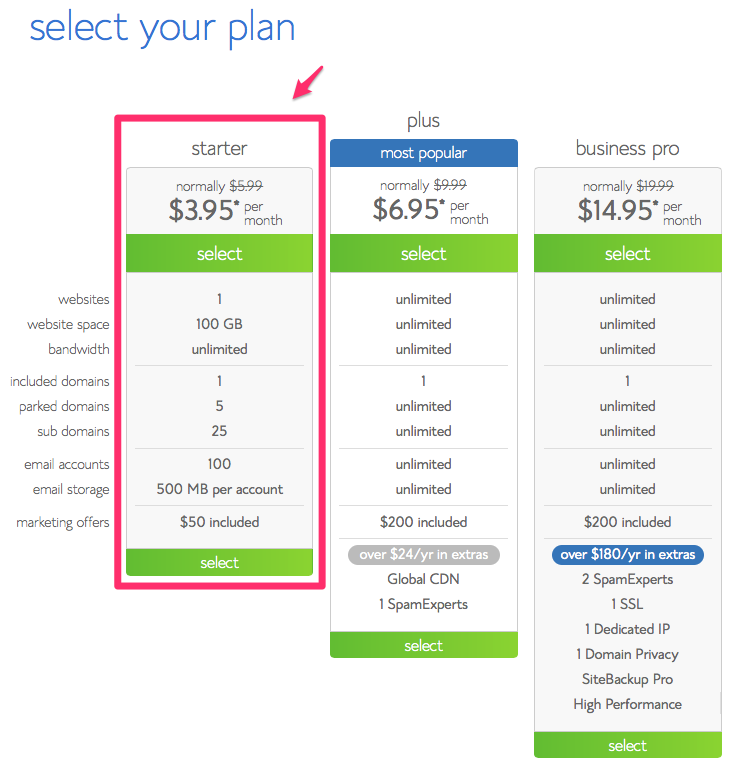 Bluehost provides a free web domain registration that's bundled with the service (otherwise, it usually costs about $10/year). Just enter your domain name in the following page, and they'll register it for you:

Next, choose your account plan. There are also a few add-ons available for purchase. Note, that you'll be able to add those later so no need to commit at this stage.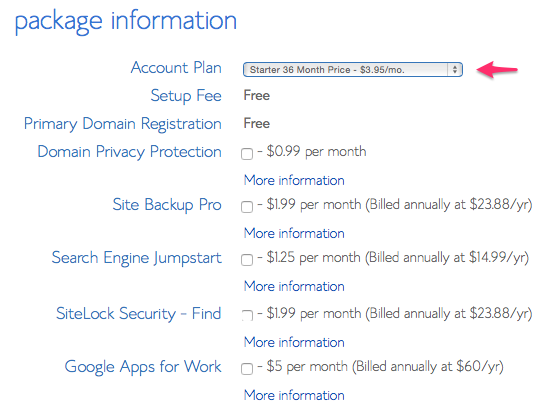 That's it!

3. Install WordPress
So, you registered your domain and signed up with a hosting service – you're almost done!
WordPress in the leading content management software, trusted and used by hundred of thousands bloggers around the world.
It's really easy to setup WordPress on Bluehost:
After you login to Bluehost, just click on WordPress on the Website Builders section:

Next, click the install button: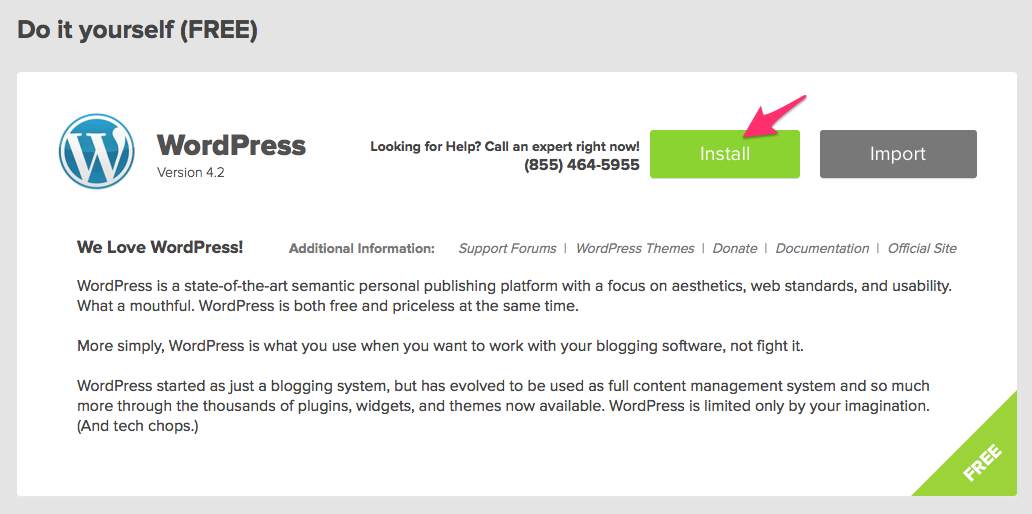 Then, click "Check Domain":

Check the terms and condition box, to acknowledge that you've read and approved: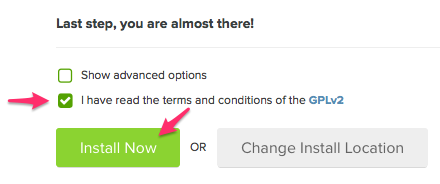 After the installation is complete, click "View Credentials" to get information how to access and manage your blog:

Then click on "View", to display your login information:

Then, you'll see the temporary Username and Password for your blog. Note that you can easily change this later, but for now go and manage your blog by clicking the Admin URL link: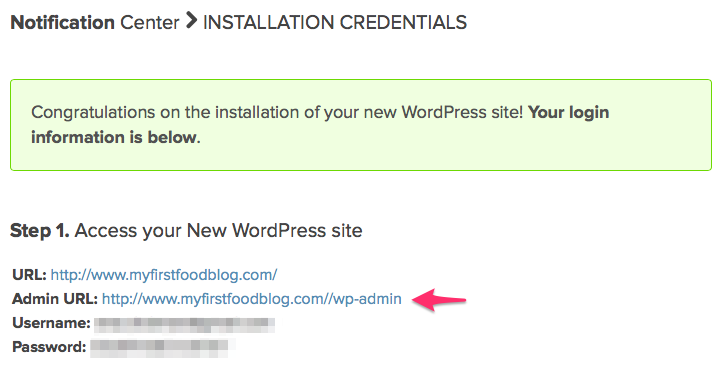 You will see the WordPress login screen. Enter the username and password that were displayed in the previous page.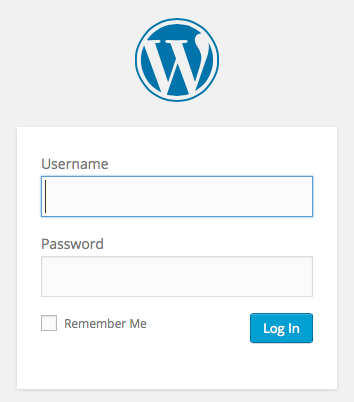 You are now logged in to your blog management page – woohoo! You are just one step away from launching your blog. Just click on the "click here" link to publish it:

4. Add some final touches
If you got here, this means you have a blog up and running and available for everyone to see! Mazal tov, that's brilliant!
Now, last (but not least), let's add some final touches to make your blog appear professional to match the great content that you're about to write.
The first, and most important step is to install a beautiful theme. While there are some nice and free options here, I suggest going for a premium theme – here are my favourite ones:
Blu Chic – this is the theme that I use on my blog.
The Genesis Framework – used by many popular blogs.
And voila, you're done!
If you have any questions, comments or words of wisdom, please comment on this page and I'll get back to you 🙂 Enjoy your new blog!