My go-to recipe for soft, chewy, and thick chocolate chip bars.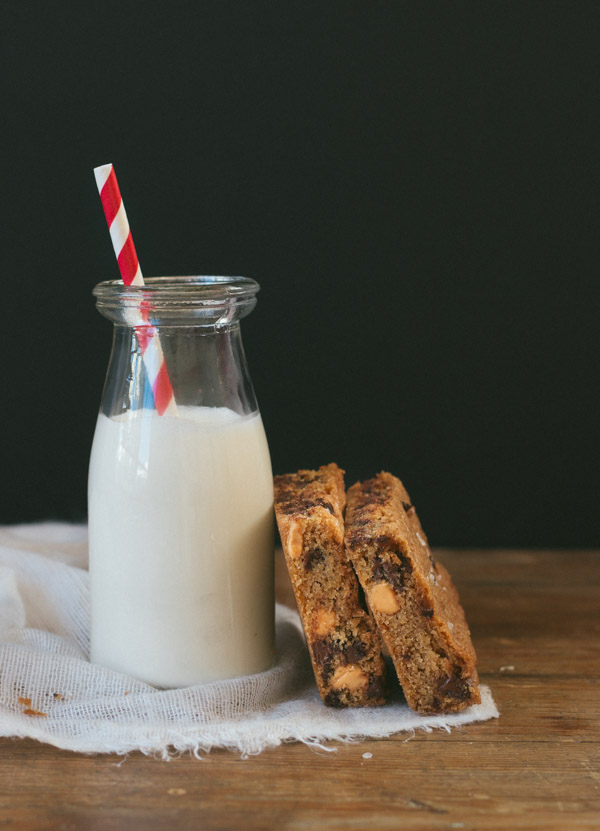 You know how a vacation can sometimes be exhausting? Not that you'll ever hear me complain or refuse a vacation, of course, but I'm sure you know what I mean. Last weekend I went on a short getaway, but it felt much longer because I basically did NOTHING the entire time. Just relaxing, tanning, being in the pool all day long, and occasionally watching the other people. Oh, and eating constantly (there is no calorie counting while on vacation, right?). My body was so relaxed that by 8pm, all I wanted to do was crawl under the silk sheets and fall into a deep sleep.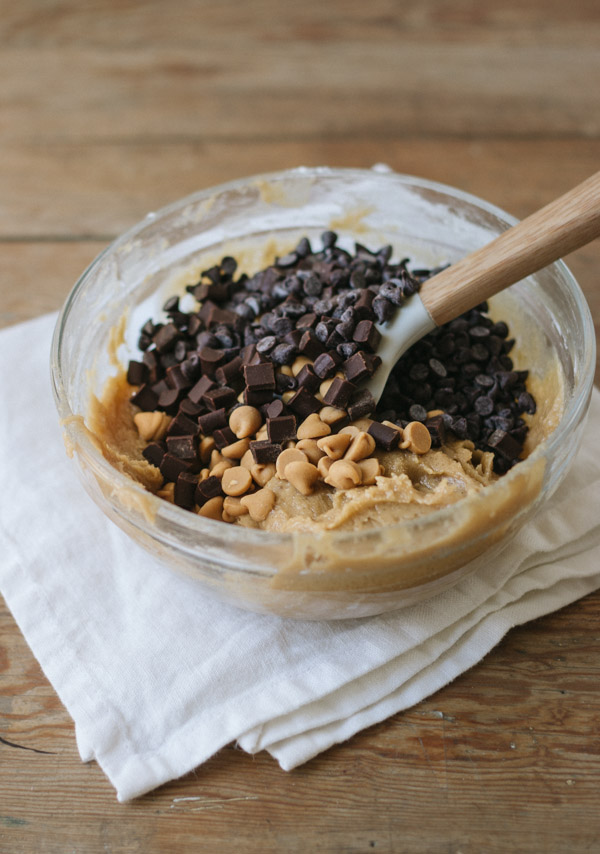 I'm so used to the fast paced, noisy streets of the big city that the moment I get a little bit away from it, I instantly get more relaxed. The air seems fresher, everything is quieter, and people are calmer and nicer. In fact, the people I ran into seemed as though they had no problems at all.
But now I'm back, and although I'm feeling lazy, thoughts about my upcoming trip to London are running through my head, bringing a huge smile to my face and keeping me going.
So, an easy and comforting choice for a day like this is chocolate chip cookie bars.
These bars taste similar to my beloved chocolate chip cookie recipe. They are quick to make and you don't even need a mixer because the recipe calls for melting the butter, not for creaming it.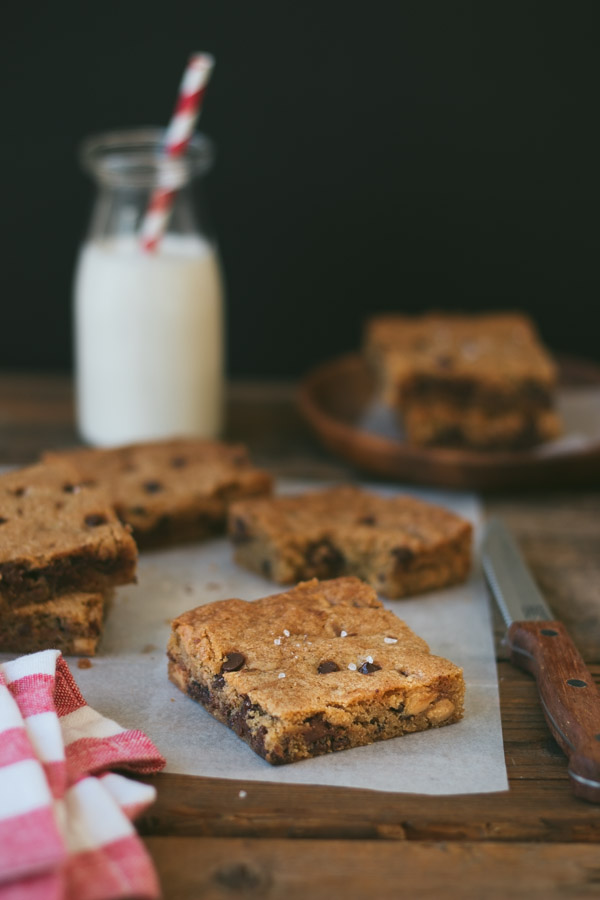 There are two things to keep in mind while making these bars to ensure that they have the perfect texture. The first is to avoid over mixing the dough, which will make the bars tough. Mix just to the point  where the ingredients are combined. The second is to not over bake the bars, which will make them dry. For the softest and chewiest texture, I like my bars slightly under baked. Once the top is just firm to the touch when you gently press it with your fingers and the edges start to pull away from the sides of the pan, they're ready. Even if the bars look soft, they will set once cooled. If you prefer drier bars (then what are you doing on my blog?), you can bake them longer.
I like to load these bars with a mix of chips that I have on hand. Sometimes I'll add ¾ cup nuts, or use some chocolate chunks (meaning coarsely chopping a chocolate bar). Chocolate chips and chunks have different textures in baked goods. Chips are made in a certain way so that they keep their shape while baking and remain hard. Chunks, on the other hand, will become soft and melt. Combining chips and chunks gives you different textures in every bite.
These bars taste just like chocolate chip cookies except they're even chewier and thicker, which means better, and they're much quicker to put together. This will easily become your go-to blondies recipe – no fancy ingredients, no mixer, and (my favorite part) dish-friendly.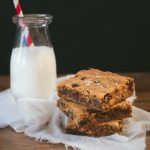 Chocolate Chip Cookie Bars (Blondies)
My go-to recipe for soft, chewy, and thick chocolate chip bars.
Ingredients
1 ¾

cups

(250 g/8.8 oz) all-purpose flour

¾

teaspoon

baking powder

¼

teaspoon

baking soda

½

teaspoon

salt

1 ½

sticks

(170 g) butter, melted and slightly cooled

½

cup

(100 g/3.5 oz) granulated sugar

1

cup

(200 g/7 oz) light brown sugar

2

large eggs

2

teaspoons

vanilla extract

1 ½

cups

(250 g/9 oz) chocolate chips
Instructions
Preheat oven to 350F/175C. Line a 9×13-inch pan with parchment paper, leaving enough overhang on the sides for lifting the bars out of the pan after baking.

In a medium bowl, sift together flour, baking powder, baking soda, and salt. Set aside.

In a large bowl, place the melted butter, granulated sugar, and brown sugar. Whisk until well combined. Whisk in the egg and vanilla extract. Add flour mixture and fold, using a rubber spatula or wooden spoon, just until combined. Do not over mix. Fold in chocolate chips.

Spread dough evenly into prepared pan and smooth the top. Bake for about 25 minutes, until the top is golden brown and slightly firm to touch, and the edges start to pull away from the sides of the pan. The bars should appear soft but will set once cooled; over baking will make them dry. Allow to cool to room temperature on a wire rack, then lift out of the pan and cut into squares.

Serve warm or at room temperature.

Store bars in an airtight container at room temperature for up to 3 days, or freeze for up to 2 months.
Recipe Notes
- If you'd like to add nuts, reduce chocolate chips to 1 cup and add ¾ cup nuts. Walnuts, pecans, or hazelnuts are great.
- For a smaller batch: half the recipe, use an 8x8-inch pan, and bake for 20-25 minutes.
- Sprinkle bars with fleur the sel or coarse sea salt for sweet and salty bars.