A sweet and sticky caramel bread created with several layers of fluffy dough balls coated in brown sugar and cinnamon.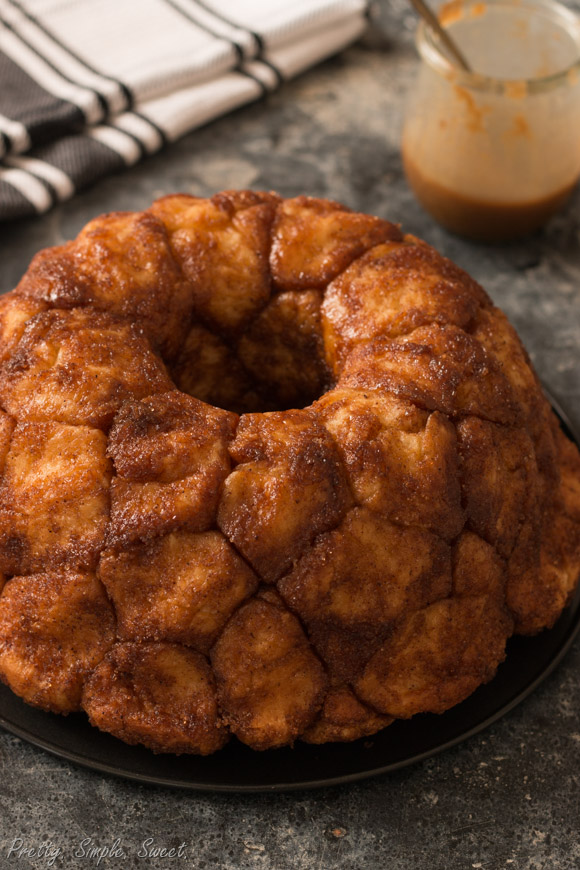 If you haven't heard about monkey bread before, then it's time you should!
Monkey bread is similar to cinnamon rolls in taste, but is much more fun to snack on! It's made of a fluffy, soft dough cut into small balls, coated in a cinnamon-sugar mixture, and layered in a Bundt pan. When baked, the sugar turns into a gooey caramel sauce, and since there are more than 60 balls, there are multiple layers of this caramel goodness everywhere. You'll taste it in every single bite, making this a cinnamon roll lover's heaven!
The name's origin, by the way, is unknown. Once you take your first bite, though, you won't even care!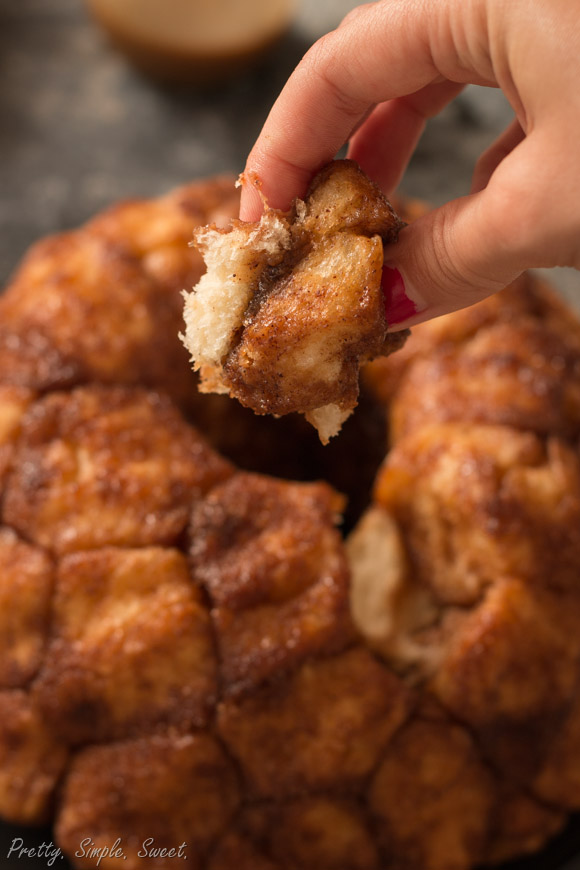 This monkey bread is the first I've ever made, and I was so pleasantly surprised with how amazing it turned out. I was afraid that the sugar would stick to the sides of the pan when I inverted it onto a plate, but it came out smoothly and beautifully. I made pretty much the same dough as in my perfect cinnamon rolls recipe. It's really not hard once you understand how it's done! It's so rewarding, too. Ever since I made the first perfect batch of cinnamon rolls from scratch, I've been having constant cravings for them!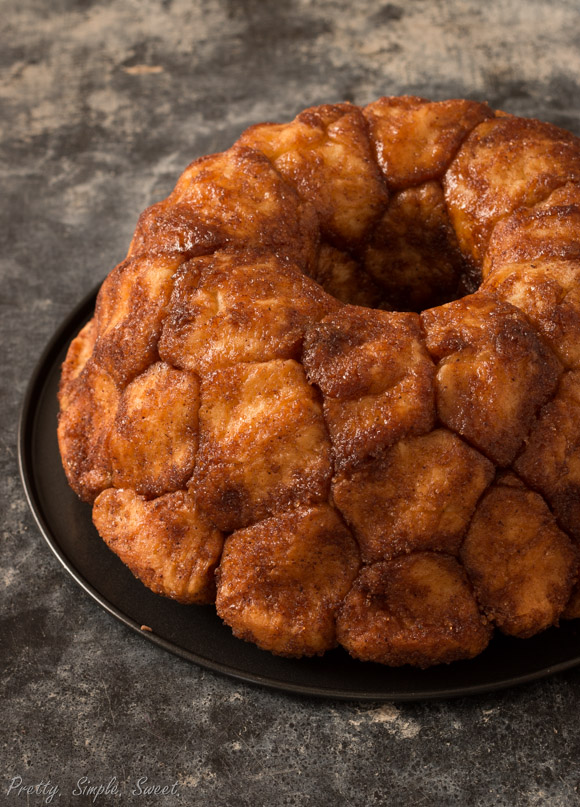 To make the bread, start by making the dough (once again, you can find a step-by-step recipe for a similar dough here). Once the dough has doubled in size for the first time, pat it into an 8 or 9-inch square – it doesn't need to be exact – and cut it into 64 pieces using an 8×8 grid. Now here's where the fun starts 😉 Using your hands, roll each piece of dough into a ball. Roll the balls in the melted butter, then generously in the cinnamon-sugar mixture. Once coated, place into the pan. This process may sound tedious, but it's fun and goes by fast, I promise! I use dark brown sugar for the sugar-cinnamon coating mixture for a deeper caramel flavor, but you can use light brown sugar if that's what you have on hand.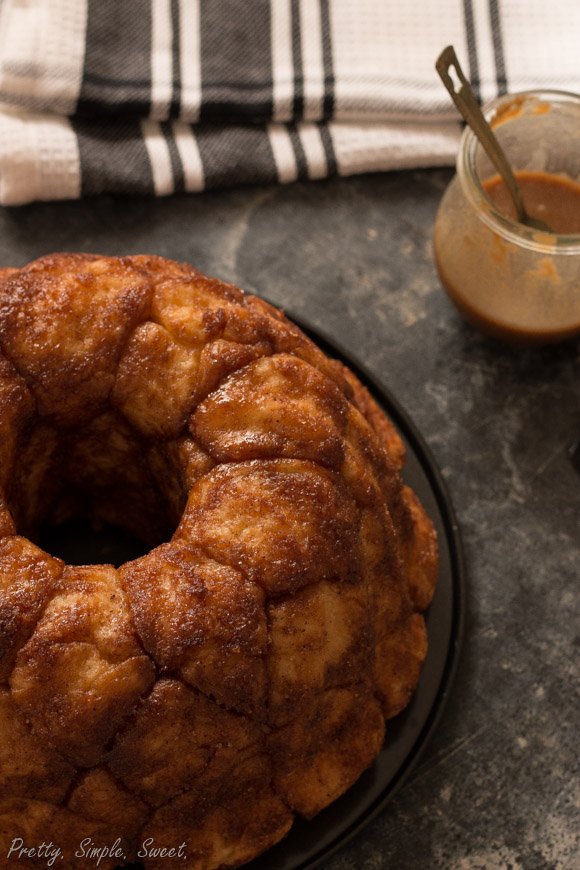 Layer the balls one by one into the pan, keeping in mind that they'll stick to each other while baking. Since this cake will be flipped once it's baked, be sure to flatten the top layer by pressing gently to ensure a flat cake bottom. Once you're done layering the balls in the pan, cover and let it rise for about 45-60 minutes. My bread was ready after exactly 30 minutes in the oven. The top should have a deep brown color and the caramel will bubble all around. I'm warning you, the smell filling your entire house will drive you crazy! 🙂
When the bread has been out of the oven for 5 minutes, invert it onto a large plate. Don't wait more than 10 minutes to do this or the caramel will harden and the bread will stick to the pan. If you generously buttered the pan before baking, it should turn out perfect. You'll be so proud of yourself!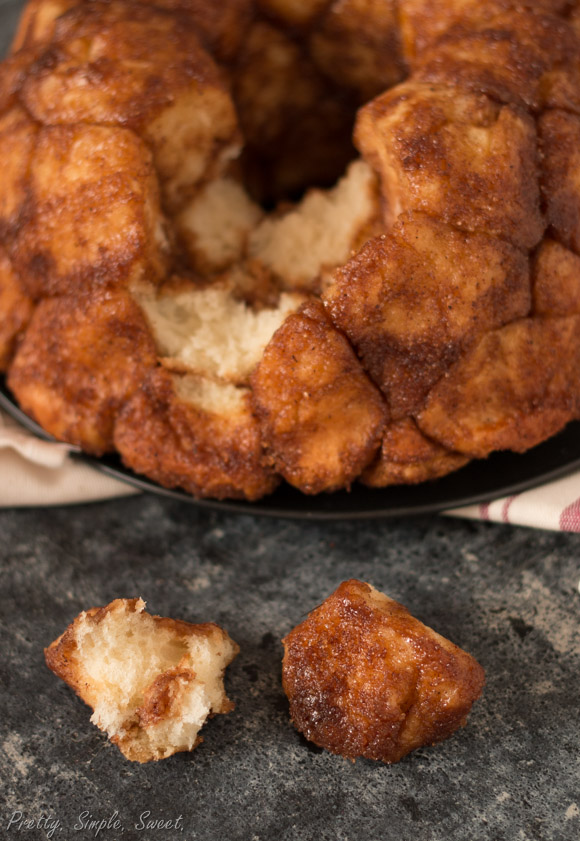 While taking these photos, my mouth was watering and I just couldn't wait to bite into this thing! Once I did, there were sparks in the air. It was sticky, gooey, fluffy, and soft with lots of caramel-cinnamon flavor. Have I convinced you yet?
You now have two choices on how to serve the bread: you can either cut into generous pieces as you would a cake, or pull the balls apart by hand like a monkey. You know how I chose to eat it, right?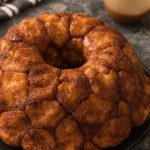 Monkey Bread
---
Ingredients
Dough:
1/4

cup

water

3/4

cup

milk

2 1/4

teaspoons

(7 g/0.25 oz) dry yeast

1/4

cup

(56 g/2 oz) butter, melted

1

large egg

1/4

cup

(50 g/ 1.7 oz) granulated sugar

1/2

teaspoon

salt

3 1/4

– 3 1/2 cups

(about 450 g/16 oz) all-purpose flour
Cinnamon-sugar coating:
1/2

cup

(113 g/4 oz) butter, melted

1

cup

(200 g/7 oz) dark brown sugar

1

tablespoon

ground cinnamon
Instructions
In a small saucepan, heat water and milk until lukewarm (110F-115F). Pour the mixture into a mixer bowl and sprinkle yeast over it. Let sit for 10 minutes until frothy.

Add butter, egg, sugar, and salt to the milk mixture and stir until combined. Add 3 ¼ cups of flour. Fit your mixer with the dough hook attachment and mix on a low speed (or if you don't have a mixer, mix by hand) until the dough comes together and pulls away from the sides of the bowl. If the dough is still wet at this point, add more flour – 1-2 tablespoons at a time (up to 3 ½ cups total). The dough should be soft, smooth, elastic, and just slightly sticky. Once it has reached this consistency, keep kneading on low speed in the mixer for 5 minutes, or by hand on a floured surface for 7-8 minutes.

Cover the dough with plastic wrap and let rest in a warm place for 1-2 hours until it doubles in size.

Make the cinnamon-sugar coating: In a medium bowl, mix together cinnamon and sugar. In a separate bowl, place the melted butter. Set aside. Generously butter a 12-cup Bundt pan and set aside.

When the dough has doubled in size, gently punch it to remove air. Pat the dough into an 8-inch square and cut into 64 pieces by using an 8x8 grid. It's ok if the pieces are slightly different in size. Roll each piece of dough into a ball, then roll into the melted butter and generously in the cinnamon-sugar coating. Place each piece in the Bundt pan and layer. Gently press the top layer to make it even. Cover the pan and let rest to rise for 45-60 minutes.

Preheat oven to 350F/180C.

Bake bread in the preheated oven for about 30 minutes until the top has browned and a skewer inserted into the dough comes out clean. Cool in the pan for 5 minutes, then invert onto a large serving plate.

You can either cut the bread into generous slices like a cake, or pull apart the balls by hand.

Serve warm or reheat before serving.

Monkey bread is best served the same day it's made.