Classic creamy and tangy lemon bars with a sweet buttery shortbread crust.
It's been a long 6-month wait, but I finally got my wedding album! If you would have asked me a few years back if I believed I would find the man of my dreams and get married, I'd have said "No way!" You know what they say, though – eventually, it happens to all of us.
The day of my wedding was the best day of my entire life. That's crazy, isn't it? Although I'm usually not the emotional type, just looking at the photos and reliving that day makes me want to burst into tears. We were so happy that day.
To be honest with you, it doesn't feel like we're newly weds, rather as if we've been living together for 20 years. I mean that in a really good way, so don't worry.
But what was it I actually needed to talk about? Oh yea, lemon bars! So let's talk about that.
These are classic lemon bars with a sweet, buttery, tender crust and a creamy lemon filling. Every bite is sweet, tangy, and refreshing. It literally melts in your mouth.
Recipes for classic lemon bars usually consist of a shortbread crust. The sugar used in the crust can be either granulated or powdered sugar, although the latter adds a more tender, melt-in your-mouth texture. Similar to my melt-in-your-mouth cookies recipe, 1/4 cup of the flour in the crust can be replaced with 1/4 cup cornstarch for an even better texture. Pre-baking the crust, such as in tart recipes, is necessary in order to prevent sogginess.
Lemon fillings vary in the amount of zest and juice used in the recipe. These bars have a nice, strong lemon flavor. You can even use more lemon zest if you like. Flour, in addition to eggs, is added to thicken the filling. I like to reduce the amount of sugar in my recipes if possible. I find this recipe sweet enough for my tastes, but you can taste-test the filling and add more sugar if desired. Add up to 1/2 cup more (just to the filling, not the crust).
Serving the lemon bars on the same day as baking is best – that's when the crust is still crisp. By the second day, the crust will begin to soften slightly, but the bars will still keep in the fridge for 3 days.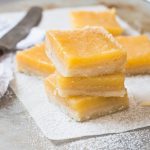 Lemon Bars
Classic creamy and tangy lemon bars with a sweet buttery shortbread crust.
---
Ingredients
Shortbread Crust:
2

cups

(280 g/10 oz) all-purpose flour

2/3

cup

(80 g/2.8 oz) powdered sugar*

1/4

teaspoon

salt

1

cup

(2 sticks/227 g) cold butter, cut into small cubes

1

teaspoon

pure vanilla extract
Lemon Filling:
2 1/4

cups

(450 g/16 oz) granulated sugar

1 1/2

tablespoons

grated lemon zest (about 3 lemons)

6

large eggs

1

cup

freshly squeezed lemon juice (about 4 lemons)

1/3

cup

(47 g/1.7 oz) all-purpose flour

Powdered sugar

, for dusting the top
Instructions
Note: The filling should be poured on a warm crust, so make sure that by the time the crust is warm, the filling is ready.

Preheat oven to 325F/160C degrees. Grease or line a 9×13-inch pan with parchment paper or foil, leaving enough overhang on the sides for lifting the bars out of the pan after baking. Set aside.

To make the shortbread crust: Process flour, sugar, and salt in a food processor until combined. Add butter and vanilla and pulse until mixture becomes crumbly and resembles coarse meal. Alternatively, you can crumble all the ingredients together in a bowl using a pastry cutter. Sprinkle mixture into prepared pan and press firmly into an even layer. Bake for 18-20 minutes, until the edges are very slightly browned. Allow to cool on a wire rack just until warm, meanwhile make the filling.

To make the filling: In a large bowl, mix together sugar and lemon zest until well combined. Add eggs and whisk well until combined. Mix in lemon juice. Add flour and whisk until smooth. Pour into warm crust. Bake for 22-25 minutes, just until set and filling feels slightly firm to the touch. Allow to cool completely on a wire rack in room temperature, then refrigerate for at least 2 hours (preferably more or overnight) or until completely set. Then, lift the bars out of the pan using the parchment paper and cut into squares. Dust with powdered sugar.
Recipe Notes
*1/2 cup of granulated sugar can be replaced with powdered sugar. Powdered sugar results in a more tender crust.
-Bars are best the same day they are made (the crust will slightly soften after that), but will keep 3 days in the refrigerator.
-To halve the recipe use an 8x8-inch pan and halve each of the ingredients. Bake crust for 15-17 minutes, then bake bars with the filling for 18-20 minutes.