These sugar-coated butter cookies use just a handful of ingredients and perfectly pair with tea or coffee. They will literally melt in your mouth!
There are so many butter cookie recipes out there! I have at least 10 different ones that I really love, and it's so hard to pick a favorite. However, I've found that my guests particularly give these cookies special attention. Every time I serve them, everyone snacks without stopping until they're all gone. They are dangerously addictive with their melt-in-your-mouth texture and powdered sugar coating. When eaten with coffee or tea, they compliment it perfectly, making them a great snack or holiday gift.
These eggless cookies are basically buttery, crumbly shortbread. They're very easy to make as the recipe consists of just a few ingredients. The only 2 things that you must keep in mind are to use room temperature butter, and (as many of my cookie recipes suggest) to chill the dough for at least an hour to let it firm up and to prevent the cookies from spreading while baking.
Instead of using just flour, a part of it is replaced with cornstarch, which is what gives these cookies their delightful melt-in-your-mouth quality. Using powdered sugar instead of granulated sugar also contributes to the tenderness.
Speaking of sugar, not a lot of it is added to the dough. This means that, on their own, these cookies only have a mild sweetness. This is because they're coated with powdered sugar after baking, which makes them sweet enough.
The size of these cookies makes them perfect for eating with tea or coffee. Besides, the smaller they are, the more you can have! The dough is rolled into balls around 1 inch (2.5cm) in diameter. To measure them all evenly, I use a 1-tablespoon ice cream scoop. You can make them bigger if you like, but be sure to increase the baking time accordingly. Bake until the edges are just starting to brown. Don't worry much if the cookies spread out while baking – they will still taste delicious.
After baking, I like to roll them in powdered sugar twice so they'll be well covered. The first time when the cookies are still warm, and the second time after they have cooled completely. You can roll them just once if you prefer, but I like just a little more sweetness.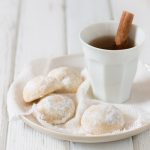 Melt-In-Your-Mouth Butter Cookies
YIELD
:
36
bite-sized cookies
---
Ingredients
1 1/2

cups

(200 grams/7 ounces) all-purpose flour

1/2

cup

(60 grams/2.1 ounces) cornstarch

1/4

teaspoon

salt

1

cup

(2 sticks/227 grams) butter, room temperature

1/3

cup

(40 grams/1.4 ounces) powdered sugar, sifted

2

teaspoons

pure vanilla extract

1/2

cup

(60 grams/2.1 ounces) powdered sugar, sifted, for rolling
Instructions
In a medium bowl, sift together flour, cornstarch, and salt. Set aside.

In a mixer bowl fitted with the paddle attachment, beat the butter on medium speed for 30 seconds until creamy. Add powdered sugar and beat for about 2 minutes until smooth. Beat in vanilla extract. Add flour mixture and beat on low speed just until combined. Do not over mix.

If the dough is soft, chill in the refrigerator, covered, for 1-2 hours until firm so that cookies will spread as little as possible while baking.

Preheat oven to 350F/180C. Line 2 pans with parchment paper.

If cookie dough is hard to handle after refrigerating, leave on the counter for a few minutes to soften.

Using an ice cream scoop or level tablespoon, drop rounded balls of dough, 1 inch/2.5cm in diameter, onto prepared baking sheets. Bake for 10-12 minutes, until cookies just begin to brown at the edges. Leave to cool for 10 minutes. Then, while they are still warm, gently roll them in powdered sugar, careful not to cause them to crumble. Transfer to a wire rack to cool completely. Once cooled, roll them one more time in powdered sugar if desired.

Cookies will keep well for a few days at room temperature in an airtight container, or they can be frozen for up to a month.