Inside: A lemon blueberry cake recipe.
This delectable loaf cake is bursting with lemon flavor and loaded with juicy blueberries. The perfect pairing to your tea or coffee! When combining lemon and blueberries, wonderful things happen. Especially to my belly. This lemon blueberry cake recipe is a good example of that.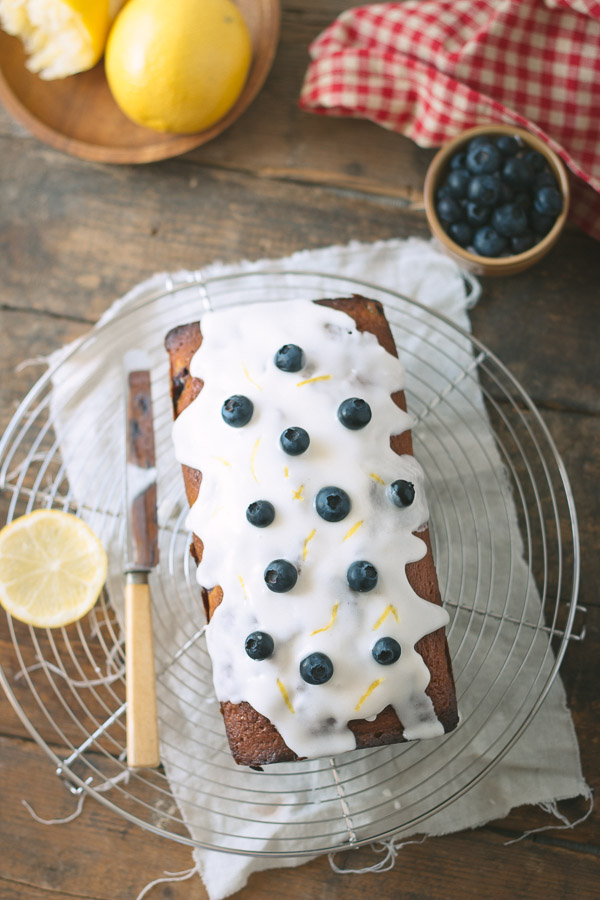 How to Make Lemon Blueberry Cake
In my recipe journal, this lemon-blueberry cake initially had the title of a bread, not a cake. But the more I made it, the more ingredients I added, making it much more moist than the one I began with. With its sugary sweet topping, this is the kind of cake I would hope to see in a charming little coffee or tea shop.
Using the Best Blueberries
It's amazing (or sad) to see how excited I get just by noticing a container of fresh blueberries at the grocery store. I have a good reason for that, though (I think). Fresh blueberries are almost never available around here, so although buying a few containers costs quite a bit, there was no option of not buying them. Besides, I've wanted to post this recipe for a long time, these blueberry scones are another one of my blueberry favorites!
Frozen or Fresh?
Although I used fresh blueberries, I'm sure many of you are wondering if you can substitute with frozen. While I do usually use frozen blueberries because I simply have no other choice, sometimes they dye my cake blue, which is why I prefer using fresh. If you don't have fresh blueberries on hand, frozen will work, but be sure to use them straight from the freezer; if they thaw, they'll bleed into the batter. Coat the berries in flour to help prevent them from sinking to the bottom, then quickly add them into the batter and mix as gently and sparingly as possible until combined. Here are a few more tips with baking with blueberries!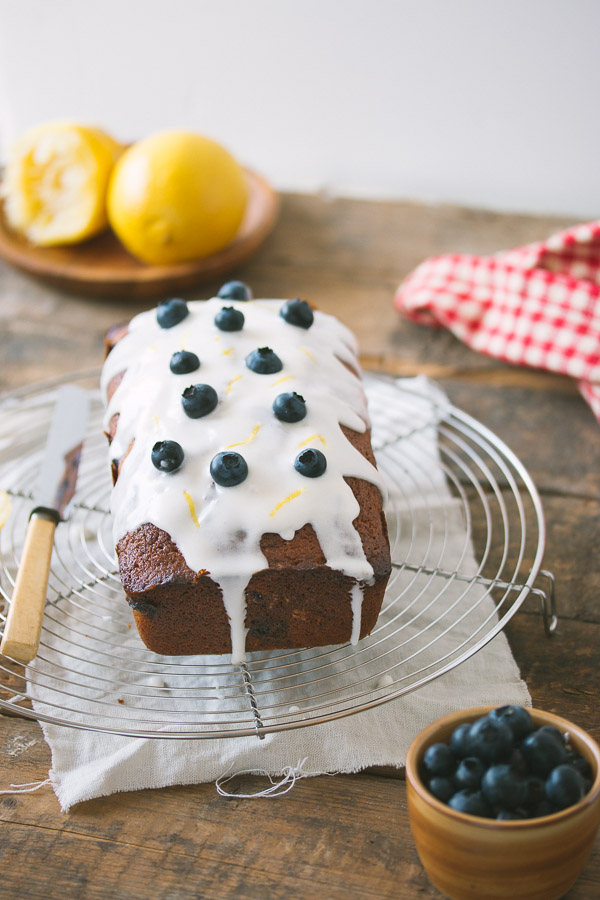 How to Bake with Lemon
The lemon flavor is very noticeable and delightful (and so is the smell), and it combines perfectly with the juicy blueberries. Mixing sugar with lemon zest is my little trick for bringing out lemon flavor in baked goods. When grating the zest, make sure you grate only the yellow part, and not the bitter white pith beneath it. Then toss the zest with the sugar. This causes the lemon zest to release its natural oils, which will absorb quickly into the sugar, helping to distribute the flavor throughout the batter. Another one of my favorite lemon cakes to use this method on is this Lemon Bundt Cake!
Lemon Blueberry Cake
I use the creaming method for this cake (i.e., starting with creaming butter and sugar using a mixer), which gives it the perfect texture with a tender crumb. Quick breads that don't use the creaming method are usually denser. Although tender, it's not too moist – just like a tea cake should be.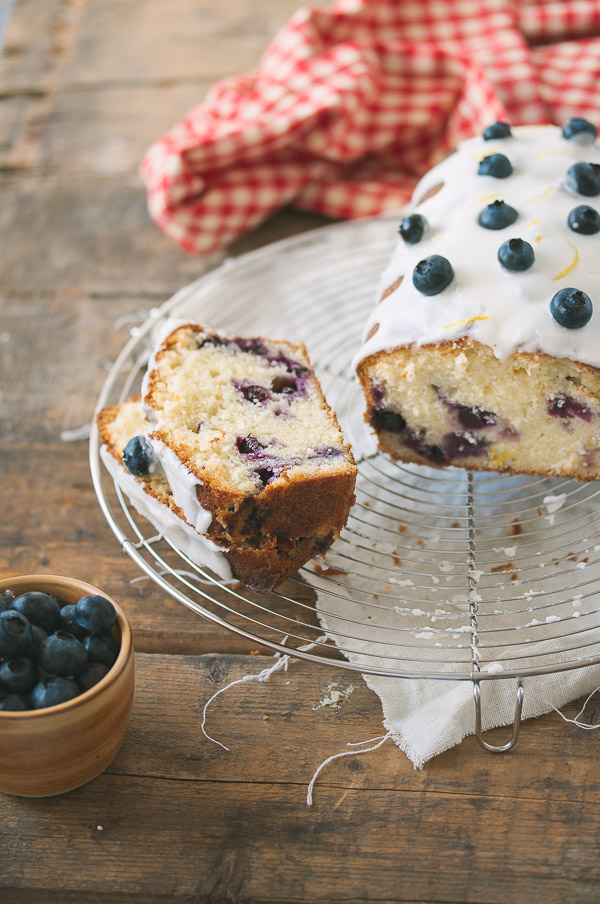 Sweet Glaze Topping
Topping the cake with a sweet glaze makes it both prettier and more delicious. If you want to take shortcuts, then I give you my approval to omit it because the cake is flavorful enough by itself. Still, if it were up to me, I'd add it simply because it's yummilicious.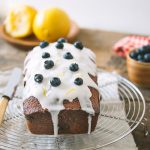 Lemon Blueberry Cake
This delectable loaf cake is bursting with lemon flavor and loaded with juicy blueberries. The perfect pairing to your tea or coffee!
---
Ingredients
1 1/2

cups

(200g/7 oz.), plus 1 tablespoon all-purpose flour

1

teaspoon

baking powder

1/4

teaspoon

salt

3/4

cup

plus 2 tablespoons

(175g/6.2 oz.) granulated sugar

1

tablespoon

grated lemon zest

(from 1-2 lemons)

1/2

cup

(1 stick/113g) unsalted butter, softened to room temperature

2

large eggs

, room temperature

1

teaspoon

vanilla extract

1/2

cup

(120ml) heavy cream (or whole milk)

2

tablespoons

freshly squeezed lemon juice

1

cup

fresh or frozen blueberries
Glaze:
1

tablespoon

lemon juice

1

tablespoon

heavy cream or milk

, plus more as needed

1

cup

powdered sugar

, sifted
Instructions
Adjust oven rack to middle position and heat to 180C/350F. Grease an 8½ x 4¼-inch loaf pan.

In a medium bowl, sift together 1 1/2 cups flour, baking powder, and salt. Set aside. In another small bowl, toss together sugar and lemon zest until combined.

In a standing mixer fitted with the paddle attachment, beat together butter and lemon-sugar mixture on medium speed for 3 minutes, until light and fluffy. Occasionally scrape down the sides and bottom of the bowl. Add eggs, one at a time, beating well after each addition. Beat in vanilla extract. Add half of the flour mixture and beat on low speed just until combined. Beat in heavy cream and lemon juice just until combined, followed by the rest of the flour mixture. Do not over mix. In a small bowl, toss blueberries together with 1 tablespoon flour (to prevent them from sinking to the bottom while baking), then gently fold into batter.

Scrape batter into prepared pan and smooth the top. Bake for 45-60 minutes, or until a skewer inserted into the center of the cake comes out clean. If the top is browning too fast while baking, cover pan loosely with aluminum foil. Allow cake to cool for 10 minutes, then remove from pan and set on a wire rack. Allow to cool completely.

To make the glaze: In a small bowl, combine powdered sugar, lemon juice, and milk, and whisk until smooth. Add more milk or lemon juice as necessary until you get a thick yet pourable consistency. Pour over top of cake and let drizzle down the sides. Allow glaze to set, 15-30 minutes.

Store cake in an airtight container at room temperature for up to 3 days, or in the refrigerator for up to 5 days. Cake can be frozen without glaze for up to 2 months. Once thawed, make the glaze.