This easy moist and tender glazed lemon bundt cake recipe is bursting with lemon flavor. You won't get enough of it!
This Is The Best Lemon Bundt Cake Recipe Ever
Love doesn't begin to describe how I feel about lemon cakes. I made this lemon cake a million times, but it's the first time I'm making it in bundt form. Because bundt cakes tend to be dense, I brush the cake with a lemony syrup after baking, and the result is a delicious, tender, and moist cake. There's so much lemon in this cake – in the cake batter, the syrup, and the glaze, so it's it's super lemony. I've never had a cake that has more lemon flavor than this one. It's sweet and sour, sticky, and has a nostalgic taste. It's dense, but moist and tender.
How To make The Cake
This cake is made from scratch with simple ingredients. There are 3 components to the cake, and they're all easy to make.
First, make the cake batter. Once you grated 4 lemons and juiced a couple of lemons, the rest is easy peasy. Beat butter, sugar, and lemon zest together, add the eggs, then add 1/3 the flour and the other dry ingredients, 1/2 of the liquids – sour cream (I like using either sour cream or buttermilk, so choose whatever you prefer), lemon juice, and vanilla extract. Repeat once more, and end with the rest of the flour mixture. After adding the flour, make sure to mix the batter as little as possible, just until combined.
Second, make the syrup. When the cake is ready, let it sit in the pan for 15 minutes before inverting it onto a plate. It's important to do this while the cake is still warm. During this time make the syrup. If you prefer making it before, while the cake is in the oven, it's ok too. You can brush the syrup over the cake while it's still warm or at room temperature. To loosen the cake from the pan, put a large serving plate upside-down on top of the pan. Hold the cake pan (if it's hot, use a towel) and invert it quickly onto the plate, then lift off the pan. If it doesn't loosen easily, tip the pan gently, or run a knife along the edges. Any goofs can be covered later with the glaze. Brush the syrup over the top and sides. Use all the syrup.
Lastly, make the glaze. You can skip it if you like, but if you've made it this far, this part is really quick and will make the prettiest cake. Make sure that the glaze is quite thick, so it would drizzle slowly down the sides of the cake. Drizzle over the cooled cake, and allow to set, 15-30 minutes.
If You Love Lemon As Much As I Do, Then You'll Love These:
The Best Lemon Muffin Recipe Ever
Lemon Blueberry Cake
Lemon Mascarpone Cake
Lemon Ginger Cake
Lemon Bars
Lemon White Chocolate Cheesecake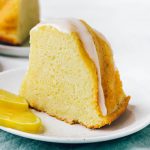 Lemon Bundt Cake
Mix It Up: For a berry lemon cake, add to the batter 1 and 1/4 cups blueberries or raspberries, tossed with 1 tablespoon flour. For a lemon poppy seed cake - add 1/4 cup of poppy seeds.
---
Ingredients
Cake:
3

cups

(400 g/14 oz) all-purpose flour

1

teaspoon

baking powder

1/2

teaspoon

baking soda

1/2

teaspoon

salt

1

cup

(240 ml) buttermilk or sour cream

1/4

cup

(60 ml) freshly squeezed lemon juice

1

teaspoon

vanilla extract

1

cup

(2 sticks/225 g) unsalted butter, softened

2

cups

(400 g/14 oz) granulated sugar

zest of 4 lemons

4

large

eggs
Syrup:
1/2

cup

(100 g/3.5 oz) granulated sugar

1/2

cup

(120 ml) freshly squeezed lemon juice
Glaze (optional):
1

cup

(120 g/4 oz) powdered sugar, sifted

1

tablespoon

lemon juice

1

tablespoon

milk

, or more as needed
Instructions
Adjust oven rack to middle position and heat oven to 350°F/180°C. Grease well a 12-cup (10-inch) Bundt pan and set aside.

To make the cake: In a medium bowl, sift together flour, baking powder, baking soda, and salt. In a small bowl, mix together buttermilk/sour cream, lemon juice, and vanilla extract. Set bowls aside.

In a standing mixer fitted with the paddle attachment, beat together butter, sugar, and lemon zest on medium speed for 3-4 minutes until fluffy. Occasionally scrape down the sides and bottom of the bowl. Add eggs, one at a time, beating well after each addition. On low speed, beat in the flour mixture in 3 additions, alternating with the lemon juice mixture in 2 additions, starting and ending with the flour. Do not over mix.

Scrape batter into prepared pan and smooth the top. Bake for 45-55 minutes or until a skewer inserted into the center of the cake comes out clean. If the top is browning too fast while baking, cover pan loosely with aluminum foil. Allow cake to cool for 10-15 minutes, then remove from pan, carefully inverting it onto a plate.

Meanwhile, make the syrup: In a small saucepan, combine sugar and lemon juice. Cook on medium-low heat until sugar dissolves and syrup forms. After inverting the cake to a plate, brush top and sides of the cake evenly with syrup. Use all syrup. Allow cake to cool to room temperature.

To make the glaze: In a small bowl, combine sugar, lemon juice, and milk, and whisk until smooth. Add more milk as necessary until you get a thick yet pourable consistency. Pour over top of cake and let drizzle down the sides. Allow glaze to set, 15-30 minutes.

The cake is best served at room temperature. Store cake in an airtight container in the fridge for up to 5 days. Leftovers can be frozen for up to 2 months.