Lemon poppyseed flavored protein granola bars with a lemon monkfruit sweetened icing on top. Delicious and nutrient-packed protein granola bars for an excellent breakfast or on-the-go energy bar snack while hiking or adventuring outdoors. They freeze very well, too!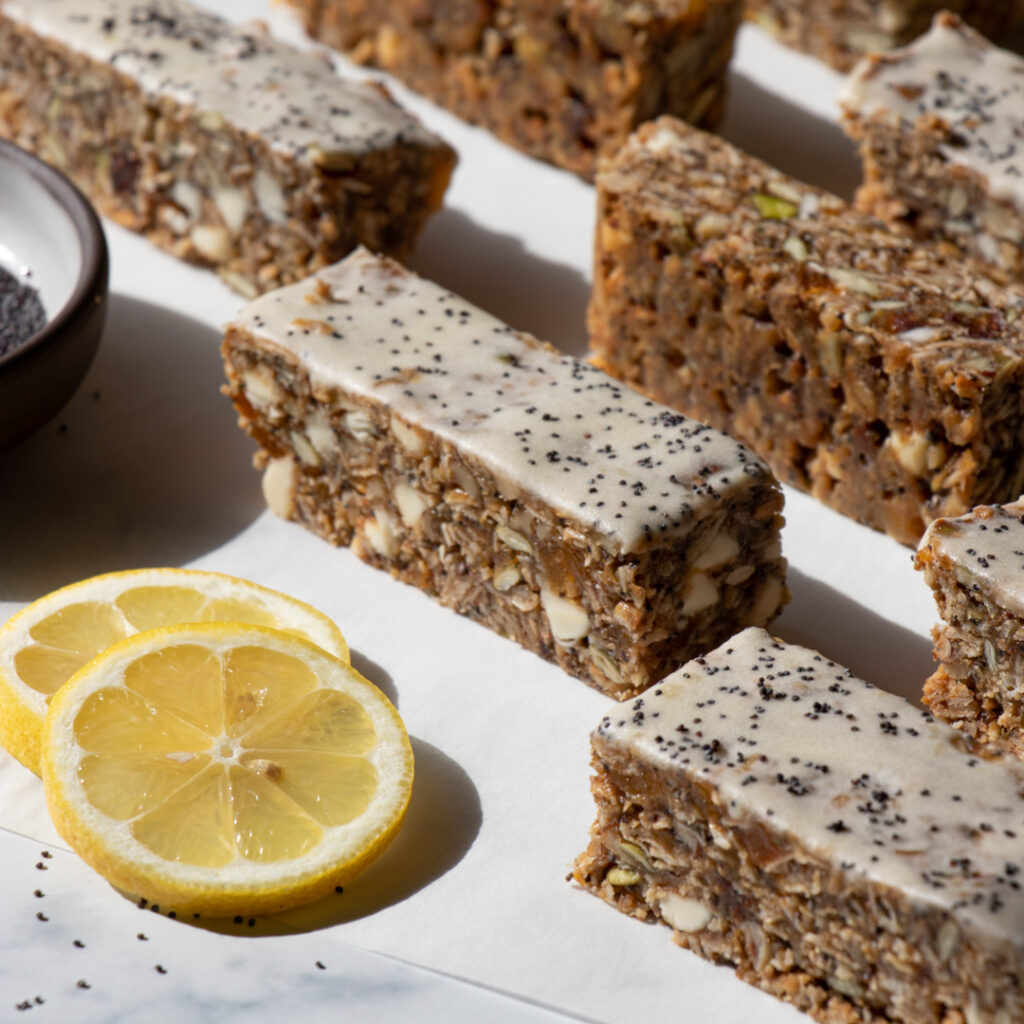 These granola bars are based on my popular protein granola bar recipe which includes more ideas for substitutions and mix-ins. Included in the recipe card below are the best ratios for the perfect lemon poppyseed flavor in these bars. Don't skip the icing either, it's amazing and adds more protein!
As an Amazon Associate, I earn from qualifying purchases. I endorse products that I love and use daily. Use my favorite lemon squeezer to make prep a breeze!
Nutritional Information
Because this protein granola bar recipe is very versatile, each batch has a different nutritional content. The brand and quality of ingredients you use will also effect the nutrient outcome. The protein powder you use will also impact how much protein is packed into each bar. I cut my bars in 10 medium sized servings. You could also cut them into 12 bars for smaller servings. These are a complete meal for me in the mornings, keeping me full for HOURS!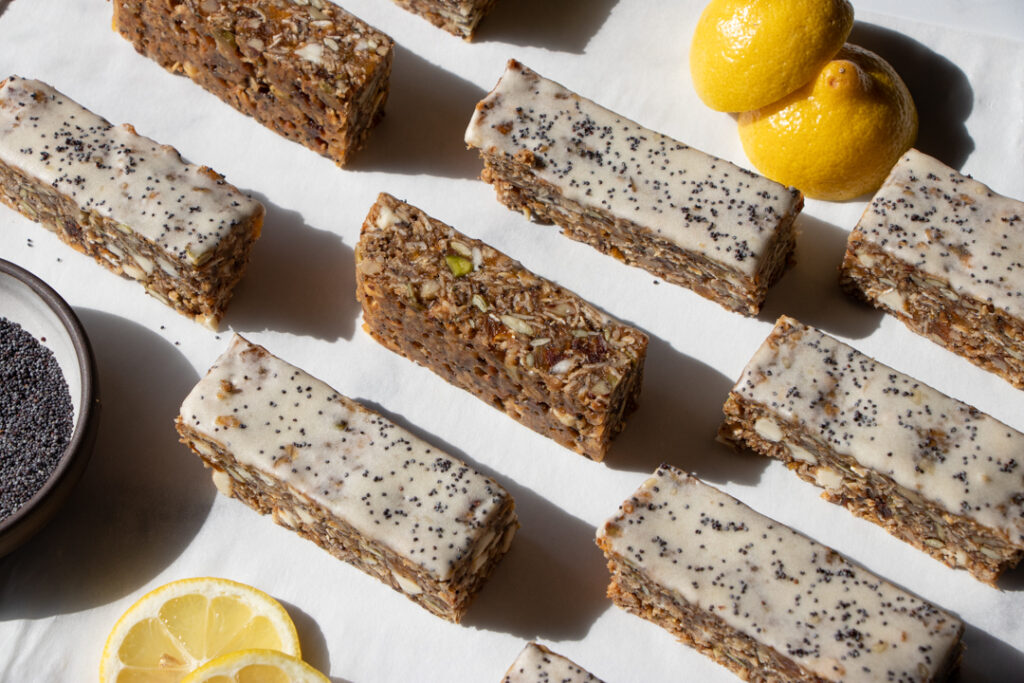 Storing protein granola bars
Store bars in an airtight container at room temperature for up to a week. For longer storage, wrap the bars in plastic cling wrap and freeze in airtight containers. They keep best for up to 3 months in the freezer this way. Grab and go as needed. The bars will thaw very quickly as they don't harden in the freezer too much. The freezer method is our preferred!
Lemon Poppyseed Protein Granola Bars
Protein granola bar with delicious lemon and poppyseed mix-ins. Perfect for breakfast or a meal replacement while hiking.
Ingredients
1 ¾

cups

(157g) old-fashioned rolled oats

(I substituted ¼c of steel-cut oats)

¼

cup

hemp seeds

⅔

cup

nuts, unsalted,

coarsely chopped (I used a blend of pistachios, pecans, & walnuts)

8

Tablespoons

various seeds and/or flax meal

(I used 4T Pepitas, 1T Poppy seeds, 2T Chia, and 2T Flax Meal)

2

Tablespoons

nutritional yeast

⅓

cup

protein powder, flavored or unflavored

(I used vanilla flavored protein powder)

¼

cup

oat flour

(substitutions: AP flour, cassava flour or arrowroot Flour)

2

Tablespoons

maca powder

(substitutions include more flax meal, ground chia seeds, or more protein powder)

½

cup

(113g/4 oz) liquid sweetener,

such as honey, maple, or agave. (I used 50/50 blend of honey and maple)

2

tablespoons

sugar, such as brown sugar or coconut sugar

(I used coconut sugar)

⅛

cup

lemon juice

zest of 1 lemon

1 ½

teaspoons

lemon extract *optional

2

egg whites from large eggs

¼

cup

nut butter,

tahini, or coconut oil (I used peanut butter)

6

Tablespoons

(¾ stick/84 g) butter or other preferred oil

½

cup

dried apricots and/or dates,

chopped, pit removed

½

cup

white chocolate chips
Icing
1

Tablespoon

lemon juice (from half a lemon)

½

scoop

protein powder (plain or vanilla)

½

cup

monkfruit sweetener, powdered

poppy seeds as sprinkles
Instructions
Combine the coconut sugar (or brown sugar) with lemon juice, lemon zest, and optional lemon extract. Set aside.

In a large bowl, toss together oats, unsalted nuts, and seeds. Add nutritional powders: flax meal, arrowroot, protein powder, maca powder, and nutritional yeast to the bowl and stir to combine.

Preheat oven to 300℉/150℃. Line an 8×8 or 9×9-inch, or similarly sized small rectangular pan with parchment paper, leaving enough overhang on the sides for lifting the bars after baking.

In a medium heatproof bowl, place butter (or oil), nut butter (or tahini), honey/maple, sugar/lemon mixture, and heat it in the microwave or in a saucepan over medium heat until butter has melted and mixture is warm. Stir to combine. Let it sit and cool briefly (about 5 minutes). Meanwhile, stir in egg whites to the dry oat mixture.

Pour butter mixture into oat mixture and toss until evenly moistened. Add dried fruits (apricots or dates) and white chocolate chips. Mix until incorporated (make sure mixture isn't too warm before adding the chocolate chips or they will melt).

Pour mixture into prepared pan, pressing down evenly and firmly for 1 minute (this will help create less crumbly bars). Bake for 20-30 minutes, depending on the thickness of your bars, until golden brown. The mixture shouldn't be hard, but rather soft and elastic when lightly pressed. Allow to cool to room temperature.
Icing
Whisk together lemon juice, protein powder, and ¼ cup monkfruit sweetener, adding more sweetener to achieve desired thick consistency. Spread evenly over the bars. Sprinkle more poppy seeds over the top if desired. Place in the oven at 170℉/75℃ to dry out the icing. Remove from oven after 20-25 minutes or until icing is dry.

Allow to cool to room temperature, then cover with plastic wrap and refrigerate for at least 2 hours before cutting into bars. Cold bars are best for cutting. Warm bars may crumble while cutting.

Store bars in an airtight container at room temperature for up to a week. For longer storage, wrap the bars in plastic cling wrap and freeze in airtight containers or Ziploc bags. Grab and go as needed. The bars will thaw very quickly as they don't harden in the freezer too much.
Recipe Notes
– You can double the recipe and use a 9×13-inch pan, although baking time may be longer. Bake until golden brown.
– It is okay to omit the non-liquid sweetener such as brown sugar, granulated sugar, or coconut sugar for a less sweet bar. Just combine the lemon ingredients with the liquid sugar (honey or maple) first and set aside.