This homemade granola is packed with a ton of wonderful ingredients that make it both super healthy and delicious.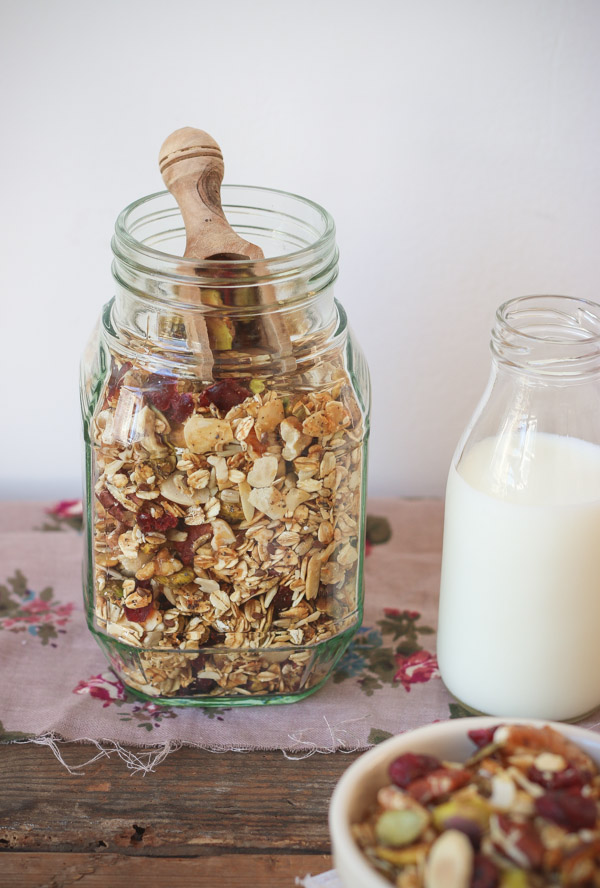 I have a couple of questions for you. Do you know how to mix ingredients in a bowl? Do you know how to preheat your oven? Then you know how to make this granola. It's that easy!
This granola is my mom's recipe and, so far, my favorite one ever. I think the secret of it being so good is that there are so many flavorful ingredients in it. Once in a while, she buys nuts and dried fruits in bulk and makes this granola especially for me and Erez. She brings us 3 large jars and we finish it in no time. We use it in muesli, granola parfaits, and breakfast smoothies, but mostly Erez nibbles it non-stop. I can find small granola pieces all over the house, like there's a messy mouse wondering around.
When I asked my mom for the recipe, she said she didn't have one. You know how it is with mothers and grandmothers, especially when it comes to cooking things that don't require an exact science. They "feel" the recipe rather than following an exact one, and they've been doing this for so long that it's just natural to them. They quickly throw all the ingredients together without even thinking, and each time she makes her granola, it turns out superb.
I asked her if she could measure everything the next time she made it so that I could share it with all of you, so I ended up with her messy list of ingredients, but no instructions. I had to call her for those, but I'm sure you'll find that the small hassle was worth passing on this amazing granola. Thanks, mom!
Granola is really about personal taste. You could omit most of the ingredients (except for the oats and sweetener) or replace them with others that you like better, and it would still turn out wonderful. Dried fruit, nuts, seeds – anything you like can go in. Many granola recipes I have contain only a few ingredients that go well together, but in this granola, you basically add everything you like.
My friend was here the other day, tasting some of this granola, and she immediately took a photo of the recipe mom attached to it. She said she couldn't believe granola could be that good, and that her mom's granola doesn't come anywhere close to this one. I promised her that I wouldn't tell her.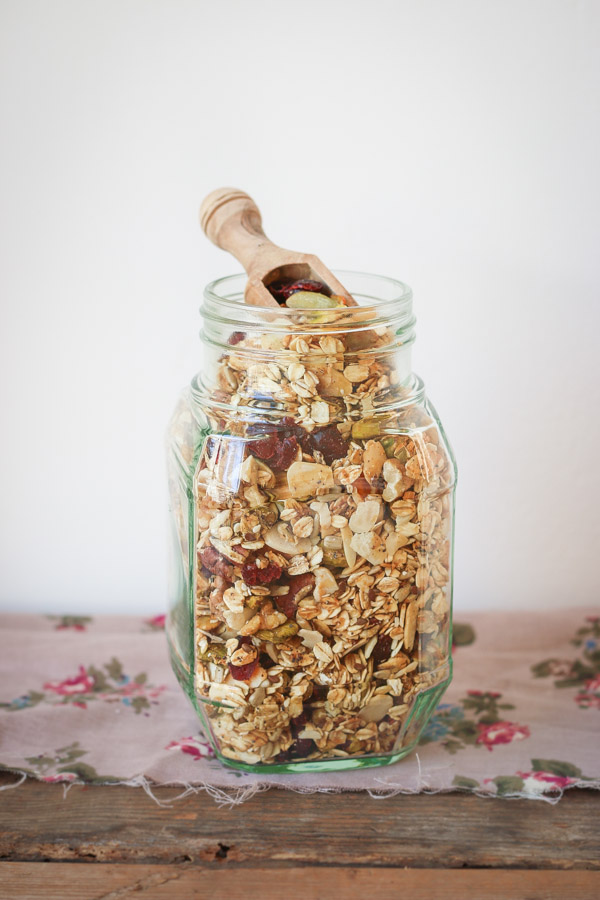 (A Little Bit of) Everything Granola
As the name suggests, this granola is packed with a ton of wonderful ingredients that make it both super healthy and delicious.
Ingredients
3 cups old-fashioned oats
1 cup sliced almonds
¾ cup raw pistachios
½ cups coarsely chopped walnuts
½ cup coarsely chopped pecans
¼ cup desiccated coconut
¼ cup pumpkin seeds
¼ cup sunflower seeds
1 tablespoon sesame seeds
1 tablespoon poppy seed
1 tablespoon flaxseed
½ teaspoon salt (optional)
½ cup honey, date honey, or maple syrup
¾ cup dried cranberries
Instructions
Preheat oven to 160C/325F. Line a baking sheet with parchment paper or a silicone baking mat.
Mix all ingredients except for honey and dried cranberries together in a bowl until combined. Drizzle sweetener (such as honey) evenly on top and toss until evenly coated. Place on a baking sheet in one layer. Bake for 30 minutes, stirring the mixture gently every 10 minutes to prevent burning, and one more time during the last 10 minutes (3 times total). Let granola cool, then mix in dried cranberries. Store in an airtight container for up to a month.
Notes
- Usually, granola recipes call for a neutral oil such as canola to make it crunchy and keep it from becoming sticky. If you like, you can add ¼ cup oil to the mixture before baking (along with the sweetener).
- This granola contains lots of nuts, which I find to be delicious. If you prefer less, you can reduce the total amount to 1½ cups.
- Omit or replace ingredients (aside from the oats and sweetener) according to your own personal taste.
- If you add dried fruit or substitute them for the dried cranberries, it's important that you add them to the granola AFTER baking.