These nutty, buttery, melt-in-your-mouth cookies are always a guaranteed crowd pleaser.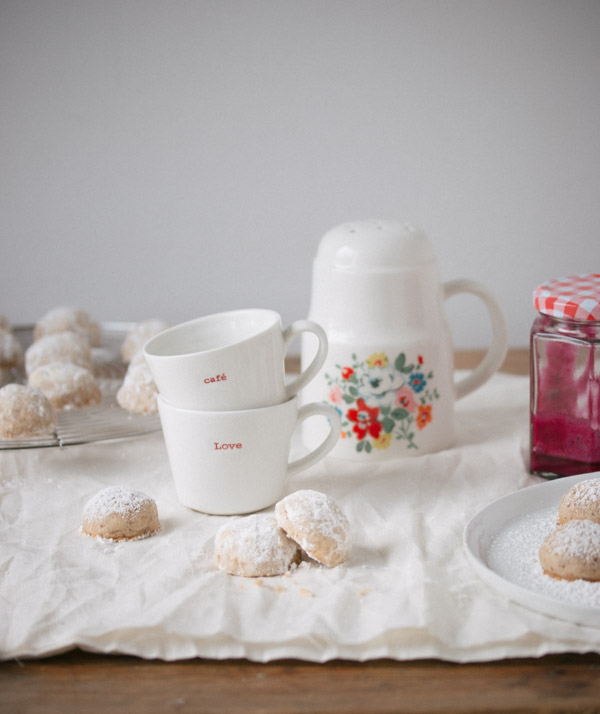 I have the house all to myself this week. I never know how to really feel about that, but I think that I've gotten used to it. Every time Erez travels for work, I make plans 2 weeks in advance to keep my evenings and weekends full. It is actually nice to see all of my friends in one concentrated week, and it reminds me of how lucky I am to be surrounded by such good people. They all know that the moment I get bored (which never really happens) and want company (which always happens), I can visit them without notice. Even if they don't like the idea, they still let me. After all, that's what friends are for, right?
Not only is Erez gone, but also his family and mine are gone, too – they've all gone on vacation. Life is good, I guess. So since I have zero family around, my third family – Rene's – invited me to dinner tomorrow. I don't usually attend other family's events, but hers is so comforting, relaxing, and hilarious, I always have a blast with them!
Last time I went, I made these Mexican wedding cookies and they were a hit, especially with her mom. I made a few other things, but she asked for this recipe in particular. Since I can't possibly come empty-handed (one of those things I always complained about my own mother doing while growing up, but now can't imagine doing any differently), I made them once again.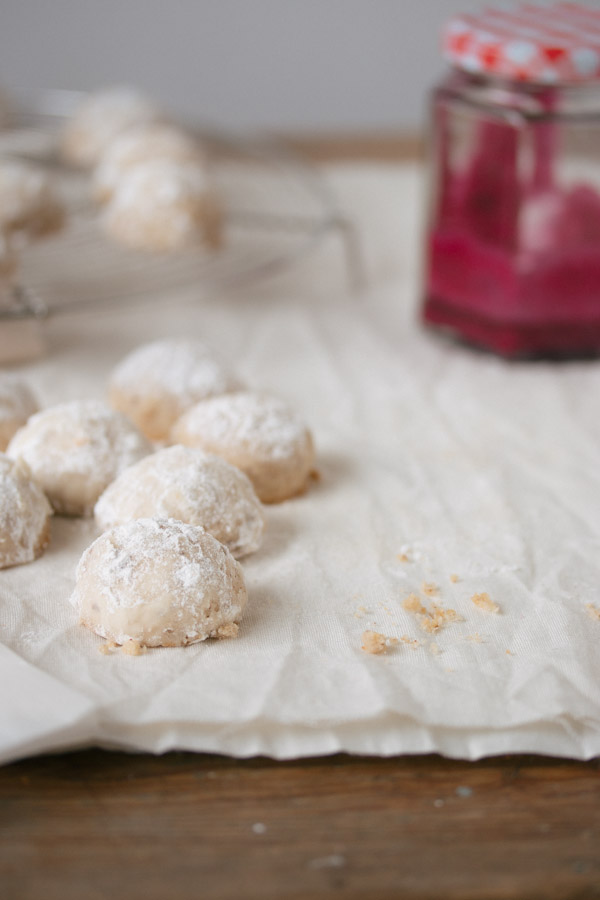 These might look similar to my melting moments cookies, but the main difference is the addition of pecans. The other recipe also calls for cornstarch for a melt-in-your-mouth texture, but these are tender enough without it. If you love nuts, especially pecans, then you'll find these cookies to be irresistible. If you start with 1, you'll easily end up with 5. They're addicting!
Since the dough will be very soft once done, you should chill it in the fridge for at least 30 minutes, until firm enough to handle and roll into balls. This step will also cause the cookies to spread less while baking and keep their round shape.
Although toasting the nuts is optional, it brings a nice aroma and taste to these treats, so I recommend it if you have an extra 10 minutes. If you're lazy (I can completely relate), then skip this step. Either way, you'll end up with the most perfect tea cookies ever.
Pecans are my personal favorite in these, but you can use other nuts such as walnuts, almonds, or hazelnuts.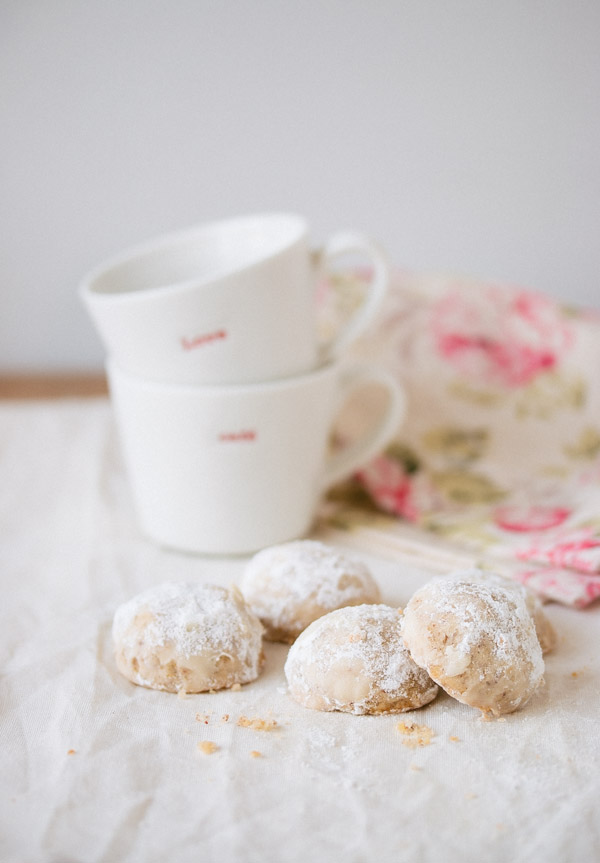 Mexican Wedding Cookies
Yields:
40 bite-sized cookies
Ingredients
2 cups (270 g/9.5 oz) all-purpose flour
½ teaspoon ground cinnamon (optional)
¼ teaspoon salt
1 cup (2 sticks/227 g) butter, room temperature
½ cup (60 g/ 2 oz) powdered sugar, sifted
1 teaspoon pure vanilla extract
1 cup pecans (or other nuts), preferably toasted and either chopped into small pieces or finely ground in a food processor*
½ cup (60 g/2 oz) powdered sugar, sifted, for rolling
Instructions
In a medium bowl, sift together flour, cinnamon, and salt. Set aside.
In a mixer bowl fitted with the paddle attachment, beat butter on medium speed for 30 seconds until creamy. Add powdered sugar and beat for about 2 minutes until smooth. Beat in vanilla extract. Add flour mixture and beat on low speed just until combined. Stir in nuts. Do not over mix.
If dough is soft (and it probably is), chill in the refrigerator, covered, for 1-2 hours until firm.
Preheat oven to 350F/180C. Line 2 pans with parchment paper.
If cookie dough is hard to handle after refrigerating, leave on counter to soften for a few minutes.
Using an ice cream scoop or level tablespoon, drop rounded balls of dough, 3cm (1.25 inch) in diameter, onto prepared baking sheets, spacing 5cm (2 inch) apart. Bake for 12-14 minutes, until cookies just begin to brown at the edges. Leave to cool for 10 minutes. Then, while still warm, gently roll them in powdered sugar, careful not to cause them to crumble. Transfer to a wire rack to cool completely. Once cooled, roll them in powdered sugar once more if desired.
Cookies will keep well for a few days at room temperature in an airtight container. They can also be frozen for up to a month.
Notes
- For evenly chopped nuts, it's best to pulse them in a food processor until finely ground, but not to the point that they become a paste. Alternatively, if you want a bit more crunch, you can coarsely chop them.
- To toast the nuts, place them in an even layer on a pan lined with parchment paper and bake in a preheated 350F/180C oven for 8 minutes.