Super soft sugar cookies with a delicate vanilla flavor and texture. They're so good that you'll want to eat them all as soon as they're out of the oven. You've been warned!
If you're looking for sugar cookies that keep their shape then check out my other recipe for cut out sugar cookies. 
I'm going to admit something to you. I never understood the hype around sugar cookies. I thought they were too sweet, and not too flavorful. But then I tried these cookies, and I realized I was wrong. so wrong.
These cookies were born by accident. I made my original recipe and ran out of sugar, so I swapped the rest with powdered sugar. When I tried them I couldn't believe the difference it made. They tasted better and the texture was superb. This is now my favorite recipe for sugar cookies. They're chewy, soft, and beautiful, and they have a delicious vanilla flavor.
Why are these cookies so soft?
First, I use powdered sugar in the recipe, and experience has taught me that using powdered sugar in recipes make them incredibly soft, same as in my a-m-a-z-i-n-g melt-in-your-mouth vanilla pudding chocolate chip cookies. The reason for that is that powdered sugar has cornstarch in it, which helps give a soft texture to cookies and other baked goods. Make sure not to omit it from the recipe!
Second, I underbake the cookies to keep them soft in the center, as I do with almost all my cookies. I'm on team soft, chewy cookies, not flat, crunchy cookies. If you're anything like me, make sure not to overbake your cookies. Don't wait until they're golden brown on top, but rather just slightly brown around the edges.
How to make these soft sugar cookies
I love making cookies because it's so easy. You'll need to use room temperature butter, and mix it with the sugars for about 4 minutes until it's fluffy. You can do this with a stand mixer or a hand mixer. Next, add the egg and vanilla, then the dry ingredients. Shape dough into balls and roll in granulated sugar. This adds another delicious layer to the cookies. Bake and indulge.
How long can you keep sugar cookies?
Unfortunately mine never last too long to tell, but 3 days at room temperature is ideal. I always recommend that if you make a large batch, place some in an airtight container, and freeze. Freezing is the best way to keep cookies fresh. If I'm craving a cookie, I'll take one or two cookies out of the freezer and either warm it in the oven, or let it thaw to room temperature.
More Melt-In-Your-Mouth Cookies:
My funfetti cookies recipe is similar to this sugar cookies recipe, watch how to make it: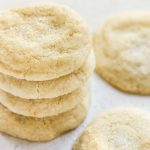 Soft Sugar Cookie Recipe
---
Ingredients
2

and 1/8 cups

(300 g) all-purpose flour

½

teaspoon

baking soda

½

teaspoon

fine salt

1

cup

(2 sticks/227 g) unsalted butter, softened to room temperature

2/3

cup

(130 g) granulated sugar

3/4

cup

(85 g) powdered sugar

1

large egg

1

teaspoon

vanilla extract

¼

cup

(50 g) granulated sugar, for rolling
Instructions
Preheat oven to 350F/180C. Line 2 baking sheets with parchment paper. Set aside.

In a medium bowl, sift together flour, baking soda, and salt. Set aside.

In a mixer bowl fitted with the paddle attachment, beat butter, granulated sugar, and powdered sugar on medium-low speed for 4 minutes. Beat in egg and vanilla extract just until combined. Add flour mixture and beat just until combined. Do not overmix.

Place ¼ cup sugar in a small bowl. Shape dough into balls, the size of 1.5 tablespoons each (I use

this ice cream scoop

for that), then roll them in the sugar and place on the cookie sheets, spacing them 2-inches apart. Bake for 11-12 minutes until cookies just begin to brown at the edges, but the center is still soft (you don't want to overbake them). Allow cookies to cool on baking sheet for 5-10 minutes, then gently transfer to a wire rack to cool completely.

Store cookies at room temperature in an airtight container for up to 3 days. Cookies can also be frozen for up to 2 months.