The beloved classic tomato pasta dish with a little twist to make it ultra creamy and delicious.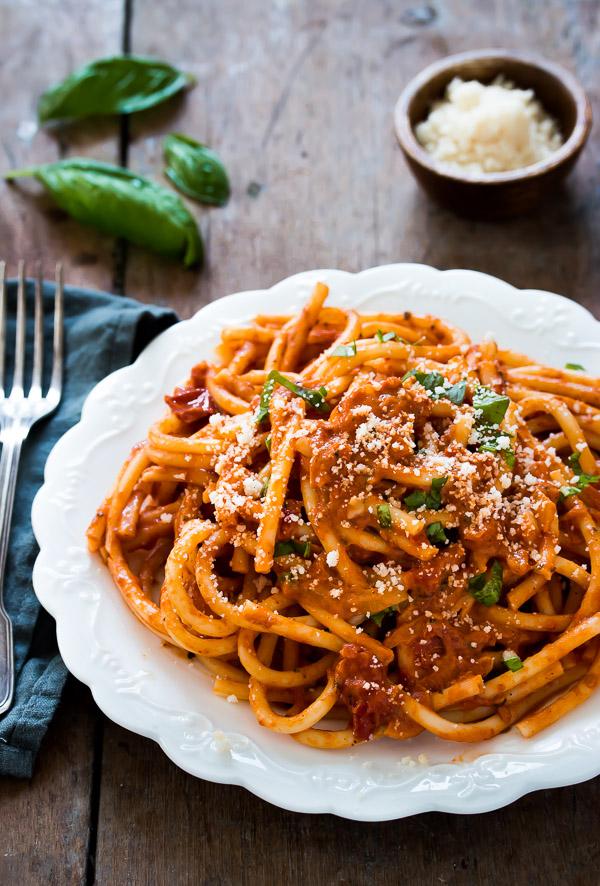 It's not hard to guess that pasta is a favorite in our home. It's a simple dish to make, and one that both adults and kids enjoy. Plus, it doesn't hurt that it's always so delicious!
This sauce is full of flavor, and tastes amazing—so much so that you'll want to eat it by the spoonful. Erez came up with this recipe while trying to replicate a delicious sauce we once tasted in a restaurant, and as always, he nailed it. I like this guy.
It is quick to put together, but be sure to plan ahead for the required cooking time. Specifically, the sauce needs 20-30 minutes to thicken to a nice texture. Simmer it on low heat and stir once in a while to make sure it doesn't burn. During this time, cook the pasta.
The addition of heavy cream to this classic tomato sauce makes for an extra creamy sauce with an irresistible texture and flavor.
All of the ingredients are simple, and there's nothing weird that you'll have trouble finding in any store. You probably already have most, if not all, of them already in your kitchen.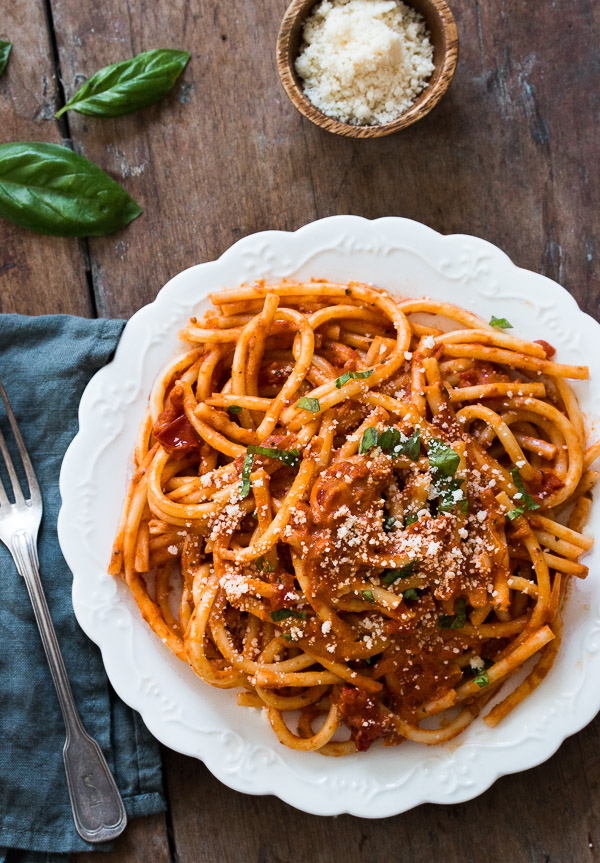 I love using sweet wines like Marsala for this since, unlike regular wine, it keeps for a long time after opening the bottle. You can also just use either red or white wine if you prefer. Of course, each different type adds a different flavor to the dish, but they all work well here. If you don't want to use wine at all, I recommend using balsamic vinegar to give a sweet yet flavorful twist. If you want, you can add more of it at the end, along with the final seasoning. On the other hand, adding balsamic vinegar or wine is completely optional.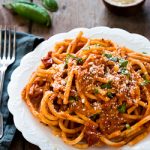 Pasta with Tomato Cream Sauce
The beloved classic tomato pasta dish with a little twist to make it ultra creamy and delicious.
Ingredients
1

pound/450 g pasta of your choice

3

tablespoons

butter or olive oil

1

medium onion

, diced

4

garlic cloves

, minced

¼

cup

wine

(red, white, Marsala) or 1 tablespoon balsamic vinegar, optional

28-

ounce

can

(about 2 cups) crushed tomatoes

1

teaspoon

sugar

1

tablespoon

dried oregano

Pinch

of red pepper flakes

, optional

Salt and freshly ground black pepper

½

cup

heavy cream

¼

cup

grated Parmesan cheese

, plus more for serving

2

tablespoons

chopped fresh basil or parsley leaves
Instructions
To make the sauce: In a large skillet, melt butter over medium heat. Add onion and cook for a few minutes, stirring occasionally, until soft and translucent. Add garlic and cook until fragrant, about 1-2 minutes.

Add wine or balsamic vinegar and cook for a couple of minutes until liquid has evaporated. Add crushed tomatoes, sugar, oregano, and red pepper flakes, and season with salt and pepper. Bring just to a boil, then reduce heat to low and let simmer until sauce has thickened, 20-30 minutes.

Meanwhile make the pasta: In a large pot, bring 2-2.5 quarts/liters of water to a boil. Add ½ tablespoon salt, followed by the pasta. Cook until al dente (i.e., slightly firm to the bite, not crunchy nor soft). Drain well and set aside.

Once sauce has thickened, stir in cream and Parmesan. Season with salt and pepper to taste. Stir in pasta and cook on very low heat, tossing to combine for 1 minute until warm.

Serve immediately. Garnish with basil or parsley and Parmesan, if desired.