Amazingly fudgy brownies with a delicate white chocolate flavor and bits of fresh raspberries.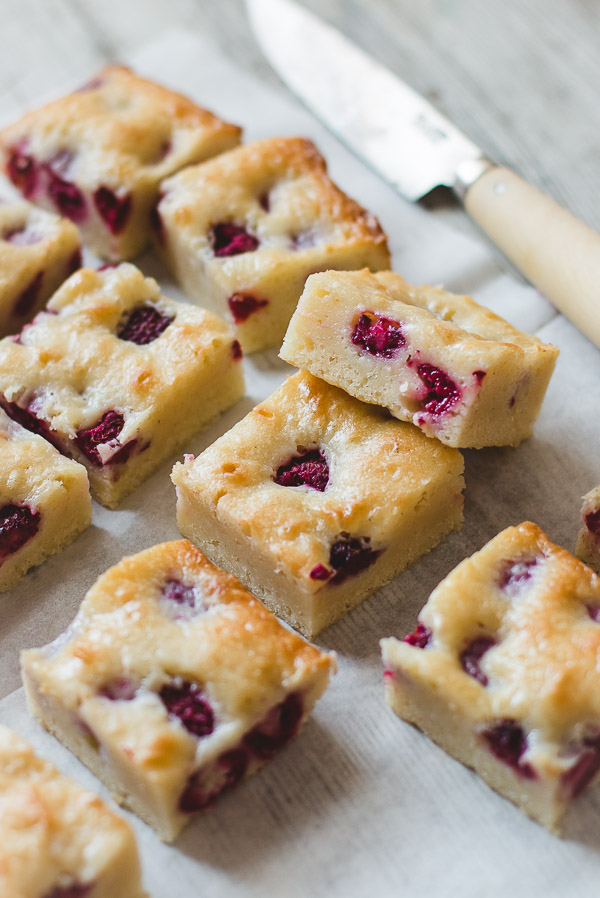 Any time I get my hands on some fresh raspberries (which unfortunately is a rare occasion around here), the first thing I want to do is pair them with white chocolate. The two are a common combination and, evidently, one of my favorites.
I've used this recipe for white chocolate brownies a lot in the past, each time with different add-ins (like even more chocolate), but this was my first time adding raspberries to it and the result is heaven! These are probably the best blondies I've made so far (well, ok, except for maybe these). They're fudgy with a delicate yet noticeable flavor of white chocolate.
There's not a lot of sugar in the recipe, so the brownies aren't as sweet as they may sound. Plus, the fresh tart raspberries help to cut some of the sweetness from the white chocolate.
Making these white chocolate brownies is exactly like making regular chocolate brownies. There's no mixer needed; it's simply a matter of mixing the ingredients one after the other in a bowl, meaning it will be done in no time and ready to satisfy your cravings.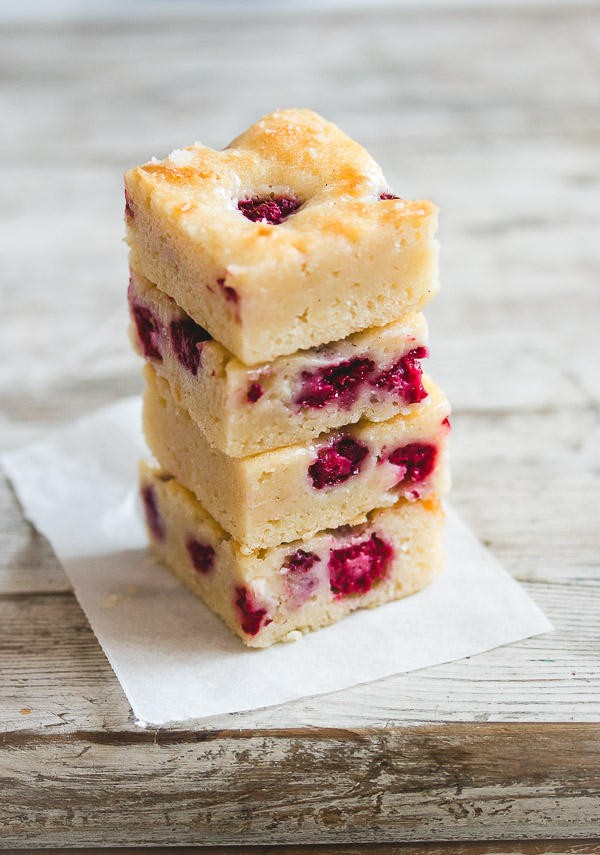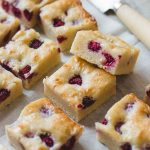 Raspberry White Chocolate Brownies (Blondies)
Ingredients
5

oz/140 g white chocolate

, coarsely chopped

⅓

cup

(75 g/2.6 oz) unsalted butter, cut into small pieces

½

cup

(100 g/3.5 oz) granulated sugar

2

large eggs

1

teaspoon

vanilla extract

¾

cup

plus 2 tablespoons

(125 g/4.5 oz) all-purpose flour

¼

teaspoon

salt

1

cup

fresh raspberries
Instructions
Preheat oven to 350F/180C. Line the base and sides of an 8×8-inch baking pan with foil, leaving enough overhang on the sides for lifting the brownies out after baking.

In a medium heat-proof bowl, place white chocolate and butter. Place bowl over a saucepan of simmering water and stir occasionally until chocolate and butter have melted. Transfer mixture to a large bowl, then add sugar and mix to combine. Add eggs, one at the time, mixing until combined. Stir in vanilla. Sift flour and salt, then fold into batter just until combined. Fold in raspberries.

Pour batter into prepared pan and smooth the top. Bake for 17-20 minutes, until top is golden and a toothpick inserted into the center comes out with a few moist crumbs. Avoid overbaking, which will make the brownies dry. Let brownies cool completely on a wire rack, then lift them out of the pan and cut into squares (or refrigerate until completely set for perfect cutting).

Brownies can be kept at room temperature or in the refrigerator in an airtight container for up to 3 days. Alternatively, they can be frozen for up to 2 months, then thawed overnight in the fridge.
SaveSaveSaveSave
SaveSaveSaveSave