Cinnamon bars swirled with dulce de leche. Soft, sweet, salty, nutty, spicy and caramel-y.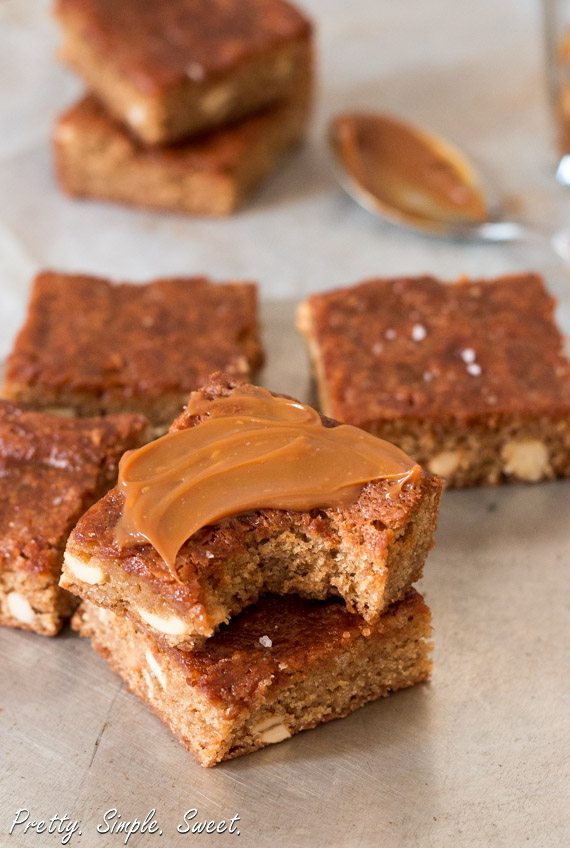 Today's bars are kind of like a giant cookie. What makes them unique are their add-ins. There's cinnamon in the batter, some cashews, and it's swirled with dulce de leche. The ingredients complement each other perfectly, and the bars are soft and moist, thanks to the brown sugar and melted butter. Brown sugar also gives a caramel-y flavor compared to granulated sugar.
No mixer is required to make the bars. Start by whisking melted butter and sugars together. Then, whisk in egg and vanilla extract. Add the dry ingredients and mix just until combined. Avoid overmixing. Fold in cashews just until combined. Pour batter into the pan and spread evenly. Drop dollops of dulche de leche over the top of the batter and swirl gently with a knife or a skewer (in a zigzag pattern). If you want them a bit salty, you can sprinkle them with some sea salt. I really wanted to take a picture of the swirled pattern so you'd see how it looks like, but unfortunately I was so excited to put the bars in the oven that I forgot. Will you forgive me?
Just like with cookies, baking time is important. Overbaking the bars will make them dry. In 20-25 minutes they should be ready. A toothpick inserted into the center should come out clean but not dry.
Salted Dulce de Leche Cinnamon Cashew Bars
Yields:
8*8-inch pan (16 bars)
Cinnamon cashew bars swirled with dulce de leche and sprinkled with sea salt. Soft, sweet, salty, nutty, spicy and caramel-y.
Ingredients
1 cup (125 grams or 4.4 ounces) all-purpose flour
½ teaspoon baking powder
⅛ teaspoon baking soda
½ teaspoon salt
½ teaspoon ground cinnamon
½ cup (1 stick or 113 grams) butter, melted
¼ cup (50 grams or 1.8 ounces) granulated sugar
½ cup (100 grams or 3.5 ounces) brown sugar
1 large egg
1 teaspoon vanilla extract
½ cup cashews, coarsely chopped
¼ – ⅓ cup dulce de leche
Instructions
Preheat the oven to 350F/180C. Line an 8×8-inch baking pan with parchment paper.
In a medium bowl sift together flour, baking powder, baking soda, salt and cinnamon. Set aside.
Place the melted butter in a large bowl and whisk in granulated sugar and brown sugar. Whisk in the egg and vanilla extract. Add flour mixture and mix with a wooden spoon or rubber spatula just until combined. Do not overmix. Fold in cashews.
Pour the batter into the prepared pan and smooth the top. Drop spoonfuls of dulce de leche in dollops over the top of the bars batter. Use a knife to swirl the Dulce de Leche slightly.
Bake for 20-25 minutes or until a toothpick inserted into the center of the bars comes out clean but not dry. Let the bars cool completely, then cut into squares.
Notes
- You can easily double this recipe. Use a 9*13-inch pan, and bake for about 30 minutes.
- Store bars at room temperature in an airtight container for up to 3 days.
- Bars can be frozen for up to a month.