These super soft and chewy molasses cookies have the perfect gooey texture, are lightly spiced, and make a delicious snack especially during the holidays!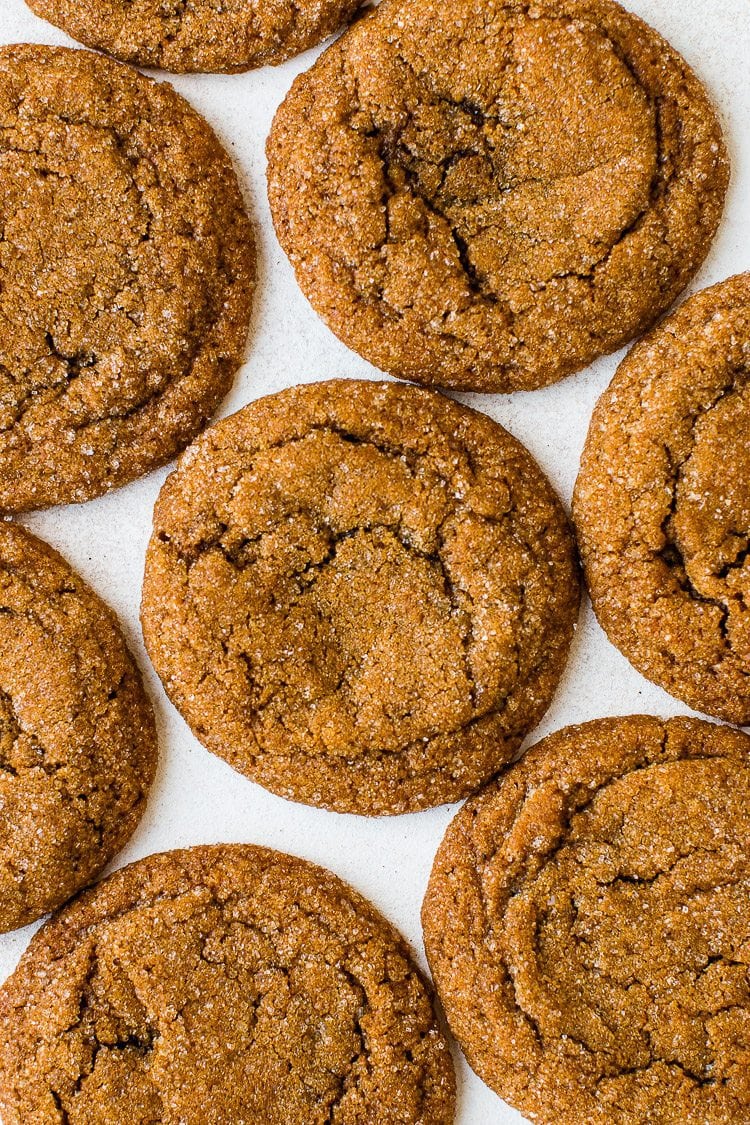 I've been making more cookies this month than I did all the past year, and I've come to a conclusion that I really like cookies – all kinds of cookies. With my Pinterest and Instagram feeds filled with so many cookies just before Christmas, I'm craving cookies all day and all night. I might have even had dreams about cookies last night.
As a result, my freezer is full of cookies, like gingerbread man cookies and chewy peanut butter cookies. So if you're coming to visit me soon, you'll be lucky.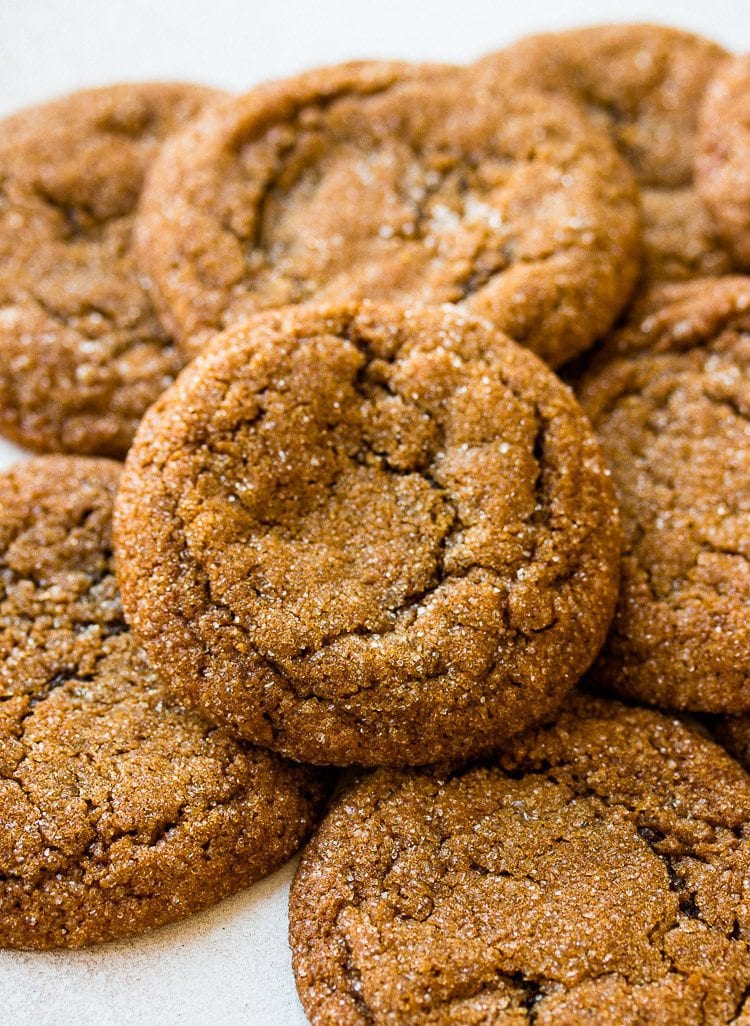 Today's cookies are classic molasses cookies. They're spiced but not overly so, and rolled in sugar, which is the secret to their beautiful and crackly tops. They are so soft and chewy, and I love their texture even more than their flavor. Warm from the oven, they're irresistible. You're warned! These cookies were my favorite molasses cookies until I tried these chocolate ginger cookies. They are to-die-for. So now I have 2 favorites!
I added bittersweet chocolate chips and butterscotch chips to a few of the cookies, and they tasted great, so if you like this idea, go for it. I have a thing for classic desserts so my favorite is the plain version because it is already so flavorful.
What Kind of Molasses?
That's the question I get the most because there are so many kinds out there. You need to use unsulfured molasses, it should be clearly stated somewhere on the label. Avoid using blackstrap molasses, which is quite intense. The brightness of the color depends on the brand, so your cookies may be darker or brighter than mine.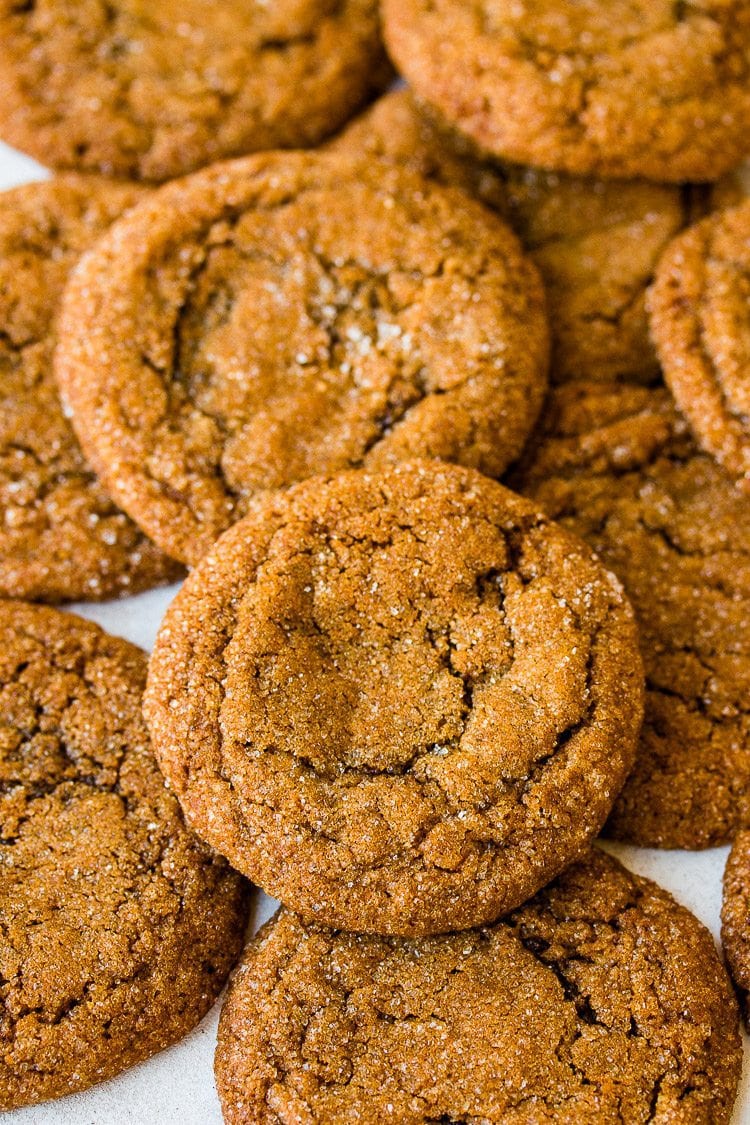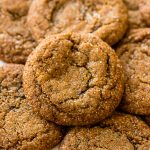 Soft and Chewy Molasses Cookies
Ingredients
2

cups

(280 g/10 oz) all-purpose flour

1

teaspoon

baking soda

1

teaspoon

ground cinnamon

1

teaspoon

ground ginger

¼

teaspoon

ground cloves

¼

teaspoon

ground nutmeg

¼

teaspoon

salt

¾

cup

(1 and ½ sticks/170 g) unsalted butter, softened to room temperature

¾

cup

(150 g/5.3 oz) light or dark brown sugar (granulated sugar is ok – cookies will be crispier)

¼

cup

unsulfured molasses

1

large egg

¼

cup

granulated sugar

, for rolling
Instructions
In a medium bowl, whisk together flour, baking soda, cinnamon, ginger, cloves, nutmeg, and salt. Set aside.

In a mixer bowl fitted with the paddle attachment, beat butter, sugar, and molasses on medium speed until creamy and fluffy, about 3 minutes. Add egg and beat until combined. Scrape down the sides and bottom of the bowl as needed. Add flour mixture and beat on low speed just until combined. Do not overmix.

If the dough is soft and sticky at this point, chill it in the fridge for at least 1 hour, or overnight. This step also results in thicker cookies that will spread less while baking, but it's not mandatory.

Preheat oven to 350F/180C. Line 2 baking sheets with parchment paper. Set aside.

Place ¼ cup sugar in a small bowl. Shape the dough into balls, the size of 1.5 tablespoons each, then roll them in the sugar and place on the cookie sheets, spacing them 2-inches apart. Bake for 11-12 minutes until cookies just begin to set and tops are crackly. Allow cookies to cool on baking sheet for 5-10 minutes, then gently transfer to a wire rack to cool completely.

Store cookies at room temperature in an airtight container for up to 4 days. Cookies can also be frozen for up to 2 months.